Bourse of Antwerp: The Renaissance of Antwerp's monumental bourse
Text: Lauren Walker | Photos: Handelsbeurs/Tim Fisher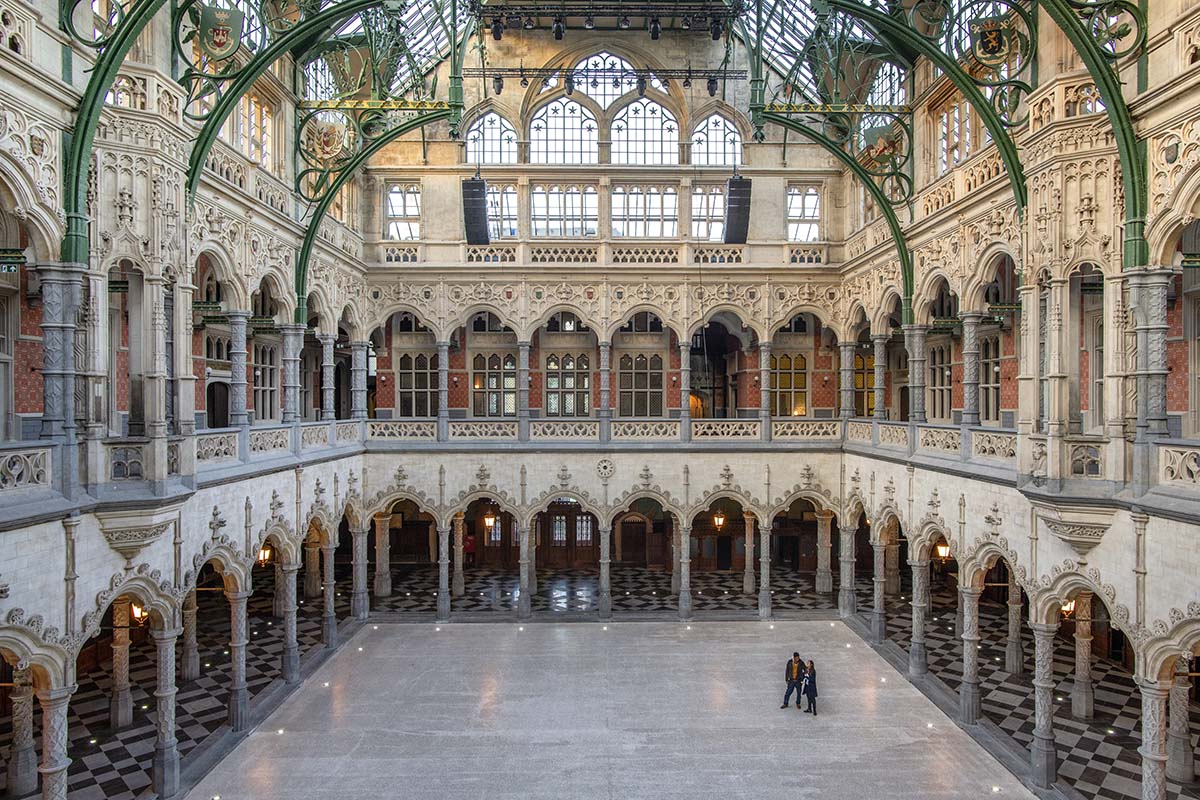 Some things are worth waiting for. In the case of the renovation of the Bourse of Antwerp, the historic site which was home to one of the world's first stock exchanges, it has been a bumpy ride, and the wait for it to return to its original glory took over two decades. After being derelict for over 20 years, one failed attempt to recreate it and three years of renovations, the renowned building opened its doors to once again fulfil its original and century-old purpose as a place for activity and meeting people.
The local landmark, known as the New Exchange 'Handelsbeurs', was originally built in 1531, inspiring the construction of other stock exchanges across Europe, including in London, but burned down twice after its construction. It was then rebuilt in 1872, and although it continued to be recognised as a pivotal part of Antwerp's culture, it was closed for safety reasons and abandoned in 1997. Remarkably for a building loaded with such history, most locals younger than 35 won't know the building. However, what is seen by some as the building with the most beautiful interior in the north-eastern city, can now be rediscovered following its launch as a luxury haven for locals and tourists.
Following the completion of Q-park's large-scale parking lot in May 2019, the grand project was finalised in October and the restaurant will open this month. The Marriott Autograph Hotel opens its doors in June 2020, helping to finance the restoration of the bourse, which has been a protected monument since 1983. It will become the home of the Diamond city's first five-star hotel, allowing it to showcase her extraordinary interior, characterised by the grand halls and oriental-styled pillars.
Although the construction received a building permit in 2015, the works were stalled as an archaeological trove was discovered amidst the remnants of this stunning structure, containing urns from the Iron ages, dating possible human presence on the grounds back to around 800 years B.C., alongside proof of habitation from the late Middle Ages.
The site, grounded in history, has now started a new and refreshing chapter, with its imposing trades hall transformed into a stunning venue for events which can hold up to 1,600 guests. The galleries looking down on the grand hall further showcase several spaces for companies to hold meetings or give presentations. Whilst respecting and preserving the bourse's past, the renovations are breathing new life into the previously hidden gem, and into Antwerp itself.
Subscribe to Our Newsletter
Receive our monthly newsletter by email