Millers Juice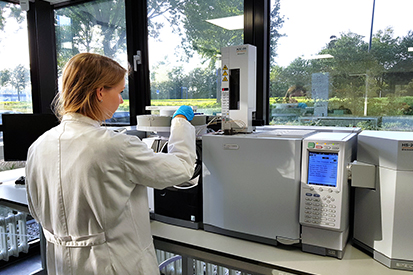 Shaping the future of vaping
TEXT: MYRIAM DIJCK | PHOTOS © CASPER VAN AGGELEN
Dutch brand Millers Juice is on a mission. With their e-liquids, they are trying to get smokers to stop using traditional cigarettes and switch to vaping instead, which is comparatively less harmful, cheaper and produces no lingering smell. Because of this, Millers Juice believes the future is bright for the e-cigarette industry.
Millers Juice, founded in 2014, is one of the world's biggest manufacturers of e-liquid. At their 4,000-square-metre factory in Oosterhout, the Netherlands, they produce e-liquid made from the best ingredients with the highest level of purity.
Head of marketing, Joey Baart, says: "The goal is to battle the addiction to nicotine." The family business was set up by Baart's father Tony de Hond and business partner Koen Vissers. "In our families, we have lost many loved ones to lung cancer, so this is something that is close to our hearts."
Early vape liquids
E-cigarettes entered the market around 2000, but only really became popular about five years ago. At the time, most of the e-liquids were being produced in China. This meant that there was little insight into the production process and the ingredients.
Baart: "We began by setting up a laboratory to find out what was in those e-liquids and the effect of vaping on the lungs. It turned out there were many additives in there that shouldn't be. These included unnecessary chemicals, emulsifiers, colourings or even cake flavourings, that are simply not suitable for vaping."
Europe's first e-liquid producer
At Millers Juice they created a new range of e-liquids from scratch by focusing on top-quality ingredients and a transparent production process. Because of this, Millers Juice e-liquids only contain four ingredients: a thin, glycerine-based liquid, an emulsifier, an aroma and – optionally – nicotine. They were one of the first in Europe to do so.
"Nothing more and nothing less. Our most popular favours are tobacco and various fruits," Baart says. "Nearly all our ingredients are sourced in the Netherlands and the remainder come from elsewhere in Europe in order to guarantee the quality The nicotine we use is made by a renowned producer from Switzerland. Even our packaging is produced in the Netherlands, so we can quickly respond to changes in labelling requirements"
Less harmful than cigarettes
Cigarettes contain up to 4,700 different harmful substances, including the highly damaging tar. In addition to the obvious benefit of avoiding those substances, vaping is a lot cheaper and does not make your clothes smell. Baart explains: "Smoking one pack of cigarettes a day will set you back eight pounds, whereas a bottle of e-liquid costs four pounds and will last several days. It can save you thousands in the long run."
Baart admits to having been a smoker himself for many years, so he can personally attest to the benefits. "E-liquid vapour instantly disappears and does not leave you smelling like an ashtray. We also get regular testimonials from customers who notice they don't get out of breath as quickly as they used to when they were still smoking cigarettes."
Shaping the industry
As the e-cigarette is a relatively new product, legislation is still being adapted to suit the industry. The team at Millers Juice is actively involved in shaping policy at a national as well as international level. Currently, they are part of a European Union workgroup to give feedback on policy proposals.
"At first, there was no legislation at all, but things are a lot stricter now," Baart continues. "For example, there are new labelling guidelines, limits on nicotine contents, which is now capped at 20 millilitres per milligramme, and rules for the size of the packaging, which cannot be bigger than ten millilitres. This prevents children from accidentally drinking a large amount of the liquid, which could be fatal."
Craftsmanship quality
Despite being in production for only four years, Millers Juice has grown rapidly. By now, they have a large state-of-the-art production site, laboratory and storage, and a team of 65 people to oversee the production quality. The company prides itself on their craftsmanship and their specialisation in the product.
Baart adds: "Our products are fully compliant with all the current legislation, but we go above and beyond that in order to continue to be a leading and prominent producer of e-liquids worldwide."
Millers Juice produces tens of thousands of e-liquid capsules every day. To ensure the highest quality, they test every batch for purity at their high-tech laboratory setup. They sell various labels, including the Silverline, Chromeline, Platinumline and Goldline for the wholesale market. The company also offers the production of private labels for corporate clients.
Subscribe to Our Newsletter
Receive our monthly newsletter by email