Max Verstappen: The new F1 superstar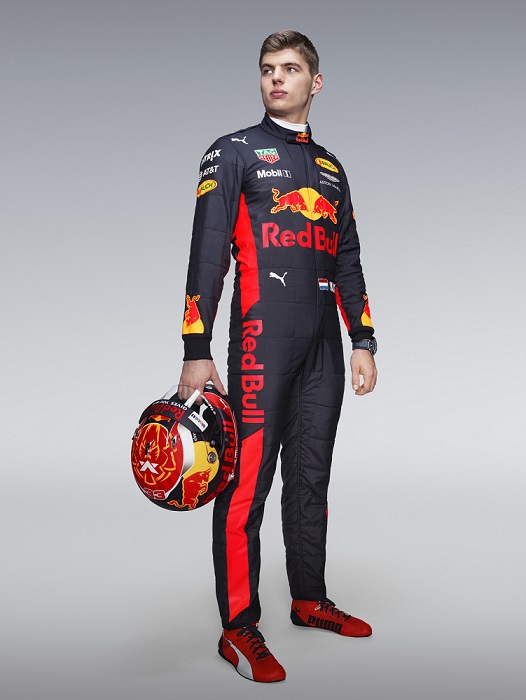 Breaking records seems to come easily to Formula One wunderkind Max Verstappen. The teenage racing driver rewrote the history books at the age of 17 when he made his debut as the youngest ever Formula One driverat Australia's 2015 Grand Prix. One year later he broke another record; becoming the youngest driver to win a Formula One World Championship race at the Spanish Grand Prix in Montmeló. With the 2017 racing season now well underway, all eyes are on 19-year old Verstappen, who consistently impresses with his risk-taking driving style and skillful recoveries. We caught up with the Belgian-born sportsman, who competes under the Dutch flag with Red Bull Racing to talk about his unprecedented rise to success.
It seems trivial to ask Verstappen what at
tracted him to racing. After all, he is the 
son of Flemish karting champion Sophie 
Kumpen and Dutch racing driver Jos 
Verstappen. In fact, Verstappen senior 
travelled to the Suzuka Japanese Grand 
Prix to race for Tyrrell just ten days after 
his son was born and Verstappen junior 
was spotted at karting circuits before he 
could walk. 
"One of my first racing memories was in 
Malaysia. My dad was racing and I was 
there, running around in the paddock as 
well. I think I was like three years old or 
something," he smiles. 
Aged just four, Verstappen received his 
first kart and only a few years later he 
was driving his first kart races. In 2005, 
he became Belgian Champion in the Mini 
Category of the Belgian Karting Champi
onships. It was around this time that the 
youngster became serious about follow
ing in his father's footsteps. "I was always 
like, 'wow, I'll try to do the same [as dad]',"
recalls Verstappen. 
Verstappen continues to look up to his 
Dutch father, who is always on hand to 
offer support and mentoring. "It's great to 
have an example. He's still helping me a 
lot as well. If I have any questions, if I need 
advice, I can always go to him," he says.
"Of course, he's very proud of me, as I 
think any father would be." 
Indeed; Verstappen has plenty to be 
pleased with. After just one season in 
single-seaters, Red Bull shocked the For-
mula One paddock by placing Verstap-
pen with Italian Formula One racing team
Toro Rosso in 2015. It was the first time 
someone so young had lined up on a For
mula One grid. How did Verstappen cope 
with such responsibility aged only 17? 
"Everything has gone really fast in my life.
At the end of day, I never really think about 
my age. For me, it doesn't really matter," 
he explains. 
Record breaker
His age may seem insignificant to him, but 
Verstappen has a place in the 
Guinness 
World Records 2017 Edition
 book thanks 
to his win at the Spanish Grand Prix in Montmeló last May, where he became the 

youngest driver to win a Formula One World 

Championship race – aged just 18 years 

and 228 days. Commentators were as

tonished by Verstappen's composed drive 

at the Circuit de Barcelona-Catalunya,

which was even more impressive given 

the fact that he had only recently made 

the switch from Toro Rosso to his current 

team Red Bull Racing. 

The Spain win was not only significant in 

terms of Verstappen's age; it also repre

sented the first time a driver racing un

der the Dutch flag had won at a Grand 

Prix and further contributed to his hero 

status in the Netherlands, where he was 

crowned 2016 Sportsman of the Year.

"I'm very happy to represent my country,"

enthuses Verstappen. "They are very pas

sionate fans." 

Having taken fifth place in last month's 

Australian Grand Prix, the 2017 Formula 

One season has got off to a solid start for 

Verstappen. The season looks set to be an 

interesting one: following the recent retire

ment of Germany's Nico Rosberg, it is the 
first season since 1994 in which the reign
ing drivers' champion is not competing.
So, could 2017 be Verstappen's year? 
After all, in the last decade only two other 
drivers have had a similar impact at such 
an early stage of their career – Lewis Ham
ilton and Sebastian Vettel. Meanwhile, Red 
Bull's motorsport advisor Helmut Marko
has been vocal in his praise of Verstappen, 
and was quoted as calling him "lightyears 
ahead" of many of his Formula One rivals. 
Comparisons have even been made to the 
likes of late Formula One legend Ayrton 
Senna. So, is Verstappen feeling the pres
sure? "No, not really," he admits. "I don't 
look too far ahead. I think at the moment 
it's too early to talk about that stuff. 
 "I mean, as a driver you know what to 
do. You just think hard and focus on what 
you have to do – drive the car fast around 
the track. 
"You just have to focus on yourself and 
try to do the best possible job. And keep 
your feet on the ground, that's important," 
he concludes. With these final words, 
Verstappen proves that famous maturity 
also extends to off the track. Watch this 
space…
TEXT: ANNA VILLELEGER/PHOTO: DAVID CLERIHEW
Subscribe to Our Newsletter
Receive our monthly newsletter by email