Mad About You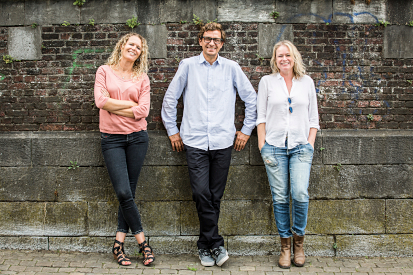 Bringing back the human touch
TEXT: BERTHE VAN DEN HURK | PHOTOS © MAD ABOUT YOU
Sometimes a brand needs time to reflect on their vision and identity. And sometimes a brand needs an outsider to guide them through that process. This is where mad about you steps in.
The brand strategy and visual identity agency, mad about you, knows how to guide companies through times of transformation and change. mad about you consists of a strong team of three; Isabelle Leleux, Evert-Jan De Kort and Marieke Bueters. They dive into the world of their clients, helping brands to live up to their full potential. Bueters elaborates on the successful concept; "the three of us complement each other, as we have our own specialities but also know how to work together, give feedback and inspire each other."
De Kort explains how the team works on new projects; "we start by listening carefully to the clients. It's really important for us to learn how management, employees and clients perceive the company. With the information gained, we organise our 'pride' workshop to establish what the core values of the brand are. The outcome of such a workshop is a true and engaging story. With that story as a starting point, mad about you then starts developing the visual identity for their client."
mad about you has built an impressive resume, with clients from all over the world. SD Worx, PostNL, Solvay and Haribo are just a few of its international clients, but also large and influential companies in Belgium such as Telenet, Degroof Petercam and essent.be have asked for their expertise.
"The best compliment is hearing our clients say that they feel proud to work for their company again," says Leleux. "To achieve that, our main task is to bring back the human touch. We restore clarity and unity within a company. And in the end, we deliver a true and full identity."
Subscribe to Our Newsletter
Receive our monthly newsletter by email