Lucas & Arthur Jussen: The dexterous piano duo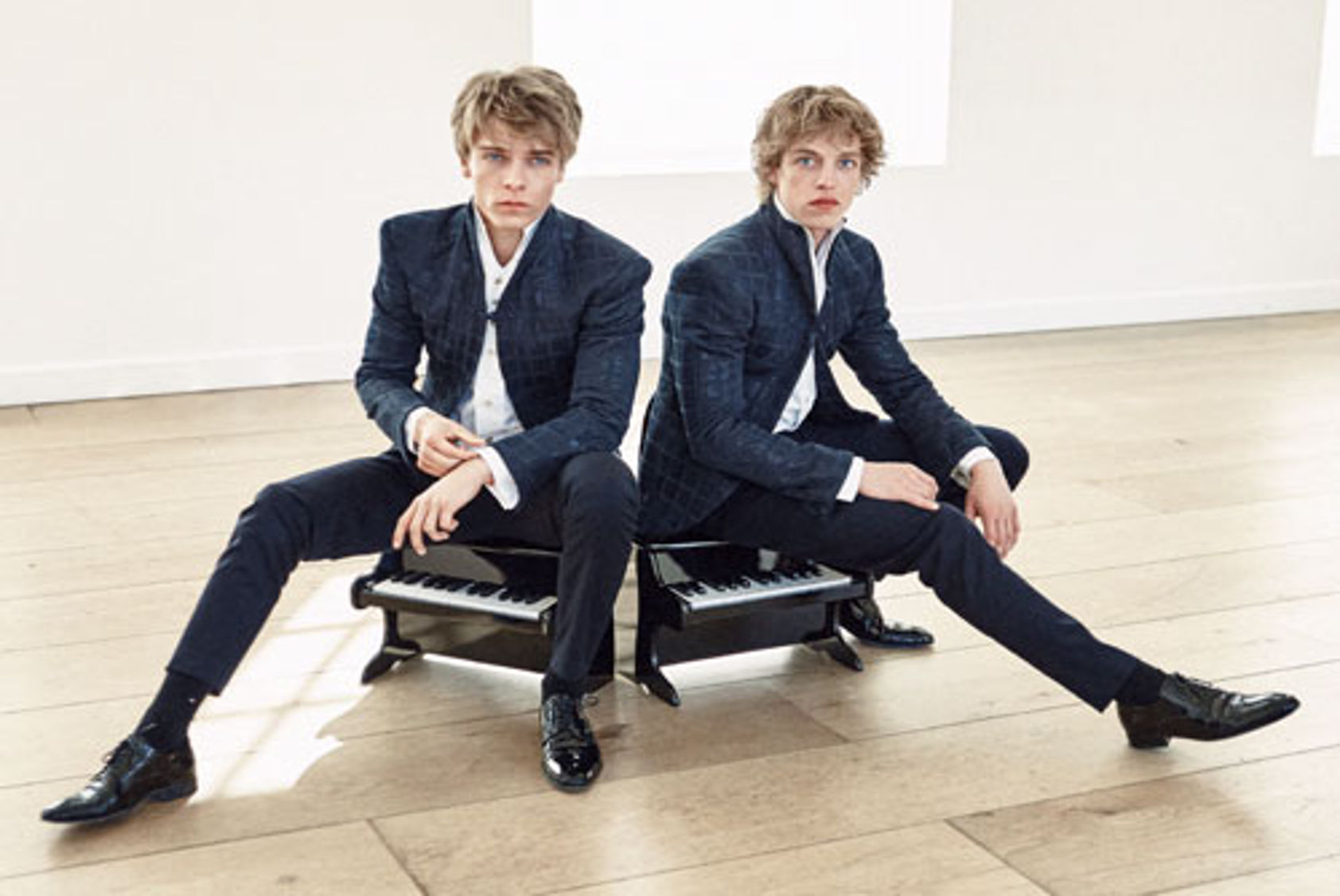 They are the Netherlands' most popular piano brothers, Lucas and Arthur Jussen. The pair started playing at a very young age and are now flying all over the world to perform live. With a résumé of best-selling albums, including recordings of Beethoven, Schubert, Ravel and most recently Mozart, we asked them what it is like to be two young men in the mature world of classical music.
When we called the brothers, they had recently come back from a tour in Asia, playing in Japan and South Korea. Lucas, the eldest of the two at 22, says: "It was a very interesting experience, and thankfully the concerts also went well. It is always fun to be allowed to stay in countries with different cultures."
 It was their second time in Korea and third time in Japan. Despite being located close to each other, the brothers discovered a great deal of difference between the two cultures, including when they were on stage. "In Korea they are very exuberant and somewhat louder. They really shout and cheer after a concert. And the Japanese are much more reserved, during the concert they sit in silence in the hall, but then afterwards, even after we have left the stage, they continue to applaud for another 15 minutes," Lucas remembers. "But even in the Netherlands, between the regions and the big cities, it is always different. It is nice to see how different people react to it."
Performance day
The brothers have travelled all over the world, both together and as soloists, ever since they released their first album Beethoven Piano Sonatas in 2010, which  reached platinum status in the Netherlands. At the time Lucas was 17 and Arthur was only 14. By now, preparing for a performance is a familiar routine.
Lucas explains: "In the morning we have a nice breakfast, and try not to inflate the concert too much. The bigger you make it yourself, the more pressure you put on it. We try to have a normal day leading up to the concert, but we always do a warm up session well in advance. We obviously don't take our own instrument with us, so we are always depending on the instrument available. It is important to get a good feeling of the instrument and take in the atmosphere in the hall so we can start to feel at home on stage."
Playing with four hands
After their debut, the brothers released three more albums, Schubert Impromptus in 2011, followed by Jeux in 2013, and their most recent album Mozart Double Piano Concertos was released October this year. On the records they perform both individually and together. We asked Arthur, 19, what he liked about playing solo. "The good thing about playing alone is that you are completely free. You can decide everything yourself, from the interpretation of the music to how you receive the applause, those little things," he says. "It's also nice to experience something together, make music together and go for a common goal, that is also really special."
Especially on television performances, the brothers are often seen playing 'à quatre mains', or together behind one piano. Arthur explains this way of performing can be quite intense. "You feel each other's breath, it's not like you only hear it, you actually feel it. You really have to come together, and there is no way out of that because you are touching and sitting right next to each other."
Playing with classical greats
On their latest album, with music by Mozart, they play together with the famous Academy of St Martin in the Fields orchestra, led by the legendary conductor Sir Neville Marriner. It was the first time they recorded together with other musicians. "I actually really liked it," continues Arthur. "It was definitely a lot more sociable because there were more people, there was more activity. And because there are also times when it is just the orchestra playing, you get a little moment of rest, where you can concentrate on the moments that you do play. I thought that was rather nice."
The Academy of St Martin in the Fields was set up in 1959 by Marriner in London and is known for also recording film music, including for the Mozart biopic Amadeus. "We really wanted to record these pieces by Mozart," states Arthur. Their management had already reached out to the orchestra and then this summer, when the brothers ran into them at the Robeco SummerNights in the Amsterdam Concertgebouw, it really got the ball rolling. "They played the day after us, so that is where it started."
Marriner, 91, is accredited with being one of the greatest conductors still alive today. Needless to say, he has a wealth of experience, which the brothers eagerly took in during the recording process. "First of all, it was a great honour to work with someone like that, and secondly it was a fantastic learning experience The knowledge just oozes from the man, it is incredible how much baggage someone can have," Arthur recalls. "He has done everything multiple times, and then the fact that we as two young guys can work with someone like that, that is a great honour and we tried to learn from every second and take all that knowledge home."
Following your own interpretation
In the classical scene, most new albums are covers of music that have already been recorded before. This is especially the case with popular composers such as Mozart. But the fact that thousands – if not millions – of other pianists have played the same pieces did not deter the brothers. "Every single interpretation of the music has probably already been recorded to perfection. But if you start to think like that, that you have to do something different, then it becomes very constructed," says Arthur. "I don't think that is the right way to make music, but it is something I sometimes think about myself to be honest; why would you record something that has already been done? But you have you trust yourself, what you think you should do with the piece, and then it goes naturally."
One of the things the two are known for is reaching a new, younger audience. Thanks to being young themselves and doing many media appearances in the Netherlands and abroad, they have introduced classical music to a generation of people who are not familiar with the genre, and they are eager to continue this. Arthur says: "It is very difficult to become popular with a younger audience. I think because we are young and because of who we are, we are part of the process to make it more popular. If we will succeed, I don't know, but I hope so."
Young lads in the classical scene
When we ask why this is important to them, Lucas interjects: "Because for us it would also be nice to have some beautiful girls in the audience, and not just people of over 75," he laughs. "Of course, it isn't normal to constantly be among people that are almost 50 years older. It is not always bad, but it would be nice if there was more of a balance."
Aside from their talent, their age has also been their prominent niche, having started recording their debut album in their (early) teens. We asked whether growing up is changing how people view their performances: "I can't say that anything has changed, or that we should be more conscious of the fact we'll be judged purely on our performances as I feel this has been the case for much longer," starts Lucas. "I believe, perhaps naively, that the audience would see right through these kinds of things, if our 'cuteness' factor had been bigger than the quality of our performances."
A merry Christmas in Maastricht
The pair, who grew up in Hilversum, have a strong connection with Limburg. Their mother is from Maastricht and their father from Vaals, nearby, and they still regularly head over to visit family, including for the holidays. The brothers were keen to share their must-visit places in Maastricht for Christmas. "The whole city is decorated with lots of lights, so if you like that and want to get into the Christmas spirit then it's a good city to go to. I would definitely go in the Ferris wheel, also decorated with lights, and grab a drink at the Our Lady square."
"And go to Café Sjiek!" says Lucas. "Yes, you can have a delicious meal there," Arthur agrees.
Text: Myriam Gwynned Dijck
Subscribe to Our Newsletter
Receive our monthly newsletter by email