Luc Tuymans: Through the Lens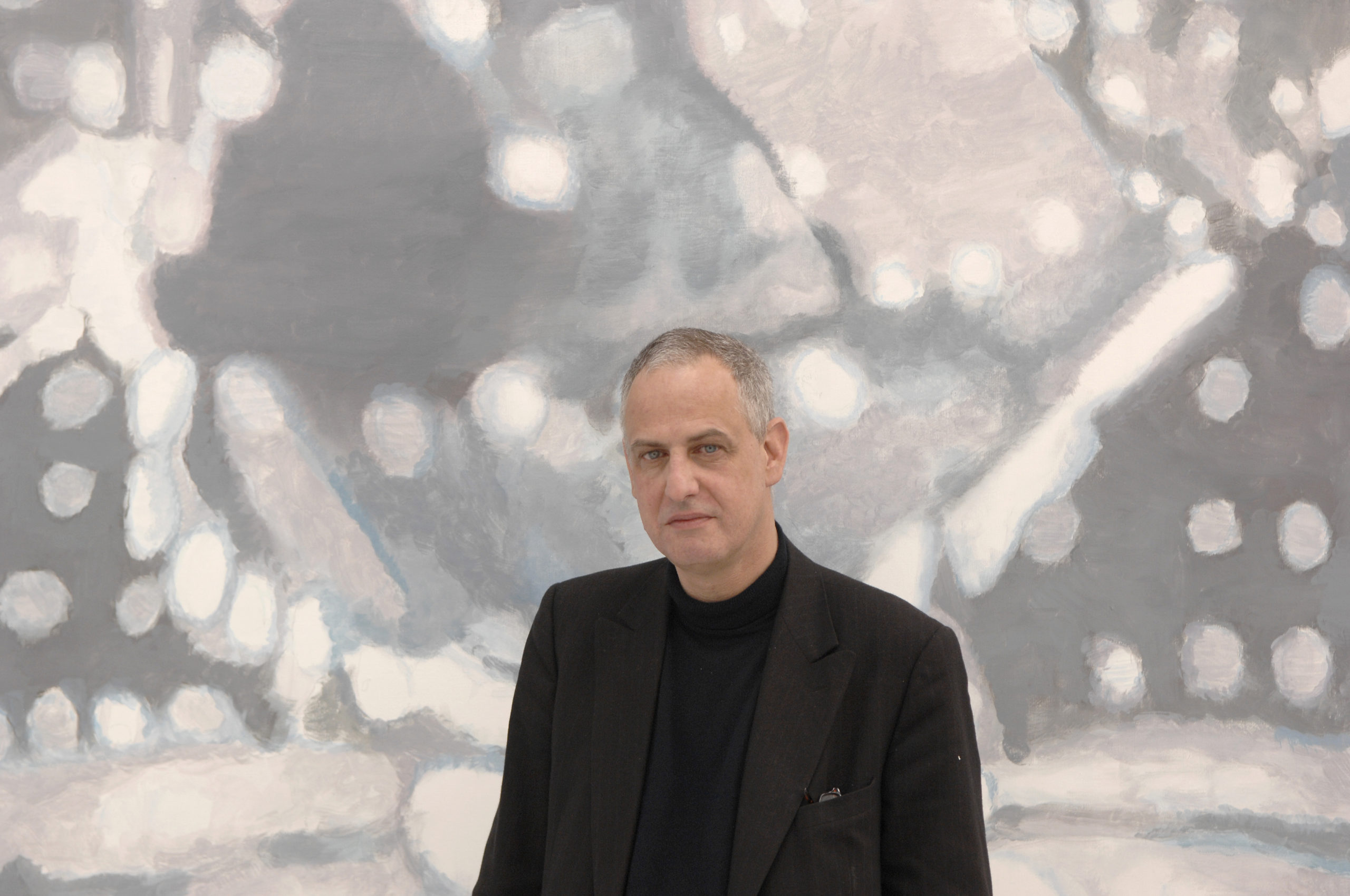 Belgian artist Luc Tuymans is often cited as one of the most significant and influential contemporary artists working today. His work is displayed in museums across the globe; from the Centre Georges Pompidou in Paris to New York's Guggenheim, while his portrait of Her Majesty Queen Beatrix of the Netherlands can be found at Amsterdam's Stedelijk Museum. Tuymans' work often attracts attention due to its daring and political subject matter, yet his latest exhibition in London has a eemingly far more banal theme: glasses. We caught up with the Antwerp-based creative and part-time spectacle wearer to learn more about his fascination with frames.
"I was looking through all the portraits I've painted up to now and I realised that three quarters of my subjects have glasses, which was quite intriguing," begins the artist. "So I thought it would be interesting to make a show dedicated to them." Tuymans mostly uses his own glasses for reading, but why does he think he has been so attracted to painting spectacle wearers? "It wasn't a conscious choice, but I have always enjoyed painting glasses," he explains. "The idea of glasses has a lot to do with identity. When somebody takes their glasses off it's very strange. They bring a kind of distortion to the face, but are not perceived as a radical change." Tuymans narrowed down his expansive portrait collection to a small selection that will go on display at London's National Portrait Gallery from 4 October until 26 March 2017.
Pushing boundaries
One of the most unsettling pieces to feature in the exhibition is Tuymans' 2012 ortrait of Issei Sagawa, the Japanese man notorious for murdering and cannibalising a Dutch woman in Paris in 1981. Sagawa, who was deemed unfit to stand trial by the French judiciary due to his mental health, was allowed to return to Japan where the now 67-year-old continues to appear in the public eye thanks to many people's macabre interest in his crime. "That's the most recent of my portraits that will be on display," says Tuymans. "A cannibal who studied at the Sorbonne [university in Paris]. This is a portrait of him now, actually, where you see him wearing glasses but nearly invisible." Even though the exhibition's theme may initially appear to be rather ordinary, this disturbing portrait highlights Tuymans' tradition of engaging with eerie subject matter and dark historical events.
An eye for curation 
In addition to his Glasses exhibition, Tuymans has been busy working on curating works to feature as part of Intrigue: James Ensor by Luc Tuymans at London's Royal Academy of Arts. The exhibition, running from 29 October 2016 – 29 January 2017, represents the first major selection of the Belgian expressionist painter's work to be held in the UK in 20 years. It will bring together around 70 of Ensor's paintings, drawings and prints selected by Tuymans. "Ensor was one of the major precursors of expressionism," enthuses Tuymans, who has been an admirer of Ensor since his teenage years and hopes to raise more awareness in the UK of the Brussels-born innovator, whose work influenced the likes of Paul Klee and Emil Nolde. "A lot of British people don't know the work that well, which is quite ironic because his grandparents were British. I tried to select his most surprising and less-known work. They also asked me to put a work of mine in the show, so there will be my first etching from 1975, which is very Ensorian in a way." The Ensor project is not Tuymans' first foray into curating – far from it. "I never actually instigate it! They always ask me," says the artist, surprised by his curatorial success. He has previously organised exhibitions including 2013's Constable, Delacroix, Friedrich, Goya. A Shock to the Senses at the Albertinum, Dresden and A Vision of Central Europe at Brugge Centraal, Bruges. While he may now be an experienced curator, the Glasses exhibition actually represents the first time Tuymans has made a thematic selection from his own body of work. It was a moving experience for him. "When I see a work back, even 35 years later, I can still remember how it started," he recalls.
Room for other artists
Tuymans and his wife, the Venezuelan artist Carla Arocha, are both passionate art collectors, although you will not find any of Tuymans' own work on display in their Antwerp home. "Once a painting is done, the thought of having it in my living quarters: just 'no'," he affirms. "I couldn't stand it. I would just see mistakes. I'd rather look at somebody else's mistakes. When a work is finished, it's finished. "When I started out I used to live in a very small apartment in the ghetto here in Antwerp. I used to work in the living room and that's how I destroyed a lot of work. Now, I have the privilege of going to the studio, closing the door and going home. I think the separation between the studio and the home is a good thing."
True to his roots
We wondered whether Tuymans, who was born in 1958 in Mortsel, near Antwerp, would ever consider leaving the Flanders region? "I am very attached to Antwerp. There's a big history here and there has always been a big history here. It still is one of the biggest ports in Europe," he begins. "Of course, I'm a bit chauvinistic about it and that's why I actually still live here." Tuymans is undoubtedly proud of his Antwerp roots, yet leads an international lifestyle thanks to his global success. Just last year, a major survey of his work, entitled Intolerance, was presented at the Qatar Museums Gallery Al Riwaq in Doha. Other significant surveys show the artist's work including one at London's Tate Modern in 2004. What does Tuymans think of the British capital? "London has changed enormously. It's a very expensive place to be and like a lot of cities, due to globalisation, they lose their character and that is a pity of course. It is then all rules and regulations," he laments. "If I was considering having a second home in another city then I would consider somewhere like Madrid, Mexico City or Warsaw. It certainly wouldn't be New York or London." That said, Tuymans massively appreciates London's choice of galleries. "Institution wise, there's a lot to see…" he enthuses.
Tools of the trade
Tuymans is a great admirer of 79-yearold English artist David Hockney, who this summer presented a new body of work for the Royal Academy of Arts exhibition 82 Portraits and 1 Still-life. "If you look at his portraits, they are so fresh. Especially when you take into consideration that he is nearly 80 years old." Hockney is known for embracing all things digital and having experimented with iPhone and iPad art. Tuymans is similarly open minded. "I have no fear of new media. It is important to have these things in your tool box," says the artist, who was widely credited with having contributed to the revival of painting in the 1990s. "You cannot be blind to the world. You shouldn't fight new media because that's a fight you're not going to win." A changing palette Tuymans' method involves painting from pre-existing imagery, exploring how history and memory can be translated into paint. He previously based works on magazine pictures, drawings, television footage or Polaroids, but has more recently begun sourcing material from his own iPhone photos. "I was never a gadget person but once the iPhone came on the market it was something that I really wanted to have," he explains. He may be happy to seize technological advancements, but Tuymans has no fears about painting becoming a dying art form. "There's a massive amount of painting going on," he enthuses. "There's been a lot of discourse on the subject which has been quite hollowed out. It is not an interesting debate. Every medium has its specificities. Painting is very specific." With that in mind, can Tuymans envisage working in another medium in the future? After all, he has previously experimented in film. "I could not combine it with painting. I would have to stop painting and then go intensively into film," he muses. "But it is still in my underbelly…"
TEXT: ANNA VILLELEGER | PHOTOS: LUC TUYMANS
Subscribe to Our Newsletter
Receive our monthly newsletter by email