Living Stone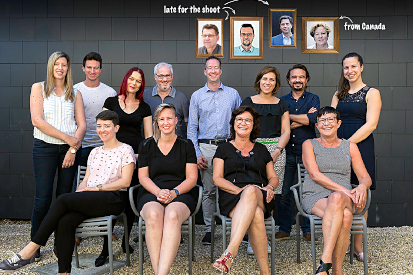 We share your ambitions
TEXT: FRANK VAN LIESHOUT | PHOTO © LIVING STONE
Living Stone has been serving clients in the technology, engineering and healthcare industries for over a quarter of a century. With a strategic approach, creative solutions, streamlined project management and a global network of partners to develop content with, the Flanders outfit create and roll out integrated B2B marketing campaigns for companies aspiring to be leaders in their field.
"When people talk about the brand identity of companies, they often talk about the name, the logo or the colours that are used," says Living Stone CEO and founding father Bart Verduyn. "But a brand identity is much more than that. It also incorporates what you sell, who you hire, how you communicate and even what your offices look like. A brand is the essence of what you are as a business, it expresses your unique story. Defining this story and communicating it in a compelling way is what we do. The brand story is the guiding principle for all your marketing efforts, and the basis for your business to thrive."
Long-term relationships and collaborative effort
Verduyn set up Living Stone in 1992, together with managing partner Anne-Mie Vansteelant, to help businesses in IT, ICT, engineering and healthcare solutions with their B2B marketing. "The first clients we worked for back then, are still on our books now," Vansteelant reveals. "This tells you something about the nature of business to business marketing, but also about our personal commitment to our clients. We're not just in it for quick results, but really feel responsible for their success in the long term as well."
Living Stone works with international healthcare organisations and leading tech companies such as Business & Decision, Nexans and Cerus. "But we also work with smaller businesses and start-ups, as long as we know they have the ambition to be leading in their field, so we can make a difference."
After initial discussions with the client's management, the Living Stone team talk to the client's customers and with various people in the company to fully understand the client's current market and brand position. "This research into what is driving the customer can flag up significant gaps between how the boardroom perceives their brand and how it's perceived in the market and within the ranks of the company itself," Vansteelant explains. "It is essential to take these perceptions on board to develop a realistic and effective strategy."
These market perceptions and the company's values are then used to develop the brand story. "In B2B, crafting the right story is always a collaborative effort," Living Stone's Concept Director Bruno Termonia stresses. "We have the creative marketing skills, but our clients have a deeper understanding of what their business, products and services are about. We need them as much as they need us to develop the brand."
Content strategy and global network
On the basis of the brand story, the visual identity and 'go2market' strategy are created and communicated internally, so everyone is reminded of what the brand entails and what their role is in creating value for the customer.
The next step is to develop a content strategy to engage with the market and communicate the brand consistently through the relevant channels. "Often, companies create a new visual identity, launch it and then forget about it – which means nothing much will happen," Vansteelant smiles. "In order to effectively claim your brand position, you need to continue communicating the story and monitor the outcomes of your efforts."
To deliver the content for this, Living Stone have the support of a broad global network of big and small partners. "We work with well-known organisations such as HubSpot for our inbound marketing and Showpad for sales enablement, but also with individual copywriters, illustrators, designers, video makers and other creatives. These are often people that we have had long standing relationships with, who understand what our clients are looking for. Not only do we know that they will deliver excellent work, but we also know which partner will best match the client's business culture and management team. The importance of these personal relationships are often underestimated, but they are vital for a smooth and positive creative process. After all, we don't work for brands, we work for people who want to achieve something with their brands. And we are here to share their ambitions!"
Recent projects Living Stone have worked on include:
Tobania, one of Belgium's largest ICT specialists; Orsi Academy, who provide training and expertise in advanced robotic surgical techniques; and Nexans Data Center Solutions, a new business unit providing advanced network cabling solutions to hyperscale data centres.
Subscribe to Our Newsletter
Receive our monthly newsletter by email