Lara Stone: Still at the top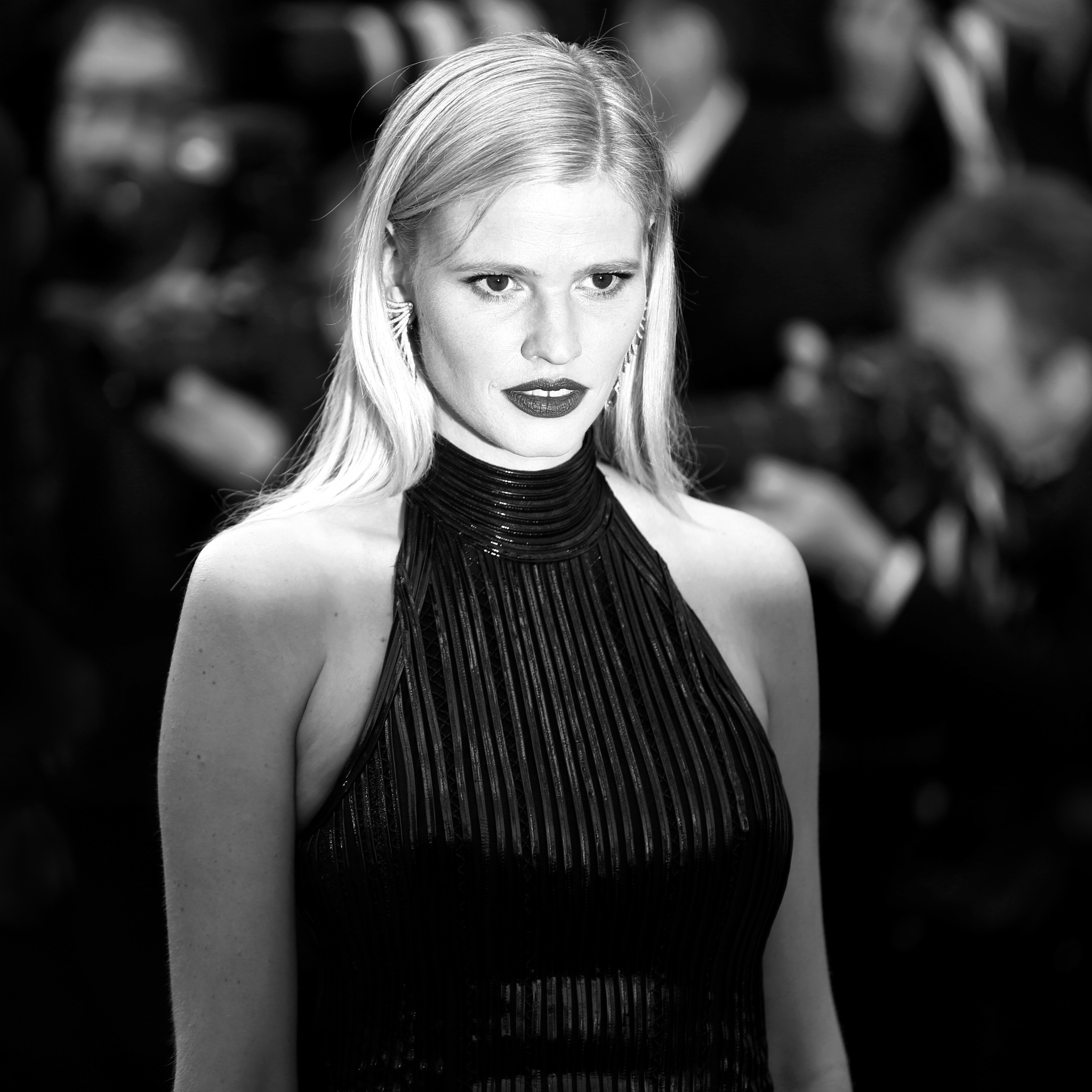 Now 33, Lara Stone is one of the most successful models of all time. So what is her secret? The ambassador for L'Oréal Paris shares her beauty tips and tricks — including, never take a selfie.
"We're doing it in bed? Oh I loooove the idea of bed right now," says Lara Stone, back-diving into a Doris Day-esque heap of pillows in our Cannes hotel room before the glam team descends, adjusting her as necessary. She was up until the wee hours at a L'Oréal Paris soirée at the film festival, but you would never guess it from her skin. There is not an 'up all night' shadowy smudge in sight, and her telltale red eyes only serve to make her look like she would be seriously good fun on a night out.
To be honest, bed seems like her natural habitat, not least because of the famous supermodel's curves. Fashion folklore has it that when she made her catwalk debut for Riccardo Tisci at Givenchy couture, in 2006, the whole of the hardfaced fashion frow leapt out of their seats to declare a bona fide fashion moment. Since then, she has become as successful as it is possible for a model to be. More than 100 magazine covers, catwalk dominance from Versace to Victoria's Secret, a celebrity marriage and the hugest contracts going.
Stone is now 33 and more than a decade into her career, and all the 'sex kitten' adjectives still apply. Yet she remains genuinely, charmingly indifferent to her pin-up status."I find it really weird when people are like, 'Oh, you're so sexy,' and I'm just there at home in my tracksuit thinking, 'Er, OK'," she says in her signature (and not unamusing) Dutch drawl. "It's probably just down to the fact that I've got bigger boobs than the average model." True enough. Though unlike traditional bombshells, Stone does not sashay. In fact, her odd, slightly aggressive runway walk — 'the Lara lurch' — is infamous, and she is never straightforwardly coquettish. She always retains a streak of fashion-friendly androgyny (Tisci calls her the 'gothic Bardot'), though she prefers not to dwell on what made her a star. "Resting bitch face?" she offers, laughing. "I just don't have a naturally smiley face."
Stone is unusually relatable. The everyday pressures of getting older and dealing with social media might be more fraught for supermodels, but as a mother of Alfred (her four-year-old son with ex-husband David Walliams), she is also a straightforward working professional with a somewhat normal life. She works, she parties with friends, she goes on dates (such as a recent expedition to a North London pub with a mystery man, documented by the tabloids). She also still fangirls over her idols: "Christy Turlington sent me an email the other day and I blushed. Those supermodels of the 1990s were my heroes when I was growing up — they were so glamorous and amazing, but I totally didn't relate to them. I never even thought modelling was an actual job you could do, which is probably why I didn't get into it until I was older."
Stone did not make it big until she was 23, retirement age for many models. So does she worry about ageing? "You know, I feel like the age thing is being embraced a bit more than when I started out," she says. "Many of the other L'Oréal girls [who run the age gamut from Elle Fanning to Helen Mirren] are older, and yesterday I was with Doutzen [Kroes] and Irina [Shayk], which was so nice as we're all grown-ups and mums." Does that mean she would not succumb to a bit of Botox, then? "I was thinking about this the other day, as it's just so normal now. It's crazy how all these young kids are getting fillers and stuff, and I'm wondering whether my generation is going to be the last one to look properly old, which really freaks me out. "On the other hand, I feel like if you're really not happy with something, it's so easy to get it fixed these days, so why not? I definitely get tempted on occasion and think, 'Maybe just a bit of Botox here and bit of thingy there.' But at the end of the day, I just don't think it's for me."
She has always been resistant to change herself to please others, having kept the now trademark gap in her teeth despite early advice to have corrective orthodontics. "I never really got the fuss over my teeth," she says, looking perplexed. "Personally, I've never had a problem with them. I got teased about them when I was much younger, but I see them every day, so I'd feel really strange if I suddenly started looking different." Amen to that. So is there any other beauty advice she would care to pass on? "Don't attempt to pluck your eyebrows using nail scissors for starters," she laughs. "I did that when I was about nine. I didn't have any tweezers, so I thought that scissors might work. Smart move, huh? Other than that, it's the usual — drink lots of water, moisturise, use sunblock and take your make-up off before you go to bed."
She does not always feel like she is nailing it. "The iPhone camera just doesn't agree with my face," she says (insert eye- rolling emoji here). "No, really. Everyone else takes a selfie and looks great, and I'm just like, 'Urgh, this isn't working'. Black and white is definitely my default filter." It is a constant siege, though. Earlier, during our shoot, she was standing on the balcony having a sneaky Marlboro Red, wondering whether the paps below were allowed to photograph her on a private terrace. Judging from the "Lara flashes her knickers" headlines in the papers the following day, the answer, alas, is yes.
Is it tough, the pressure of constant cameras? She shrugs. "I'm usually barefaced as I can't be rushing around doing the school run in a face full of make-up. And, of course, you can't beat a nap for making your skin look great," she says, sinking happily back into the pillows. "My son is four, but still naps every now and again, which I love as it's one of my favourite hobbies," she says, beaming at the photographer still clicking away. "So how about we try a sleeping shot now?"
TEXT: CASSIE STEER / THE SUNDAY TIMES / THE INTERVIEW PEOPLE | PHOTOS: ANDREA RAFFIN / SHUTTERSTOCK.CO
Subscribe to Our Newsletter
Receive our monthly newsletter by email