Kröller-Müller Museum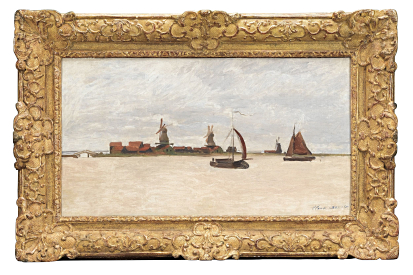 For the love of art: Discover 80 important acquisitions for 40 Dutch museums in a single exhibition.
TEXT: ELLA PUT | PHOTOS © KRÖLLER-MÜLLER MUSEUM
It is a place where exquisite artworks meet under the most unusual of circumstances. The exhibition For the love of art (Als kunst je lief is) in the Kröller-Müller Museum promises to be a sight for sore eyes for multiple different reasons.
In the midst of one of the most treasurable parks of the Netherlands sits the Kröller-Müller Museum, known for its erratic modern-art collection as well as its impressive sculpture garden. The museum is now home to a unique exhibition of precious pieces from the Dutch art world, For the love of art.
For one time only, more than 80 important acquisitions from 40 Dutch museums are brought together, all of which were acquired with the support of the Rembrandt Association in the past ten years. 
For the love of art shows the full range of museum acquisitions: paintings, drawings, photographs, sculptures and so much more. The oldest work is about 3,000 years old, the most recent dates from 2016. Together, the acquisitions give an idea of how Collectie Nederland (Dutch National Collection) – which is accessible to all – has been enhanced in the years 2008 to 2018.
The Kröller-Müller Museum is a place where things of beauty come together. The unique combination of art, nature and architecture guarantees visitors a truly unforgettable experience. An experience that arouses all the senses. The museum is a paradise for both seasoned art lovers and objective newcomers.
Feast of unexpected encounters
The 80 works, many of which are visitors' favourites, are taken out of their usual context and displayed in surprising combinations. For example, a monumental 16th century religious painting from Alkmaar hangs next to a huge photograph by Andreas Gursky from the Stedelijk Museum, and a prototype chair by Rietveld from the collection of the Centraal Museum in Utrecht is flanked by a painting by Alma-Tadema from Leeuwarden and a 17th century floral still life from the Mauritshuis. In short, the exhibition will be a feast of unexpected encounters that invite exploratory walking, viewing and comparing.
About the Rembrandt Association
The Rembrandt Association was founded in 1883 by a group of art lovers. The group prevented works of Dutch masters from being sold to foreign institutions and, in some cases, even brought back pieces from abroad. Ever since, the Rembrandt Association has played an important role in preserving the world of Dutch art history and culture to keep it safe now and for future generations.
Dates:
30 September 2018 to 3 February 2019
For practical information and e-tickets:
Subscribe to Our Newsletter
Receive our monthly newsletter by email