Konnekt Smartdrinks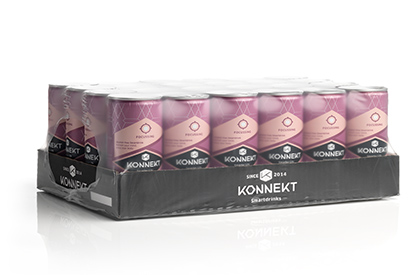 Innovative Dutch 'Smartdrinks' range set to go global
TEXT: ANNA VILLELEGER | PHOTO © KONNEKT SMARTDRINKS
The Konnekt Smartdrinks story began in 2014, when company founder James Russell Reid had the idea to formulate a range of refreshing Smartdrinks powered by amino acids. Konnekt's game-changing range of Smartdrinks – which use functional ingredients as 'Brain Fuel' – has already shaken up the health drinks sector, with the company well on its way to becoming a global household name.
Reid came up with Konnekt's first three Smartdrinks flavours ('Focussing', 'Enduring' and 'Relaxing') in collaboration with renowned scientists. One of the main benefits is that the completely natural Smartdrinks contain honey as an alternative source of energy. "Evidence shows that scientific sweeteners are even worse than natural sugars," points out Reid, also referring to the notorious 'sugar rush' and subsequent 'crash' associated with bad sugars which are often used as a source of energy. Konnekt Smartdrinks avoid the 'rush and crash' because honey is slowly digested, providing a gradual energy release.
Having successfully produced the first large scale batch of Konnekt Smartdrinks in October 2017, the brand already has a presence across Europe in countries including Germany, the UK and Ireland, and is instantly recognisable with its stylish Piccolo bottle (shortlisted at the NL Packaging Awards 2018).
In the Netherlands, the company have appointed a new Dutch distributor, JetDrinks, while a deal with Dutch company Foodcase International will see Konnekt Smartdrinks being tested as an inflight product on 30 European airlines including Iberia, Vueling and Lufthansa in the first quarter of 2019.
The brand's success is not just in Europe either, thanks to an innovative use of technology. "We have teams of people across the globe reaching out to potential distributors via WhatsApp," explains Reid. Once an interest has been established, three types of contract are offered: a distribution agreement, a licence agreement or an agency agreement.
Konnekt are following leads to begin distributing as far afield as Hong Kong and China, while the company has had an office based in Dubai since last November – with some very exciting plans on the horizon in the Middle East. For example, Konnekt are working on becoming official drinks sponsor of the Dubai Expo 2020.
The brand are also planning to launch their first non-carbonated version in the first quarter of 2019, as well as potentially starting to produce in India and the United States. "This would be a huge leap forward in terms of efficiency," enthuses Reid. "All very important stepping stones to becoming a global brand."
Subscribe to Our Newsletter
Receive our monthly newsletter by email