Kensington: The sound of your summer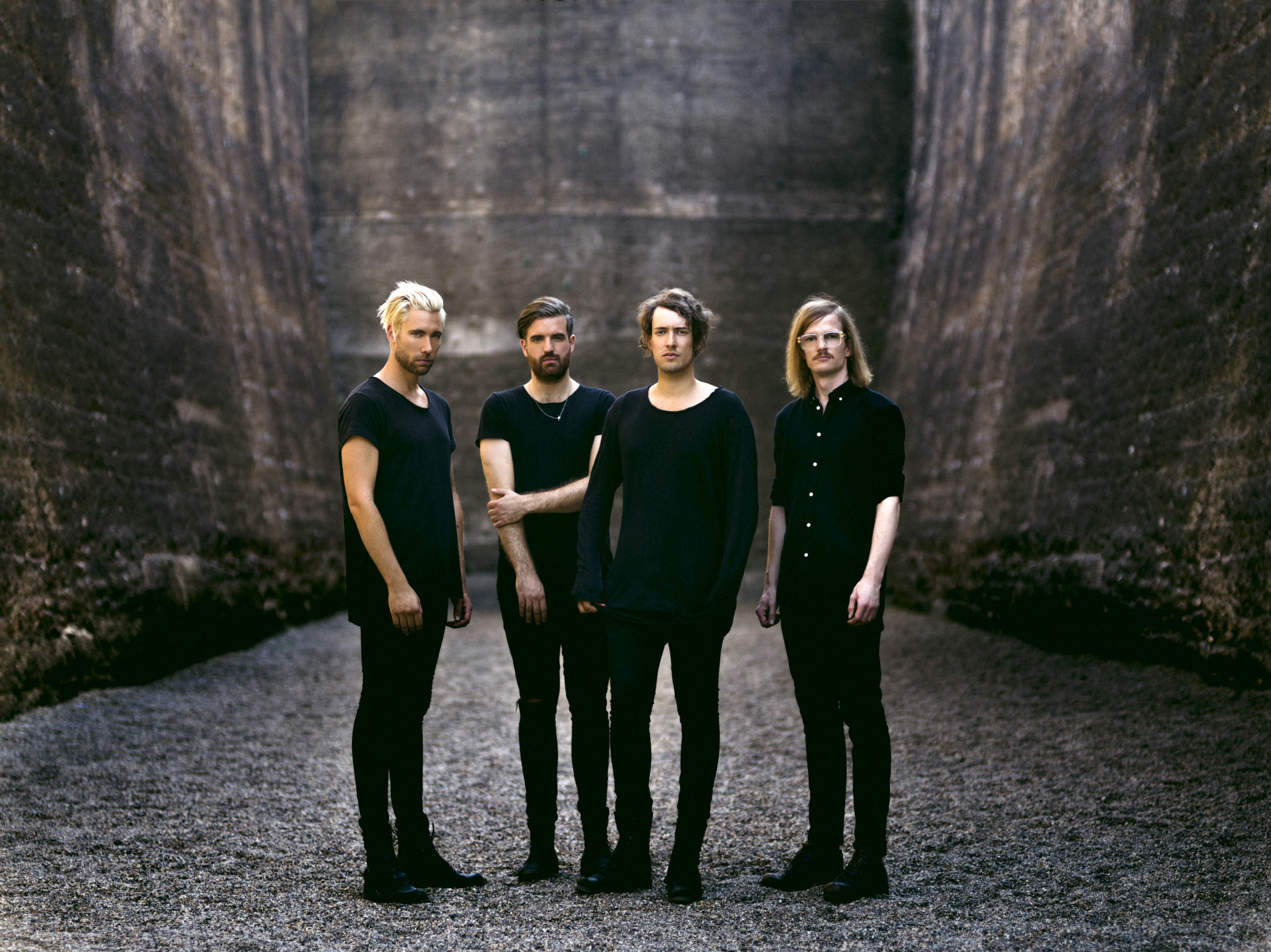 From selling out arenas to gracing the main stage at last month's Pinkpop, it is fair to say that Utrecht four-piece Kensington are having a pretty good year so far. Fired up and ready to hit some of Europe's biggest festivals this summer, singer and guitarist Eloi Youssef speaks to Discover Benelux about getting deep and personal on the band's latest album Control. He also explains why he and his bandmates are now closer than ever.
As the frontman of the biggest band in the Netherlands, one might expect Eloi Youssef to be rather blasé about stardom. He and fellow musicians Casper Starreveld (guitar), Jan Haker (bass) and Niles Vandenberg (drums) found fame in 2010 with debut album Borders, quickly building a strong fanbase across Europe thanks to their unique indie sound and compelling live shows. Four albums later, and Kensington are a huge arena band, although Youssef's reaction to fame goes against the egotistical rock star cliché.
"It's quite humbling to me…I actually get more humbled than I get arrogant," he begins. "For a lot of people it goes to their head but with me it's actually the other way around: I just find it really special that the music that you make is reaching so many people."
Controlling their destiny
Since releasing their latest album Control in October last year, the band have been on the road performing to fans across Europe: many dates including their five upcoming performances at Amsterdam's Ziggo Dome arena have already sold out. How does it feel to play the biggest entertainment venue in the Netherlands?
"In the end, you cannot see how big the crowds are. It's so ridiculous that we created this; the four of us. It's really, really special!" enthuses Youssef.
Does he ever suffer from stage fright? "It's more like a numbness for me personally. It's not, like, really frightened," muses the artist. "There's an inevitability to it. Like with TV shows – it's inevitable; you have to go on stage. You don't have a choice anymore; otherwise everything will just fall apart. That sometimes gives you butterflies in your stomach, but normally after two songs that feeling goes away and you just really enjoy it."
Hometown love
Youssef met his Kensington bandmates in the Dutch city of Utrecht; and the musician is immensely proud of his hometown. "Utrecht is really open and beautiful, it's a really great place to grow up and a great place to be a musician as well," he smiles. Youssef felt an affiliation with the guitar from a young age, and is grateful to his father for encouraging him to play. "I remember that my dad bought my mother a classical guitar. I was always looking at it in the corner of the room. I played violin at that time but somehow the guitar was way more interesting. It just looked like; 'this is my friend'," he recalls. "After a week or so I started to play on my mother's guitar. That's the way I really started to love an instrument." Youssef was about 12 when his father bought him his first electric guitar. Despite saving up for a games console at the time, the youngster was far from disappointed to receive a new guitar instead. "I was like 'yeah, that's a little bit better for my wellbeing'," he laughs. "That was the beginning!"
Music with soul
Growing up, Youssef was inspired by the likes of Leonard Cohen, as well as bands ranging from Nirvana and Soundgarden to Ben Folds Five. On the latter, he says: "They sort of grew big with not-that- poppy music. It's poppy in its own way, but not like what you hear on the radio nowadays. To us, that's really inspiring: just do what you want and put your soul in it and try to get big with it." Kensington's eclectic and catchy records may be radio friendly but, as Youssef explains, the latest album provided an opportunity to dig a little deeper. "What happened this time was that we didn't have any rules anymore," he explains. "We said 'if there's emotion in it, then it's okay'. There are big songs with more depth than before. That's the biggest development that we've made."
Up close and personal
The move towards more personal songwriting happened quite organically and reflects the band's increasingly strong bond. "We really got to know each other this time," he says. "We were in a sort of rollercoaster for a year. We didn't really have time to talk to talk to each other, it was more just like 'work, work, work' and for the first time we had time to actually reflect a little bit and to really have conversations with each other and really get to know each other. When you do that you have more room for real emotions."
Connecting with fans
Does Youssef have a favourite track on the album? "I think every day I have a new one!" he admits. "I really love Storms because it's completely different and the vocals are completely different. I really loved Regret and now having released the single, I really love Sorry because it gets a lot of response and people really seem to connect with that song. "To me that's the most important thing; to show people music that is therapeutic for them. In this case that's the perfect song.  That's the reason why it's one of my favourites at the moment." Despite Control being a hit with the critics, Youssef prefers not to fixate on whether Kensington's records get good reviews. "I don't read reviews anymore," he asserts. "I used to…but for now the only reviews that matter are the personal stories that I get from the fans." Feeding the fire Having cemented his future with Kensington, what are Youssef's remaining goals for the band? "I love what we're doing in Europe right now, really slowly, steadily reaching more people. If I had any dream it would be for us to be as big in the rest of Europe as we are in Holland right now," he reveals. "It's all about reaching people with your music."
With shows lined up across the continent this year, including upcoming appearances at summer festivals such as Main Square Festival in France, Sziget in Hungary and Austria's Out Of The Woods, the band look set to achieve that mission. But it is not all about performing; making new music is a priority too. "We are really busy touring so we don't really have that much time. But in between shows when I'm home, I grab the guitar and I always write. I think you should always keep that flame going, otherwise it'll burn out," he asserts. "You have to feed the fire!"
TEXT; ANNA VILLELEGER/PHOTOS: RAHI REZVANI
Subscribe to Our Newsletter
Receive our monthly newsletter by email