Kanal – Centre Pompidou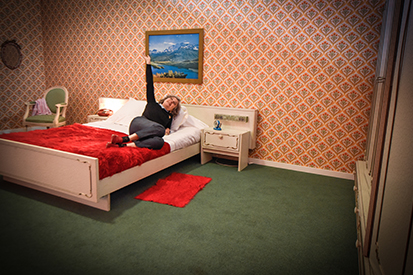 Broaden your horizons at the KANAL-Centre Pompidou
TEXT: PETER STEWART | PHOTOS © @VEERLE VERCAUTEREN FONDATION KANAL/STICHTING KANAL
This new cultural hub in the Belgian capital is hoping to woo visitors from now until 30 June 2019, with a series of carefully curated exhibitions and live performances that will give contemporary art a whole new meaning.
Situated at the crossroads of Europe, Brussels is home to a wealth of attractions, but if there is one not to miss, then it is the city's new KANAL-Centre Pompidou. "Brussels is an important place for contemporary art and we needed a place to house it all," says museum director, Yves Goldstein.
The KANAL-Centre Pompidou is set to become the largest cultural institution (museum for modern and contemporary art and architecture) in Brussels when it opens definitively in 2023, with more than 41,000 square metres of exhibition and recreational space. Thankfully, visitors do not have to wait until then to experience it, as the KANAL-Centre Pompidou is offering a 13-month preview (it opened on 5 May 2018) of different exhibitions at their temporary setting, inside a former Citroën garage. "This unique setting only lasts until 30 June and gives a new lease of life to a building that has stood here in Brussels for decades," says Yves.
One exhibition not to miss is Children's Games, made up of a series of short videos that explore the childlike activity of play, through the use of visual inventory. Francis Alÿs, the Belgian artist behind the exhibition, focuses his exploration on the varied uses of public space, such as towns and villag-es, places of rest, and zones of conflict or suspense.
Another highlight during a visit to this temporary museum space is the Home Movie Factory by Michel Gondry, which invites you to produce your very own film in a specially recreated studio. But there are so many more things to discover during these last months which will blow visitors' minds: the design exhibitions Red & White and Phantom offices, Ericka Beckman's Super-8 Trilogy; the mind-blowing Mere Constructions or the architecture exhibitions Miscellaneous Folies, As Found and As Seen… and many more.
What sets this cultural institution apart are its live shows, taking place at least once a month be-tween now and June. One not to miss is The Night of the Unexpected, a co-production with the Kla-rafestival. During the performance, the public moves from one small concert to the next, asking themselves whether technology can really save us.
So what are you waiting for? There is so much to choose from that the only difficulty you should face is knowing when to visit.
Subscribe to Our Newsletter
Receive our monthly newsletter by email