K3: Ready to shine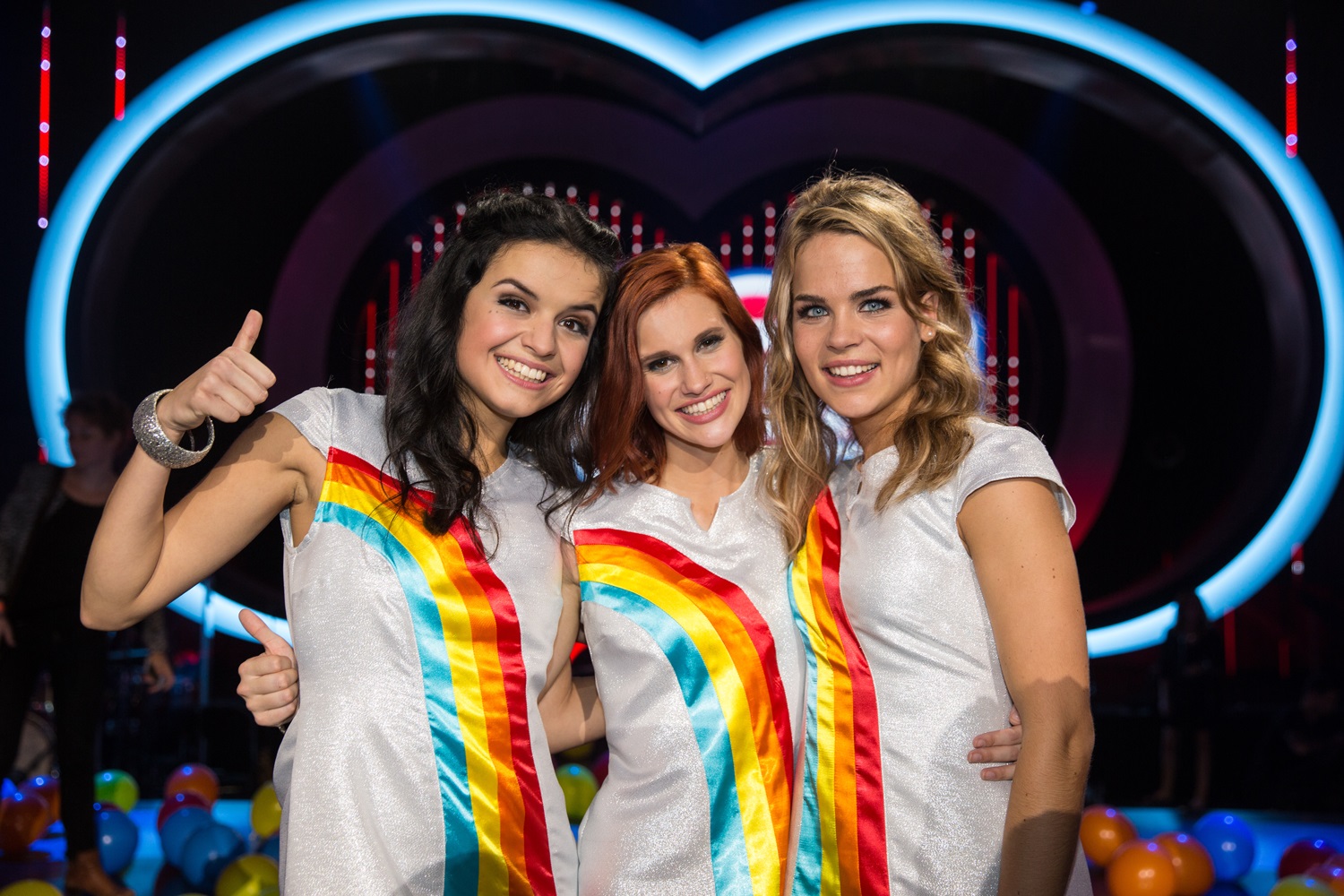 After the thrilling finale of K3 zoekt K3 (K3 searches for K3), a momentous decision in the world of pop music had been made: the new members of the children's pop group K3 had been chosen. Marthe, Klaasje and Hanne have big shoes to fill, taking over a chart-topping trio who have been entertaining children with infectiously joyful music since their first hit in 1999.
The final of the K3 zoekt K3 talent show, broadcast in November, was the most-watched programme in Belgium ever, also pulling in millions of viewers from the Netherlands. As the new formation of K3, the ladies instantly rose to greatness. After the live shows, they wasted no time in going straight to the studio to record the double album 10,000 luchtballonnen (10,000 balloons). "It has been a very fast ride where we have been thrown into. But everything we have done up till now was a lot of fun," says Marthe "We very much look forward to doing more fun things in the future."
Formed in Belgium in the late 1990s, K3 was named after the initials of the original members; Karen Damen, Kristel Verbeke and Kathleen Aerts. The girl group is known for their upbeat, Dutch-language bubble pop songs aimed at children. Almost every child in the Netherlands and Flanders is familiar with their hits such as Alle Kleuren, Heyah Mama and Oya Lélé. In 2009, after nine studio albums, countless hits, musical performances and several K3 movies, Kathleen left the group. She was replaced by Josje Huisman from the Netherlands following a similar talent show called K2 zoekt K3.
From classical music to pop sensation In early 2015 the members announced they wanted to retire and were looking for a complete new trio. Klaasje Meijer, 20, who read about the news, says: "At the time, I was studying at the Conservatorium of Amsterdam, so I was in the world of classical music; I played the flute. And then I saw that article and I thought: 'wow'. That is my dream really, because everything – dancing, singing and acting – comes together within K3. For me that was the opportunity to combine all those art forms, to go all-round. And yes, this made it an easy choice for me, and that is why I just immediately signed up."
For the blonde Klaasje, originally from the Netherlands, the flute and classical auditoriums were exchanged for rainbow dresses and lively dance routines. "It is a very different type of music, but I am taking my classical music with me like a backpack. It was a great basis and I still play the flute; even now being in K3, I still have time for that," she says. "I see this as a very big change, but also as a very exciting change."
Stepping into the foreground
The dark-haired Marthe De Pillecyn, 19, from Belgium, has a very different background. Also musically grounded, she has been part of a choir for over ten years. Despite this, she never thought she would become part of a girl group. "I have always been in the background as part of the choir so I never stepped into the foreground, aside from when I would perform with my boyfriend. So I have always thought of doing something with singing, but I never really did it," she says. "It seemed really great to me to do something with three so I would not have to be on stage all alone!"
Having this experience certainly helpe Marthe to feel more confident on stage, but she admits the attention is something she had to get used to in the beginning. "Also for me K3 is something totally different, suddenly standing squarely in the foreground. But in terms of singing with multiple voices [my experience] will probably help me in the future."
In the spur of the moment
Hanne Verbruggen, 21, who had her hair dyed red when she became part of K3, did not have any on-stage experience, and signing up to the talent show was very much a spontaneous decision. "Rather in the spur of the moment, I got my laptop out and signed myself up," she says. Also for Hanne, it was the mix of singing, acting and dancing that attracted her to it. "And on top of that it is aimed at children, and you will be dealing with children, and that was the perfect fit."
Having limited musical experience, she never thought that she would be able to be part of a girl group. "I knew my singing was alright, and now with singing classes I realise that this is really a possibility," Hanne says laughing. What certainly helped her find confidence on stage was the fact she has danced since she was eight years old. "Dancing and acting are things where I feel I already have a little bit of experience, so that compensates somewhat. But yes, singing is always tricky for me, but we do the very best we can, and we get really good guidance."
The new sound of K3
Released at the end of last year, 10,000 luchtballonnen contains both catchy, brand new songs and some of the most popular K3 songs from previous albums. The record has sold over 240,000 copies and gained five-time platinum status. Marthe says: "The new songs have actually adapted really well with the times. They are very trendy. There are both some calmer, down-tempo songs and very fast and intense songs."
Klaasje especially loves how the album dips into different genres. "Obviously, they are all pop songs, but you also feel edges of other musical styles." Talking about Woef!, one of her favourite songs, she says: "This song is a bit like a low-tempo song that has something jazzy to it. At the end we were allowed to improvise on it, which was a lot of fun to do. And Do do do you love me is more of a dance song, electronic. And Mami Bisou is somewhat based on Stromae, it is real poppy but also very suitable to play at a disco for example."
Something new and something old
Still hoovering on number two in the Flemish album charts (at the time of writing), after having been number one for three weeks since its release, the album has been a great hit. We asked the ladies about recording this instant success. Klaasje: "The songs were of course already written, but we still had to sing the entire album. The first day was just singing with the three of us and also dividing it, so looking at which bits would suit whom the best, and which bits would fit whose voice."
The 24-track album is made up of one half of new songs and one half of old songs. Marthe says it was somewhat tricky to rerecord the songs from the previous trios, as she had grown up with them herself. "It was a little bizarre, but eventually by singing them, we made them our own, because our voices just sound different. And for the rest, we just tried to channel the message of the song and sing them in that way," she says. "A few songs were adjusted a little bit, in terms of music as well. I think the K3 formula will stay, but it will be a little different, because we are different girls."
Bringing joy to young and old
Part of that formula are the recognisable, energetic dances routines. Klaasje says she finds it easy to find motivation and give every performance the best effort she can. "We are simply ourselves and we are generally three really cheerful girls. And you strengthen each other, so if one gets into the car with the morning blues, then you lift each other up and then you are looking forward to your day again. And what helps us the most is our audience, they are the fans. If you have to get on stage, just before a show, and if you hear the audience in the hall, and then once you are there with all those kids and see those happy faces, yes, that gives so much energy."
While the main target audience is typically young children, the success of the television programme and the album sales show that the appeal of K3 goes much further. Marthe: "We don't just try to appeal to the children, but also teenagers and the parents, because they are also among our audience every time as well of course. We hope that they can also enjoy the show."
Being suddenly bombarded to not just stars but also role to models for youngsters, the ladies say they are aware of their responsibility but do not see is as a burden. "We are very conscious of that function and we try to fulfil it the best we can. At the end of the day the people, the children and the parents, have chosen us and we try to fit into that role the best we can," says Klaasje. "The way we present ourselves, that is how we really feel, and I hope that it will make people happy."
Subscribe to Our Newsletter
Receive our monthly newsletter by email