JosDeVries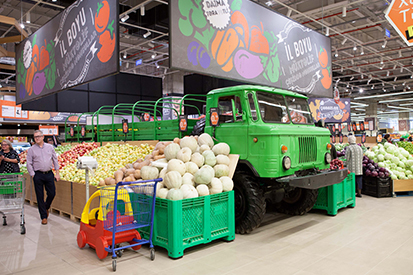 Entering a new era of food retail design
TEXT: MYRIAM DIJCK | PHOTOS © BRAVO AZERBAIJAN
Located in between some of Azerbaijan's most impressive modern architectural highlights is the country's new hypermarket concept Bravo. Standing tall along the entrance route to Baku, connecting the capital to its international airport, Bravo's new flagship store fits perfectly between the contemporary curves and stunningly-lit buildings of its neighbours.
It is no accident it blends in so well, as Bravo is the product of a meticulously thought-out brand identity to bring grocery shopping in Azerbaijan into the 21st century. The architectural flagship store, designed by retail design and architecture agency JosDeVries, was purpose-built to reflect this.
Being able to shape Azerbaijan's first modern multi-format food brand, Christiaan Rikkers, CEO of JosDeVries, was proud to be part of the project: "It was our ambition to make the most of it. Retail is an important aspect of a country's economy, and by professionalising it, everyone will profit."
Starting from scratch
In Azerbaijan, supermarkets are typically small, offer a limited shopping experience and often shy away from fresh produce. Turning this around, Bravo tapped into this unexplored market. Rikkers says: "Azerbaijan is a country of markets. People have to go to multiple shops or stalls to get their groceries, which is impractical and time consuming. Bravo solves this problem."
Based on the European-style supermarket and hypermarket, Bravo was created entirely from scratch. This proved to be a challenge, as well as an opportunity, to deliver a strong brand story. While Azerbaijan seems far removed from their front door, JosDeVries has an impressive international portfolio and, having worked in neighbouring Russia, they started with a cultural reference point. Rikkers: "The developers liked our brand proposal, and when it came to the design of the flagship store, they also appointed us to do that. This was a first for us."
Lights and movement
For the building design, JosDeVries formed an architectural team including young designer Steven van Beijeren: "While the structure is essentially a simple rectangle, we added an overhanging roof to create an inviting, open-ended structure resembling a market hall." The white, softlycurved outline lights up at night and is joined by a green glow along the building's facade. On the second floor is the Bravo headquarters which sits on the store at an angle and overlooks the crossed roof construction"
Van Beijeren continues: "The location is right next to the impressive Azerbaijan National Gymnastics Arena. We wanted to match the movement of that building and the coloured lighting it has at night."
A comfortable grocery run
It is not just the impressive outside that sets Bravo's flagship store apart. Inside, customers are welcomed into a friendly shopping environment that is easy to navigate. By using materials such as wood and incorporating round shapes, the store radiates a welcoming atmosphere. Van Beijeren: "Clear product markings, high lighting and wide isles allow for a more efficient shopping experience. This also makes it comfortable to spend a little longer in the store, so customers can stock up on their monthly essentials."
Bravo, which cooperates with British Waitrose and French Casino private label distribution networks, is now also bringing exclusive European brands to Azerbaijan. This particularly caters to the country's more internationally-minded and expanding middle class. On the other hand, Jos- DeVries was also keen to reflect Azerbaijan's traditional food culture in the store. Rikkers comments: "We made a large, fresh produce section that resembles the familiar market place, with lots of colours and counters that are staffed."
The regional domino effect
Opened mid-November, the reactions to Bravo's flagship store have been extraordinarily positive. Aside from the striking building, many shoppers have been particularly impressed by the spacious, clean and fresh interior.
Rikkers concludes: "We expect this to create a domino effect in the region, and neighbouring countries such as Kazakhstan are also looking at professionalising their food retail industry in a similar way." Jos- DeVries will surely be keen to assist them in their efforts.
Subscribe to Our Newsletter
Receive our monthly newsletter by email