Jeugdtheaterhuis – Young blood on stage
Text: Arne Adriaenssens | Photo © Jeugdtheaterhuis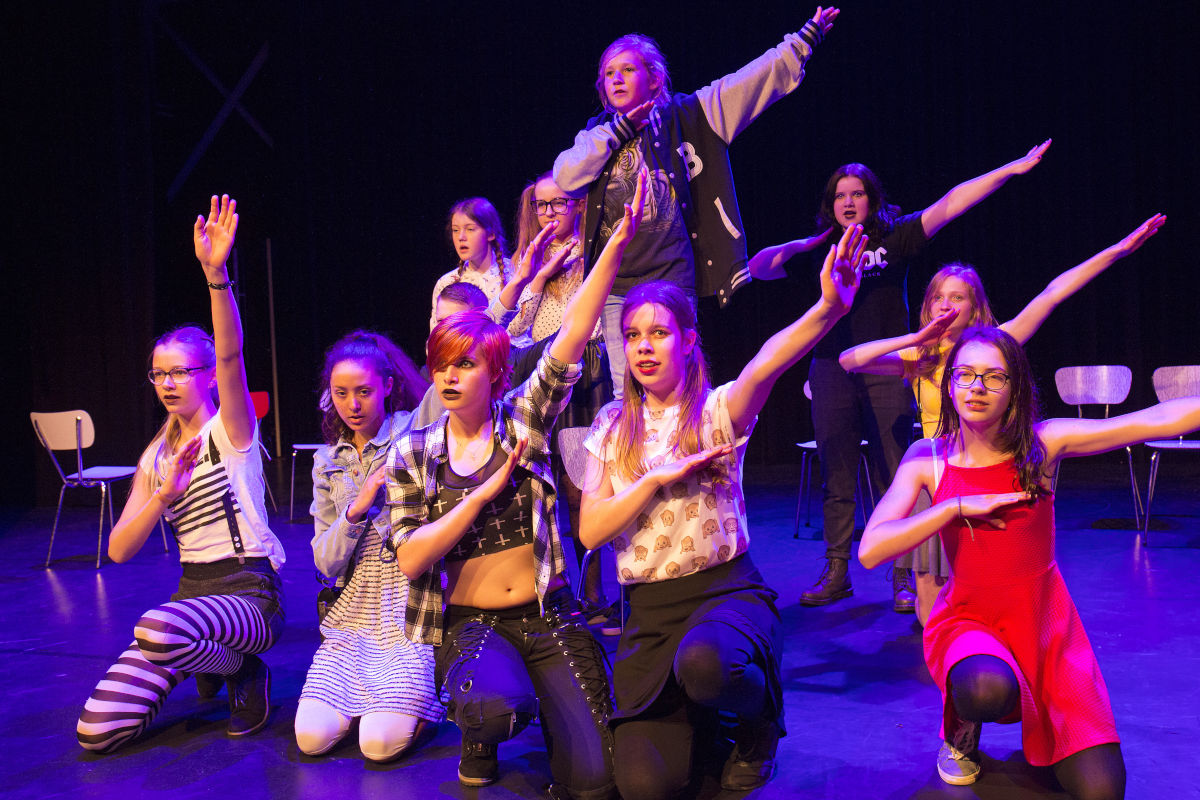 Few biotopes are as limitless as a theatre. From the moment the lights dim, and the spotlights ignite, the most amazing worlds can be created out of thin air and just a touch of imagination. No wonder so many kids dream to be on stage themselves. At the Jeugdtheaterhuis, these dreams become reality. With exciting classes, dynamic workshops and spectacular productions, they welcome the next generation of actors and actresses into the theatre.
"You are never too young to act," says Theo Ham, director of the Jeugdtheaterhuis. "Acting is, actually, a form of playing. And it would be very weird if a child is too young to play, no?" In this philosophy, the institution offers after-school theatre classes to the youngest of all creative minds. At the age of just four, children are welcome for a first introduction to acting. Up until the age of 21, they can continue to grow within the walls of the Jeugdtheaterhuis. "Essentially, we guide our pupils through three stages: getting in touch with theatre, delving into it and specialising in it. Some children only join the ranks for a short time and don't make it further than a brief introduction. Yet, others stay with us for over a decade and leave with a fair share of expertise and knowledge."
Different approaches
Within its after-school offering, the Jeugdtheaterhuis applies two different approaches: product-orientated journeys and process-orientated ones. "We see different kinds of children arrive here. Some are eager to perform straight away. Others prefer experimenting and niggling to create something of their own. We provide a creative bubble for both types of aspiring actors. In our house, everyone can explore theatre how they want to." From this year on, the Jeugdtheaterhuis is offering a third option as well: Acteerlab. This programme is not bound to a static structure and a list of objectives but grows organically throughout the years. "The internet is a big competitor for organisations like ours. Many children unwind online nowadays, completely free, without timetables and guidelines. To make our association more appealing to them, we created this class, the curriculum of which gets determined in dialogue with the pupils themselves. It is a very exciting, intuitive and collaborative way to work with theatre." The fourth trajectory they offer focusses on musicals, an art form that, according to Ham, is one of the hardest to master. Therefore, they do not just train their students' acting, singing and dancing skills, but they also teach you how to do all three at the same time.
Big international stages
Every so often, all this cumulative talent results in a professional theatre piece that roams the Dutch cultural centres. This year, the Jeugdtheaterhuis is making Beer, a family production that synthesises everything the organisation stands for. "Through auditions, we have selected a cast with our best actors and actresses and offer them a professional working experience. For every screening, a group of 12 less experienced pupils will join the ranks for one evening only. This way, we can give lots of beginners a glimpse at how professional theatre works and let them learn from the main actors." Hearing this, it might not surprise you that the Jeugdtheaterhuis leaves a big footprint on the Dutch theatre scene. "We don't call ourselves a stepping stone to making a career in theatre. Yet, the facts speak for themselves. A fair share of our alumni play on big national and international stages."
Representation and diversity
Unlike most organisations, the Jeugdtheaterhuis stays away from big cities like Amsterdam, Rotterdam and The Hague and settles in five smaller cities in the province of South Holland instead. Here, it reaches those youngsters who, otherwise, would not have access to professional theatre classes. In that same spirit, they also join forces with multiple schools in disadvantaged neighbourhoods. "Many of their pupils have never been in a theatre before. And because of financial or cultural hurdles, you don't find them in after-school classes like ours either. By organising brief initiations during their classes, we whet their appetite for theatre. Afterwards, they can sign up for a series of free after-school sessions within the school's walls during which we create a small play for friends and family. Then, if we spot pupils who are very excited, we try to persuade them to join one of our out-of-school programmes." Since the Dutch government funds the hobbies of less fortunate children and youngsters, they can even join for free. "If you look at the demographics in our classes, today, you see a representative and diverse reflection of the society. The pupils, however, don't care about those differences. They just want to make theatre together as friends, regardless of how they live and where they come from."
Subscribe to Our Newsletter
Receive our monthly newsletter by email