JÉRÉMIE RENIER: The transformer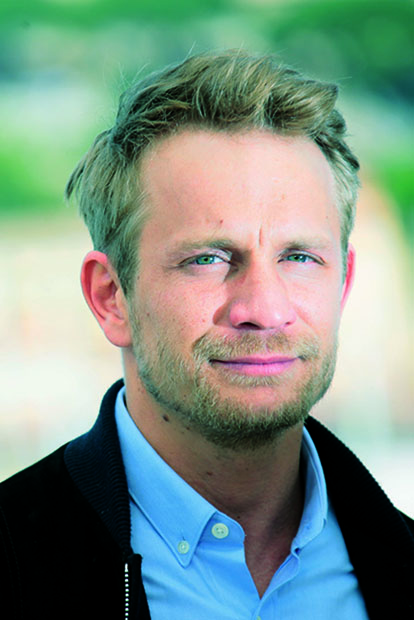 From his film debut aged just 15 in the Dardenne brothers' gritty drama La Promesse (1996) to portraying French pop icon Claude François in the 2012 biopic Cloclo, it is fair to say Belgian actor Jérémie Renier has always avoided being typecast. He has also never been afraid of a challenge: take, for example, his latest role(s) in the François Ozon-directed erotic thriller L'amant Double, where he portrays the Parisian psychoanalyst Paul and his identical twin brother, Louis. Ahead of the film's UK release on 1 June, we caught up with 37-year-old Renier to discuss film, family and future projects.
Billed as a 'daring and sexy thriller', L'amant Double is loosely based on American writer Joyce Carol Oates' work Lives of the Twins. It tells the story of a fragile young woman, Chloé, who falls in love with her psychoanalyst, Paul (played by Renier). When the couple move in together, Chloé discovers Paul is concealing a part of his identity, and audiences are introduced to Paul's very different twin brother, Louis (also played by Renier).
Two sides to every story
How did the actor cope with playing two contrasting characters in the same film? "We shot all the scenes with Paul, and then all the scenes with Louis – so I was one character and then the other," explains Renier. "I prepared a lot and made up my own stories to make the characters real in my head." The obvious question is whether the actor preferred playing one twin more than the other? "Well, the two characters pleased me for different reasons. Paul is a more tender character. But I was scared he was too sweet and too paternal compared to Louis, who is arrogant and pretentious. Paul could have been squashed by Louis so I had to find the right medium for Paul to exist. I liked playing them both for different reasons. Paul is more human, whereas Louis is a fantasy character. That is what made it interesting and why we pushed it quite far. It's quite thrilling to play someone like Louis, who I'm not at all like in real life."
Continues Renier: "I'm an actor for many reasons, but especially to find roles and characters who allow me to discover things I haven't yet discovered. I was very excited, very quickly, when I read the script. Playing twins in an erotic thriller appealed to me straight way."
Beautiful memories
Another reason Renier was attracted to the project was the opportunity to work once again with François Ozon. The two previously collaborated on 2010 comedy Potiche, while their first ever experience of working together was the 1999 drama Les Amants Criminels (Criminal Lovers). "That was the first film which really made me want to succeed in this career," recalls the actor, who starred alongside fellow Belgian Natacha Régnier in the film about high school students who murder one of their classmates. "I was very young, I was 17. It was a complex subject and heavy, but making that film is a beautiful memory. François is a very funny and very generous human."
L'amant Double marked the first time Renier worked alongside another of Ozon's muses, the French actor Marine Vacth, who plays female protagonist Chloé in the film. "We had both worked with François before but we didn't know each other," explains Renier. "She was a real pleasure to work with. We knew we had a film which was not easy [including nude scenes] so very quickly we said; 'right, we need to go for it!'. We really supported one another. We laughed a lot."
Getting personal
There are a lot of sex scenes in the film, and some of them are quite savage, but both actors took a professional and mature approach. "There are moments that can be a bit awkward, of course, because you have a team there et cetera. But nudity is not something that bothers me. There are other things which bother me more – dancing for example! Or singing. That can be more intimate than nudity sometimes."
So how did Renier prepare for the film's more erotic moments? There were obvious films to watch in advance. The 1986 drama 9 1/2 Weeks starring Mickey Rourke and Kim Basinger – famed for its racy refrigerator scene – was a useful film to study. For the scenes relating to sexual domination in Louis and Chloé's relationship, Renier also watched the 2015 erotic drama Fifty Shades of Grey, while David Cronenberg's 1988 twisted thriller Dead Ringers about twin gynaecologists who take advantage of the fact that nobody can tell them apart was also on his list.
Family affair
The twin aspect of L'amant Double was particularly interesting for Renier, who is close to his older brother Yannick, also an actor. In fact, the pair have recently released their first film – a thriller named Carnivores – as joint directors.
It seems that the filmmaking gene runs in the Renier family, with the actor's children also taking an interest in the craft. "My oldest son is 17. He is interested in cinema school – not being an actor, but more directing." So his sons have inherited his talent then? "I don't know!" he laughs. "Let's hope they are better than their father!" Jokes aside, Renier does have some wise words for his offspring. "Obviously if they ask me things I will be there. But I prefer for them to make their own mistakes. The only thing I will say is that something really has to excite you.
I was really lucky, but it's so hard, even when you have 'made it'. If it pleases you, you need to give it all your energy. It needs to be a real passion, not just something you are doing 'cos Dad does it."
The right direction
Renier currently divides his time between Spain, France and his native Brussels. "Of course, I am still very attached to Belgium," smiles the star. "It would be great to work with more directors from different countries, and there are so many great TV series." That said, he admits directing is what stimulates him the most at the moment.
"I do not find enough acting roles which are really rich in transformations. That was what I liked so much with L'amant Double," he grins.
TEXT: ANNA VILLELEGER
Subscribe to Our Newsletter
Receive our monthly newsletter by email