Jean-Christophe Péraud: Coming up fast on the outside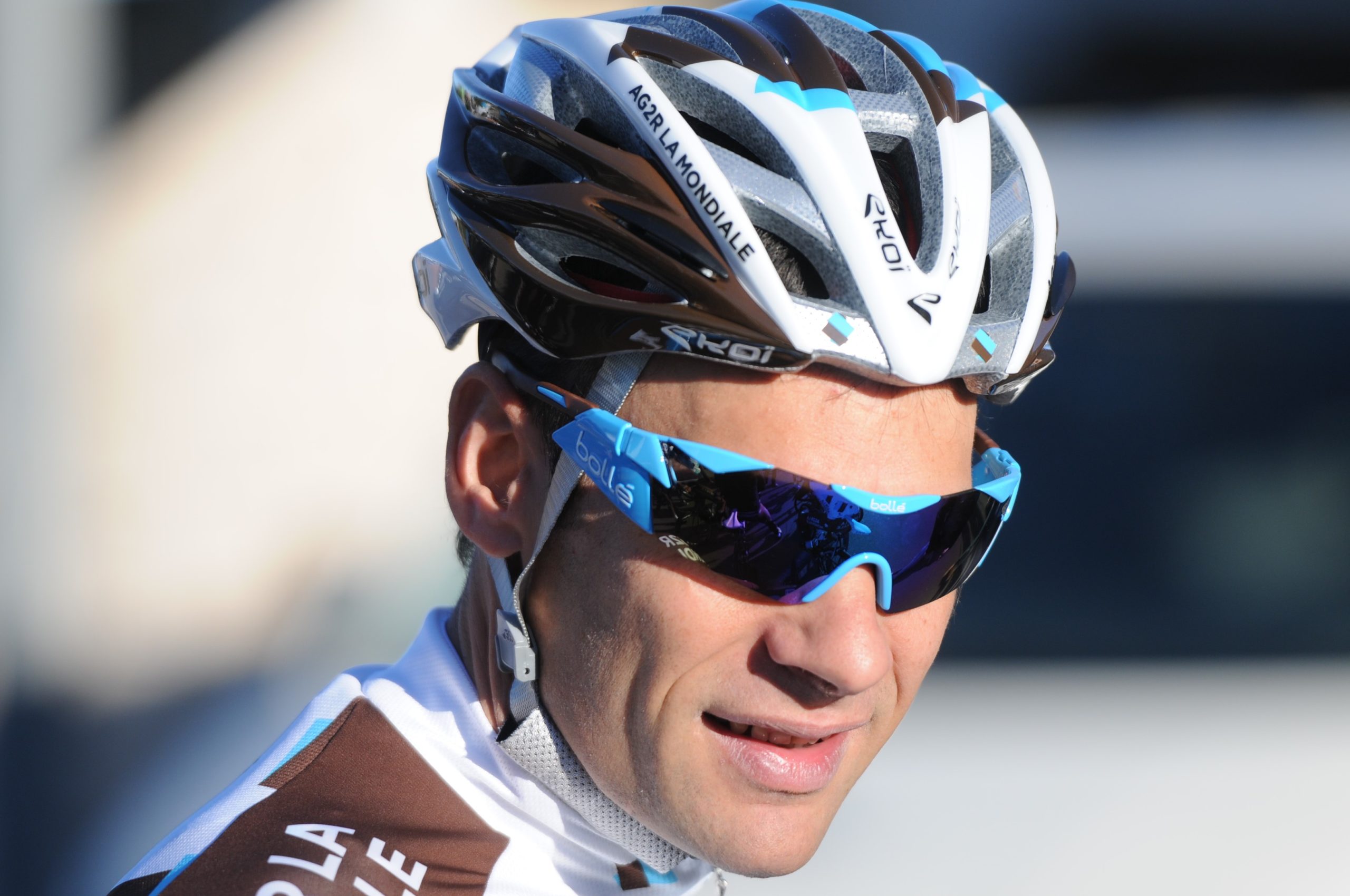 Beginning his professional road racing career at an age when some cyclists may start to think about retirement, Jean-Christophe Péraud's story is as unconventional as it is inspiring.
Jean-Christophe Péraud uses the word 'atypical' to summarise how he came to figure among cycling's road racing elite. It's an understatement. At 37 he finished second in the 2014 Tour de France, but more astounding than his age was that his background was in a very different cycling discipline.
Hitting the road
"I had a long career as a cross country cyclist, where I competed until the age of 32, and then at 32 I did my first Tour de France and became a road racer," he says matter-of-factly. That cross country career was a glittering one, and included an Olympic silver medal at Beijing in 2008, after which he sought a new challenge. The peak age for a road cyclist is generally thought to be around 28 but in 2009, a few weeks after his 32nd birthday, he won the French National Time Trial Championships. To say that the road racing world was surprised is an understatement. The skills and tactics in the two fields are very different, but as Péraud says when questioned about the differences in cycling technology: "In the end it's still just two wheels, two pedals and a rider." That time trial success brought an offer from Belgian professional team Omega Pharma-Lotto, with which he turned professional. In 2011 he switched to Ag2r – La Mondiale, and in his first Tour de France for them he finished ninth. This was another feat that stunned the sport as cross country is very much an individual effort, while road racing is about teamwork and group tactics.
It's all in the mind
His educational background perhaps explains how he could analyse what was
needed to make the change: he's a qualified chemical engineer, something that's
not exactly common among his new peers. And chemical engineering is notoriously an extremely demanding field. Unlike many sportsmen too he has no superstitions, no lucky charms, seeming surprised even to be asked about such things. His choice of an alternative sporting activity, when his work and family life allow, is equally telling: "I enjoy doing some climbing," he says: "It helps get the body in shape for cycling. "And it is, of course, another activity where continual focus is required. Not everything has gone smoothly in his new career: "The nightmare for a road cyclist is falls," he says: "It's a danger that we
have to face all the time. In 2013 I broke my collar bone and had to retire from that year's Tour de France, that's one of the worst things that has happened to me in the sport." Strangely for those of us who are not made like Péraud, he sees confronting road racing's unavoidable pain as one of its most attractive aspects for the top competitors. It doesn't matter if that pain comes from pushing the muscles beyond what seems physically possible, or crashing your bike at speed: "There is plenty of suffering in the sport, but that is part of the attraction, it lets you test your limits, extend those physical limits; you are against your rivals but
also competing with yourself," he says. Rather more comprehensible for the rest of us are the simpler, if fleeting, pleasures of the life: "Naturally you have to really focus on the race, but there are occasional moments during five hours on the saddle when things are not quite so intense, and you have a second or two to look at the countryside around you." He mentions the beauty of the Breton coast, and Corsica, as places where he has been particularly taken with the landscape during various races (he won the Critérium International in Corsica in 2014 and 2015, so perhaps that success helps sweeten the memories).
The Tour de France
"The Tour is special because of its history, I think it's the oldest such event," he says: "But also because we go through some absolutely beautiful parts of France, so spectators get to see the race itself and some magnificent countryside." He enjoyed last year's stages in England, where the tour began, and is looking forward to the Grand Départ in Utrecht this year in early July: "The start last year in Yorkshire was a great success, with huge numbers of spectators lining the route. It's good for the event, good for the sport to get more people interested in it." But Jicé makes it very clear that the tour cyclist's life is nothing like tourism: "Our daily routine is to rise at nine o'clock, eat breakfast, bus transfer to the start, team briefing, ride the stage, take the team bus back to the hotel, massage, evening meal, sleep. And that's for the Twenty one days where we are competing, with only the two rest days where things are at all different."
Food as fuel
And the diet that the cyclists 'enjoy' for the duration of the Tour is not something that would excite many Frenchmen: "We take energy drinks during the race, and at night to recharge our batteries we consume large quantities of pasta and rice." It's surprising that even though he will be riding around 150 kilometres every day, he does not expect to lose any weight during the arduous race: "We begin the event in peak condition, and the aim is to maintain that with a balance of energy expended and food consumed to replace it," says the engineer. Given his racing weight is just 62 kilos he has little or no spare flesh in the first place. The life is clearly very tough, something that in spite of the fierce rivalries sees a special atmosphere develop among team mates and Fellow competitors: "Of course there's a camaraderie within the team, we spend twenty or so days together during the Tour de France, but outside the team too, there may be previous connections, former team-mates now in different teams, and it's a shared challenge." An aspect of the life that he accepts as part of his job, but that one may guess he could do without, is the immediate postrace press inquisition: "It's not easy that once you've finished a stage you have to respond to the different media," he states.
Hopes for 2015
Last year he finished second in the Tour with third-placed Thibaut Pinot, the first Frenchmen to enjoy podium finishes since the turn of the century. Can he go one better this year? "My chances of winning the 2015 Tour are not perhaps very great, the field is full of top quality riders from around the world, and though I'm still of international standard the last step between being a top class rider and the best rider of all is a big one." A win for Jicé would delight France and perhaps please the sentimental, and those past the first flush of youth, around the world. All in all it's an exhausting career, but one he's keen to continue for some time yet: "Some riders have continued at the top of the sport beyond 40, I'm nearing the end of my career and am aware of that, but the end is only approaching slowly so far! But cycling remains very much my passion,
so I'd like to continue in the sport in some capacity after finishing my career as a top class rider, but I'm a qualified engineer so I could potentially return to that earlier career path," he concludes.
Text: Martin Pilkington | Photos: Yves Perret
Subscribe to Our Newsletter
Receive our monthly newsletter by email