JAN SMIT: Daring to be different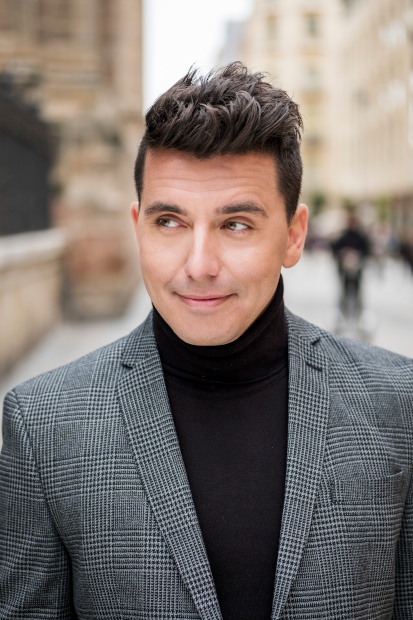 With his distinctive voice and typical Dutch-language music, anyone in the Netherlands will instantly recognise a Jan Smit song. Playing with this idea, the singer decided to undertake a secret project to surprise both friend and foe, by asking 12 of his fellow artists to write a song for him, carte blanche. After a year and a half, this resulted in his latest album, suitably titled Met Andere Woorden (In Other Words), in which he explores new and unexpected musical genres.
Not one to sit still, there is a reason why Jan Smit has been able to maintain a successful career spanning more than two decades. The singer became an overnight star, when at the tender age of 11, he was picked out of his boy's choir to sing Ik zing dit lied voor jou alleen, a song probably everyone in the Netherlands can sing along to.
Despite growing up in the spotlight, Jan Smit never lost sight of himself and his upbringing in Volendam helped him to keep his feet firmly on the ground. "I don't know if you can really say that about yourself, but I think it is a strength to stay among the people," he says. "I don't believe in putting on a persona or making a switch."
Personal stories
Now, at 32, the father of three is busier than ever. Aside from his music, often described as 'paling sound', he is also a television presenter, awards show host, part of the Dutch supergroup De Toppers and sings for full stadiums all over Germany with KLUBBB3. Grateful for his success, he says: "At a certain point, the agenda for the year is full. I am very happy about what I am allowed to do."
It is the connection with his audience and their personal stories that have always touched him the most, and inspire him to make music. "If you make something that supports people, or gives people the will to live life to the fullest again, then you automatically get motivated," he says. "Everyone has a specific song with a certain association; you might always play it when you're down, or wake up, or take a shower. People also have that with my music, and that is the best compliment I can get."
Taking a plunge
At the heart of his success is his push for self innovation and his drive to work hard. A year and a half ago, this led him to come up with a secret and daring project. Smit asked fellow artists to write him a song and gave them full control over the melody and lyrics.
He says: "I decided to do something bold. After my 20 year anniversary last year, I thought of doing something completely different. So I called 12 colleagues to see where it would lead to. The fact it turned out to be so special – and I don't just say that because I sing the songs – is unexpected. The combinations and the songs are incredible, I'm so proud of it."
After keeping the whole project under wraps for nearly a year and a half, Smit is glad to have released the album last month, and can finally start touring. "If you come up with an idea 14 months ago, then eventually you are dying to the tell the whole world about it. But everyone – the 12 people who knew about the plan – kept quiet until the week of release."
The thrill of the song
The requirements for the songs were simple, they had to be written in Dutch and the production would be in hands of Jan Smit himself and his producer Thomas Tol. Aside from that, the artists could do what they wanted with their song. "We only took care of the production. We didn't make any changes to the songs."
Responding to whether or not there were any surprises among the songs, he astutely replies, "there was nothing but surprises". He recounts how thrilled and tense he was when he received the songs: "Those were the most exciting moments. Normally, I always write my songs myself. So you have to let go of something and give someone else control. It became a matter of wait and see."
Smit continues, "Take Raccoon or Barry Hay or Sanne Hans, just to give you three examples. You know that they can write fantastic songs, but as soon as you ask them to write a Jan Smit song, they will rush to the drawing board and make you do something completely unexpected." The end result cuts across the musical genres from pop to schlager, rap and even a bit of jazz. "It is everything mixed together," he adds.
Making the songs his own
Those familiar with the writers will be sure to recognise the artist behind the song. "You can clearly hear the signature of the respective composers. That is what is so great about it," he says. "Everyone has their own style of writing, a way of building up a song or using particular chord schemes. That is the fun of it, you immediately hear it."
One of the more challenging songs Smit received was written by rapper Lange Frans. As Smit is not a rapper by trade, Lange Frans adjusted the song to suit his skills and experiences. "I immediately come into my own. He joins in on the rap, and the song is about my hometown and the Dutch funfair, so it is very personal. The lyrics are all perfectly adjusted to my life."
Despite these challenges, and the different music styles, Smit found a way to tie all the songs together. He says: "The best compliment I received was from Bart from Raccoon, he said 'the moment you sing it, it becomes a Jan Smit song.'"
Continuously learning
For Smit, it is important to continue to develop his own skills and gain new experiences. "That isn't just the case for me, but also my producer, arranger and co-composer Thomas Tol, who is 65 now. Even for him, at that age, he still learned a lot after speaking to the composers and having them in the studio."
This drive to constantly try new things already has led Smith to releasing several music collaborations. "You can just stay where you are; if you want to keep the same sound for 20 years, that is a choice. Then you don't respond to the times, and you will be overtaken on the left and the right. So I kept ahead of this."
Smit saw this project as an opportunity to show his versatility as well as giving his audience something new and different. "I felt this was a fantastic occasion to show myself from a different side, as well as join the forces of these people who, together, have hundreds of hits to their name. That was the setup."
In other words
With his current tour, Smit will present his new album to his fans, performing in smaller, local theatres. During the first half of the evening, the new songs will be introduced by the writers themselves as they recount their writing processes in short videos. "It will be very intimate," says Smit. "With this album, you really want to tell what it is about, so doing this in a theatre setting is great. That way, people have a chance to really listen."
While every new album is a risk, Smit is now more than ever eager to play his new songs to his audience and is tentative about the reactions. "I have no idea how people will react," he admits. "They are all excellent songs, everyone has really done their best so I expect lots of great reactions."
By the second half of the performance, the atmosphere will change from intimate to exuberant as he will sing his greatest sing-along hits. "It will be the good-old, well-know Jan Smit hits, one after the other, people will leave the theatre while still dancing in procession!"
Upcoming Tour Dates
October 2018
4/10/2018 – Muziekgebouw Frits Philips, Eindhoven
5/10/2018 – Schouwburg Cuijk, Cuijk
7/10/2018 – Theaterhotel Almelo, Almelo
12/10/2018– Schouwburg Orpheus, Apeldoorn
16/10/2018 – Theater de Tamboer, Hoogeveen
17/10/2018 – Theaters Tilburg, Tilburg
29/10/2018 – Koninklijk Theater Carré, Amsterdam
November 2018
1/11/2018 – Theater de Maaspoort, Venlo
8/11/2018 – Theater Castellum, Alphen Aan Den Rijn
9/11/2018 – Musis Arnhem, Arnhem
13/11/2018 – Theater Heerlen, Heerlen
15/11/2018 – Theater aan de Parade, Den Bosch
16/11/2018 – Schouwburg Amphion, Doetinchem
19/11/2018 – Theater aan het Vrijthof, Maastricht
21/11/2018 – De Goudse Schouwburg, Gouda
23/11/2018 – Theater aan de Schie, Schiedam
24/11/2018 – Philharmonie Haarlem, Haarlem
28/11/2018 – Stadsschouwburg De Harmonie, Leeuwarden
30/11/2018 – Chassé Theater, Breda

Tickets are available via jansmit.com
Subscribe to Our Newsletter
Receive our monthly newsletter by email