ING Night Marathon Luxembourg: Running in the dark
Text: Laura Gozzi | Photos: ING Night Marathon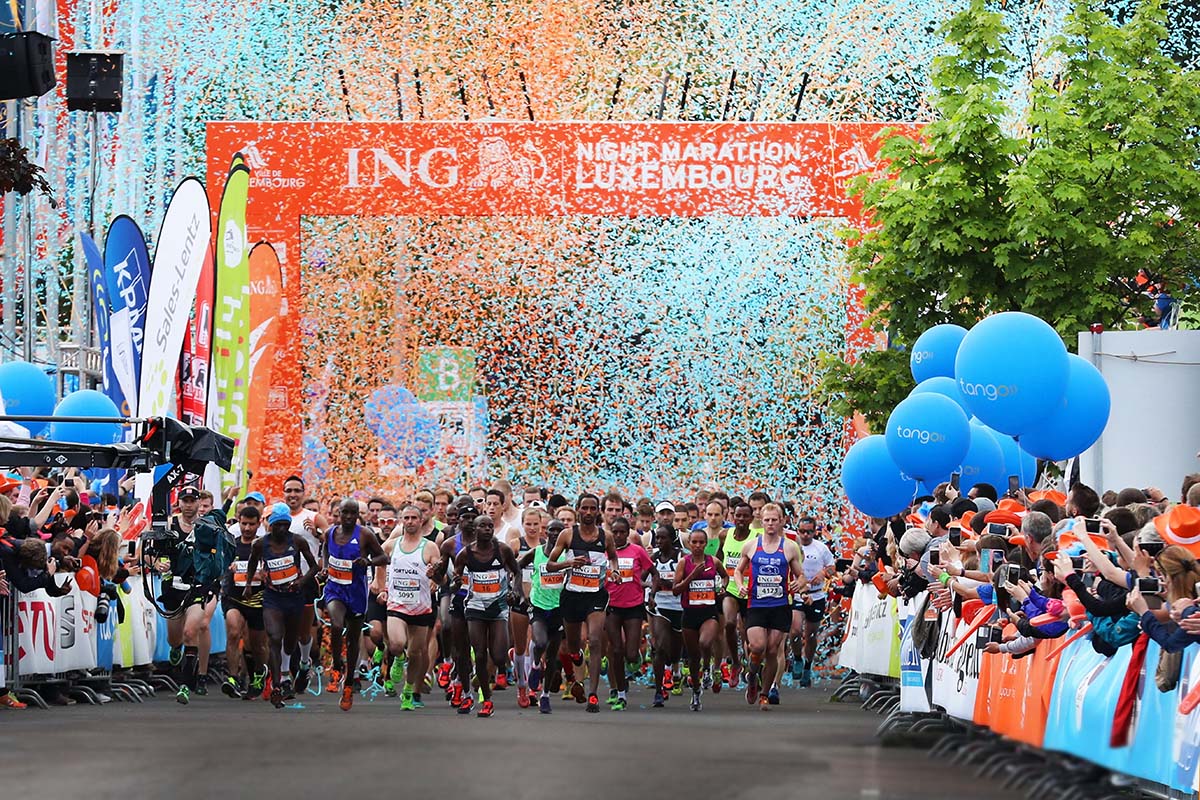 A special edition of the ING Night Marathon takes place on 23 May 2020 in Luxembourg – and you're invited.
For most of us, January is a month of hibernation, and spring but a distant date on the calendar. Though it might be hard to believe, however, those spring days will come again – and with them, outdoor exercise, fresh air, and lively evenings spent eating, drinking and strolling leisurely. If you're already daydreaming of warmer days, and if you've ever wished you could beat your personal best while taking in the sights of one of Europe's most charming capitals, the ING Night Marathon Luxembourg has the event for you.
The ING Night Marathon has been a staple of spring Luxembourg nights for the past 15 years, during which its popularity has only grown; it now welcomes 17,000 people and sells out a number of months in advance. ING has been a partner of the New York marathon for some time, and the Night Marathon helped it gain visibility when it first set up in Luxembourg.
Committed athletes will appreciate the novelty of completing a marathon at night-time, whereas first time marathon runners might find the cover of darkness reassuring.
Bystanders are also in for a treat, says Erich François, managing director of ING Night Marathon Luxembourg: "Because it's a night race, the atmosphere is very different – it takes place on a Saturday night, so people are out and about in restaurants, cafes and bars, and the race itself feels like a big party."
The fairytale setting features the picturesque, historical buildings of Luxembourg City, while the addition of an art installation provided by the students from an art college in Antwerp will decorate the route with giant balloons. "The finish line, too, is different from most marathons: ours finishes in the great big hall of the LuxExpo, which we set up as a huge party for everyone."
The organisers say the event attracts spectators and participants from far afield, and that it's the perfect setting for everyone to discover the Grand Duchy: "The marathon covers a great distance, forging links between the different parts of town, between sports and culture, and between the more than 100 nationalities living in town," say the organisers.
This year, to celebrate its 15th anniversary, the ING Night Marathon will feature a special addition: a triathlon split over three days. "We've been preparing it for two years," says François, "and we're excited to launch it. Participants start on Thursday with long distance (3.6km) or half distance (1.8km) swimming, then tackle the cycling segment (180km or 90km) on Friday, and finally, on Saturday, they join the marathon to do the last part."
Enrolment opened in September and won't close until places are sold out; François predicts the triathlon will have spaces until April, while the marathon normally sells out by February.
There's nothing quite like the ING Night Marathon to shake off the winter cobwebs – so pack your swimsuit and running gear, throw in an outfit for a night on the town, and jet off to Luxembourg for a long weekend that will leave you feeling energised as you step into the summer.
Subscribe to Our Newsletter
Receive our monthly newsletter by email