Immo&Conseil – A stunning new residence in the heart of Schifflange
Text: Anna Villeleger | Photos& Video © Immo&Conseil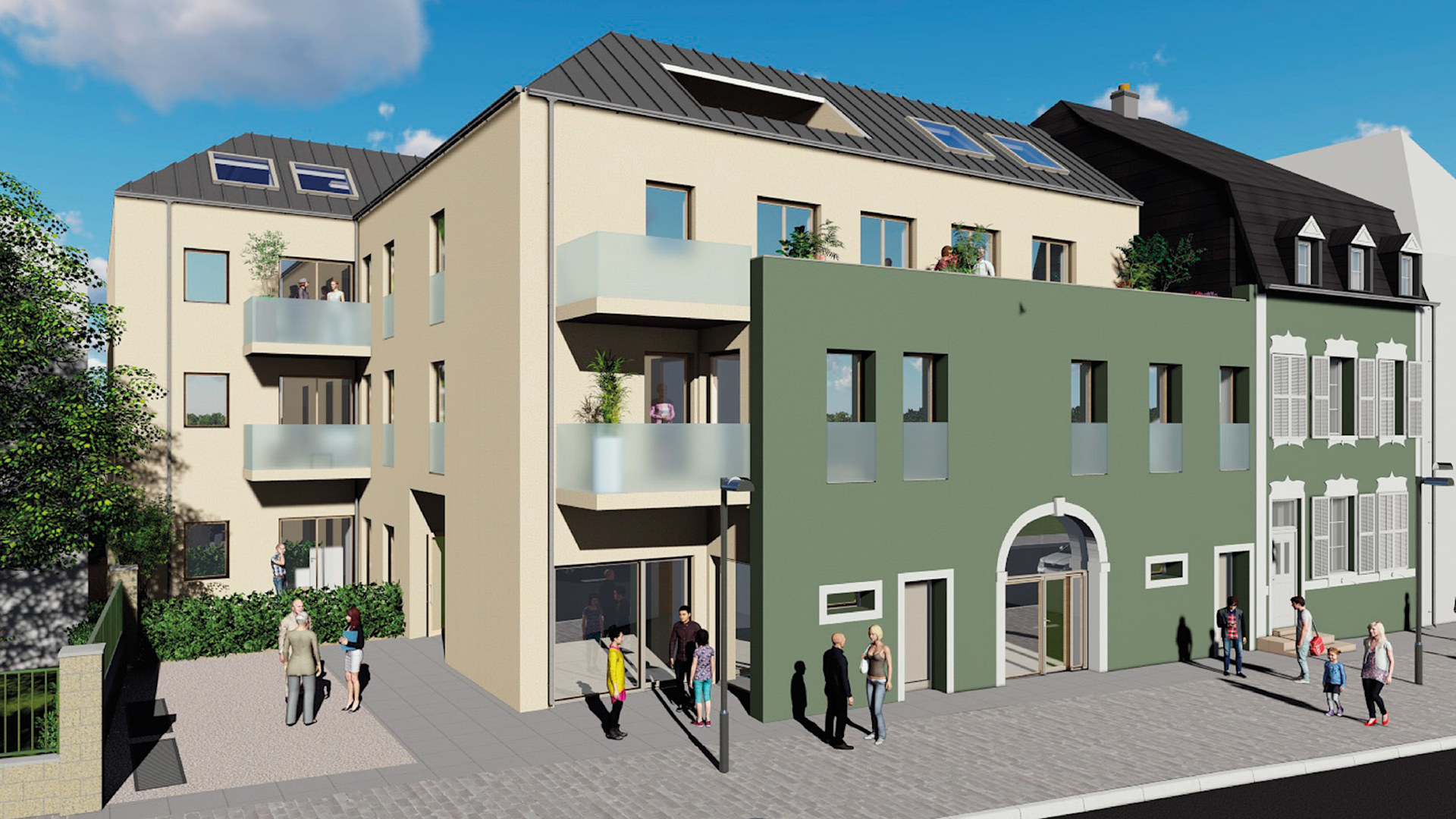 The expert team at Immo&Conseil in Luxembourg are proud to present their latest project, Am Duerf, developed in collaboration with the municipality of Schifflange and the service of National Sites and Monuments of the Ministry of Culture.
Immo&Conseil have developed and are managing the construction, while the building firm Bei Terres Sàrl are their partners in this project. "This changes nothing for our customers, and we remain their constant companion from the purchase to the delivery of the keys," explains Claudine Schwartz-Bemtgen, managing director at Immo&Conseil.
Located in the heart of Schifflange, a charming town in the south-west of the country, Am Duerf comprises a selection of stunning residential and commercial buildings which perfectly blend modernity and authenticity.
The properties will be available in around two years, and have already attracted a large amount of interest. "Nine out of 20 have already sold," points out Christian Schwartz, assistant managing director at Immo&Conseil. "We've had so much interest from all types of people – both young and old."
High standards
Being made to meet the high-quality standards that Immo&Conseil demands of all its projects, Am Duerf is composed of 17 apartments and three penthouses, with space for three shops on the ground floor.
Located on Avenue de la libération, there are schools, shops, restaurants and leisure facilities within easy reach. "Everything is nearby, so you wouldn't necessarily need a car, and the residence is only 200 metres from the train station," notes Schwartz. That said, those with a car will be able to acquire one or two parking spots inside the vast basement with its space for 33 vehicles.
Combining history and modernity
Combining history and modernity, Am Duerf blends traditional character on the exterior with the finest modern finishes. Spread across three levels, the apartments measure between 49.19 square metres and 100.66 square metres. The majority feature a garden, balcony or terrace, as well as windows with triple glazing, electric shutters and anti-burglary security front doors. "Everything is of the highest quality," enthuses Schwartz.
Meanwhile, on the top floor are three magnificent penthouses, which measure between 86.07 and 128.43 square metres. "They leave nothing to be desired," smiles Schwartz.
Personalised service
High standards are just one of the trademarks of Immo&Conseil, a family business renowned for its friendly, personalised service. The company's philosophy is all about confidentiality, reliability and a dedication to keeping clients happy.
Schwartz runs Immo&Conseil alongside his wife Claudine Schwartz-Bemtgen, whose father Marc founded the company in 2002. The small team can help with all manner of real estate projects, including estimations and advice, real estate promotions, landscaping and renovation and the purchase, sale or renting of various kinds of properties.
Increasing demand
Luxembourg's property market is thriving at the moment, thanks to its strong economy, superb living standards and enviable location at the heart of Western Europe. "There is always much more demand than there is property for sale," confirms Schwartz.
House prices in the Grand Duchy are continuing to rise, with property in higher demand than ever. Schwartz has also noticed a recent increase in people from English speaking countries investing in Luxembourg – most notably since the Brexit referendum. His advice for anyone thinking of buying in the Grand Duchy? "Do it now, because prices will only increase!"
Den Projet résidentiel "Am Duerf" kreéiert aus engem alen Bauerenhaus eng Symbiose vun historeschen Maueren mat moderner Residenz. 3 Commerce'en, 17 Appartementer an 3 Penthaiser wäerten do matzen am Zentrum vun Schëffleng entstoen.

Mier hunn fir Iech eng Websäit erstallt, wou Dier kënnt méi Informatiounen iwwer dësen Projet fannen: http://www.terres.lu

Posted by Immo&Conseil SA on Thursday, February 14, 2019
Subscribe to Our Newsletter
Receive our monthly newsletter by email