Immo & Conseil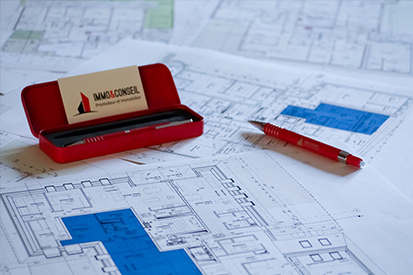 Real estate, renovation, construction and landscaping advice
TEXT: LORENZA BACINO | PHOTO © IMMO&CONSEIL
Luxembourg-based Immo&Conseil is a small family-run business established in 2002. Founded by Marc Bemtgen, the father of the current managing director, Claudine, it started life as a real estate trading company and has been going from strength to strength ever since.
Bemtgen's extensive experience, know-how and business acumen enabled Immo&Conseil to evolve into what it is today – a company with a hands-on approach to all aspects of the property industry, from the construction stage through to renovation, estimation and real estate development. "We take pride in our relationship with our clients," explains Claudine Schwartz-Bemtgen. She came on board the family business in 2011, almost by accident, after her father persuaded her to go to evening classes to learn the ropes.
"Clients only ever have to deal with a very small and dedicated team," she says, "there are just three of us including my husband Christian, a technician, my cousin Laurent and myself, now that my father has taken a back seat." Claudine says he is always on hand, however, to offer his expert advice at any time.
Taking the stress out of buying or renovating
"Our goal at Immo&Conseil is to make life as easy as possible for our clients," says Claudine. They aim to keep up with the latest technology, laws and regulations and no detail or consideration is too small or too unimportant. "If you want advice on your tiling, for example," she continues, "we can do that, and we can help you find the right plot of land on which to build your dream home too. We want to focus on solutions to any obstacles or difficulties our clients may come across."
All lines of communication from client to company are open, and the team are quick to respond to changes and alterations. And importantly, the utmost discretion is used in dealings with clients. In a nutshell, Immo&Conseil takes clients through the whole process from the start to the moment the keys are finally handed over. The small team constantly think of ways of innovating and staying on top of the latest trends, all the while bearing in mind the changing needs of their clients.
Past and future projects
The company's first large, residential development took place in 2013 in Schifflange, with the construction of ten apartments with extensive outdoor areas. "We're very proud of this development," explains Claudine, "as it was our very first 'baby'. It was really special as it ended up with family members buying adjoining houses and moving to be close to each other."
And this was followed by the sale of 70 senior residential apartments in the Jardins de Schengen with special facilities such as 24/7 nursing care, restaurants, beauty parlours and specially designed bathrooms for the elderly residents using high-end equipment. The apartments measure 58 square metres and all come with their own bathroom and kitchen areas and were designed in partnership with Valentiny architects.
Low carbon footprint
Immo&Conseil focuses on an energy-efficient and low carbon-footprint approach to construction, and uses zero-CO2 emission air-water heat pump installations instead of classic gas heating, which means no chimneys are necessary. All window frames are wood-aluminium or PVC-aluminium, made in Germany and Luxembourg to the highest of standards and ensuring the shortest possible delivery routes.
In 2019, construction will begin on a large project comprising three penthouses, 17 apartments and three commercial areas, again in the city centre of Schifflange. "This is really exciting for us," says Claudine, "as we are working with the Ministry of Culture to ensure all the historic exteriors of the buildings remain the same, whilst we renovate and modernise the interiors." This project has received a lot of interest and many enquiries, since its launch a month ago. "And being close to local amenities means this will make an ideal place to live for young and old alike."
Relationships
Immo&Conseil is proud of its ability to maintain excellent relations with its clients, many of whom return for more advice. "That is what we hold dear," explains Claudine. "We go hand-in-hand on the journey together and this approach enables us to remain close to the client."
Subscribe to Our Newsletter
Receive our monthly newsletter by email