HollySiz: From silver screen to music studio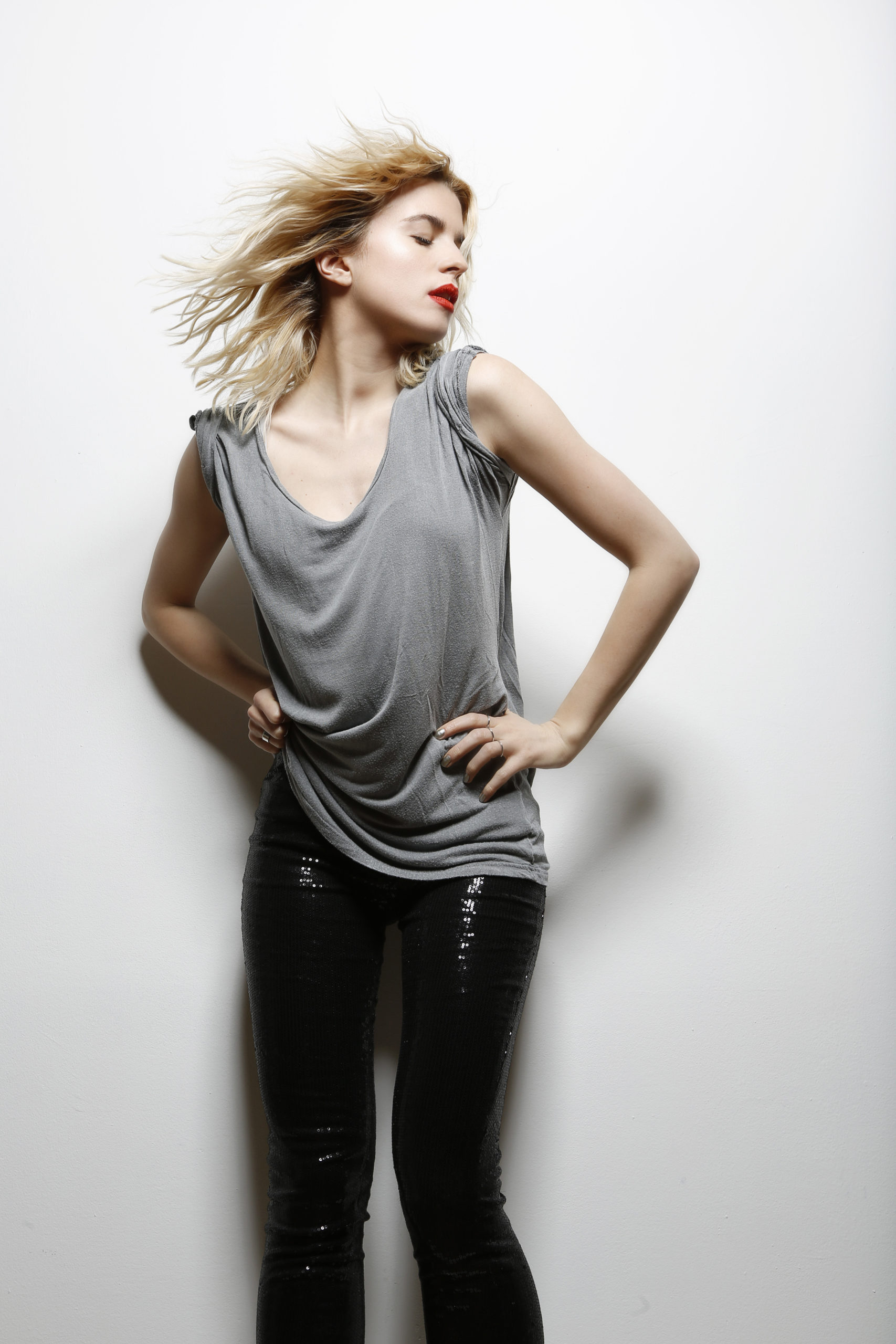 She dyed her hair blond, painted her lips bright red, adopted the alias of HollySiz and secretly made a music album. As more and more listeners fell in love with her upbeat and catchy electro pop, actress Cécile Cassel revealed herself to the world as the musical talent behind the songs.
With her album about to be released in the United Kingdom, Discover Benelux & France caught up with the Française to hear all about her double life. While cycling, she spoke to us over the phone in fluent English, and told us about fooling her friends, tap dancing and Batman movies. Cassel, 33, was very calculated when she made the transition from the silver screen to the music studio several years ago. "I started putting music on the internet without any visuals, only a logo and HollySiz; no country and no biography, nothing." A car honks loudly, but unfazed, she continues: "Even my closest friends weren't really aware of it. They knew I was doing something but they didn't know it was the HollySiz project." As an actress, Cassel has played in many French movies including The First Day of the Rest of Your Life (Le Premier Jour du Reste de ta Vie), Saturday Girls (Les Filles du Samedi) and the television series Clara Sheller and she made a cameo appearance in the final season of Sex and the City. To avoid stereo typing, Cassel initially did not want to reveal that she was also HollySiz. "I did it secretly," she says as she talks about wanting honest first impressions from listeners. "The problem is, when people know you for something else, it is not completely natural. Before they hear the music, they are already thinking something about it."
From hobby to profession
It was around six years ago that Cassel decided to dedicate herself to music. Although playing the piano, singing and song writing had been a part of her entire life, an opportunity arose for her to take things a little more seriously. While at a party, she suddenly felt the urge to start singing. "I sat at the piano and started singing one of my songs. I don't even know why I made it actually, maybe I was a bit drunk," she laughs. "I don't know why this day I had to express myself at 3 o'clock in the morning." The song was heard by yodelice, a French musician who asked her to come to the studio the next day to record some demos. This made Cassel realise she could actually do something with her musical talent. "I knew that I really wanted to do this all my life so it was now or never. I decided to put my acting career on the side, because if you want to do something, you have to be 100 per cent about it."
Musical persona
Under her alias HollySiz, she changed from being a brunette to having platinum blonde hair and cherry red lips. This red and white colour scheme can also be seen on her album cover, wardrobe and in many of her video clips, but it wasn't simply a change of looks. "When I was writing the album I was completely obsessed with red and white stripes," she says, "Red has many significations, it's love, it's fashion it's blood, it's sexuality it is a lot of things. So I think it was subconsciously connected to my story I was telling." Her alias HollySiz also has several meanings, as Cassel explains: "Siz comes from 'Sizzle' which has been a nickname for me for a long time," she says. "But it was a bit of a hip-hop name so I decided to put something on it." What she added, 'Holly', refers to both the holly plant with its red berries, but it was also a name that she picked up from the Batman comic character Holly Robinson. "When I was writing I was thinking of a movie about the choice in your life when you have two roads in front of you," she says. "I think it came in the morning one day, I woke up and thought 'how bizarre I really like this name, Holly'. Before that I was brainstorming with my friends for ages to think of crazy names. HollySiz is me. I couldn't pick another name."
A long-term project
For almost two years, while making demos and playing shows in little bars, Cassel worked on her album. It was important for her that she took things slowly. "I started doing some festivals and I really wasn't ready at all," she recounts. "I needed more confidence." In the end she started selfproducing her debut album and it was eventually officially released in France in 2013. "It is good to take time. When you are prepared and you're ready, people can judge you on your finished work, not on something by a beginner." Her perseverance certainly paid off, her album called My Name Is was nominated for the 2014 Victoires de la Musique, the French equivalent to the Grammy Awards, as 'Best Debut Album'.
The album
The sound of the album is characterised by synth-pop with plenty of upbeat songs that are perfect to dance to and sing along with, such as the opener Better Than Yesterday. "I really like pop music and I am not ashamed of it." Talking about the sound of the album she says: "It is a pop album, but it is really tainted by rock and electro and sometimes '80s influences." Another striking song on the album is Come Back to Me. With catchy lyrics and up-tempo beat, it is a song ideal for the summer festivals. It also has a special place for Cassel personally. "My lucky charm is Come Back to Me because everything started with that single. I found a deal because of that song, I signed a producer for my tour," she says. The song is about Cassel's late father, French actor Jean-Pierre Cassel. "He was a really good dancer and tap dancer, and I definitely wanted to…" another car honks, but Cassel continues in the same breath, "sing about him and write about him, but I wanted something that would be like who he was. It was impossible for me to make a sad song about him." Cassel also decided to write the story for the video herself, it includes her doingdances inspired by her greatest influences Michael Jackson, Liza Minnelli and Madonna. Added to that, as an ode to her father, she also included a short break where Cassel wanted to tap dance. "I never learned how to do it. I spent like three months, five days a week on private tap dancing classes, only for that little moment. I started from zero so that is why. In the end I am really proud of it," she says.
Acting her own story
Coming from an acting family, with not just her father but also her brother Vincent Cassel being well known French actors, Cassel used this experience while performing. "Being an actress and a dancer more than anything helps me on stage to move and express myself with my body. But the difference is, I am singing words that I wrote myself," she says. "When you're an actress you're putting other people's words in your mouth." Being so close to the lyrics makes Cassel reluctant to act in her own videos, such as with the haunting pop song The Light. It features a young family where the father struggles to accept the choices of his young son. "The director told me, 'great, so you are going to play the mother?' And I said 'no, no way.' It would be terrible for me to put myself as an actress in a video clip." Another intimate song on the album is The Fall, which Cassel says she is the closest to. It is about hidden feelings that make you want to scream but at the same time, you don't want anyone to hear them. "The Fall is the most personal and I really love it. Sometimes you sing things and you don't really understand at that moment that subconsciously that is what you feel."
Language as a mask
As many of the songs are very personal to Cassel, it is not by accident that she is singing them in English rather than French. She has often been to England and even lived in London for around eight months. "When I decided to make music, it was in London. For me English really was the language of music and of love and all my life at that moment." She continues: "The first song I wrote for the album was A Shot, it was done with somebody that I was living in England with. For me it was a letter to him, so it was important to write it in English." After that, she realised she was able to express herself more intimately in a foreign language, and she is able to say things she would never admit in French. "I discovered that English for me is a mask, I can be more personal with it because I am hidden behind this name." Now that the album is about to be released in the United Kingdom, it is evident that Cassel is looking forward to it and is planning to tour the country after the summer."I still go to London a lot, I really love it and I still have a social life with many friends and people that I love. It is my second home," she says and adds: "I am really excited because everything started in England for me. Now it is full circle."
Text: Myriam Gwynned Dijck | Photos: Dimitri Coste
Subscribe to Our Newsletter
Receive our monthly newsletter by email