History & Remembrance: Péronne & Thiepval WWI museums
Text: Pierre Antoine Zahnd | Photos: Pascal Brunet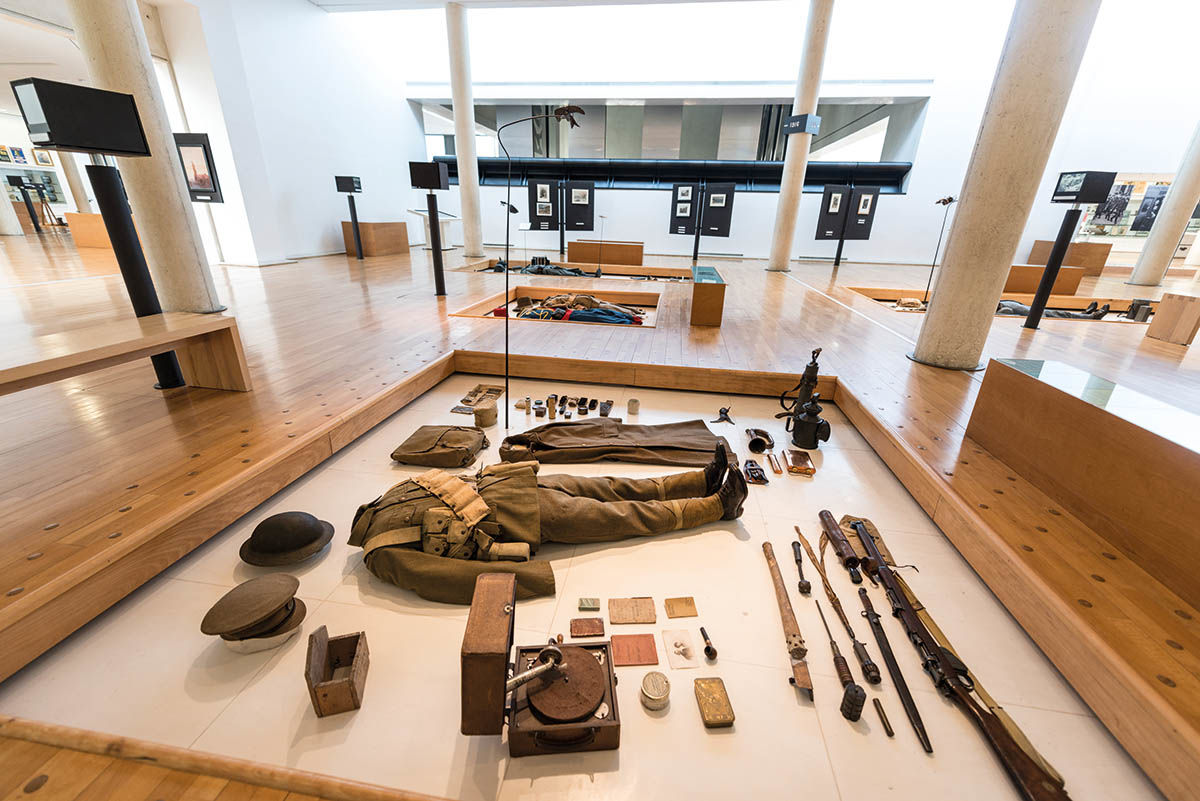 In the heart of the Somme Battlefields, the Great War's defining ground, the Historial Museum of the Great War is a world-renowned, two-site institution for discovering the ins and outs of one of history's largest conflicts.

The Historial at Péronne is a prime starting place for discovering the dynamics of the first World War. Organised chronologically, it first illuminates the root causes of the conflict in a recently renovated pre-1914 section. The 1914-1916 gallery explores the mobilisation of the countries involved, and goes on to relate the reality of warfare, opposing the original optimism to the strains of life in the trenches and everyday realities of loss and mourning. The 'display pits' with the effigies of soldiers, armed with their military equipment and personal effects and documents, are a constant surprise to visitors.


The 1916-1918 Gallery presents war in its later stages and the growing efforts towards total and industrial warfare. This section also highlights the war effort at home. The gallery goes on to highlight the technological advances made throughout the conflict.
One of Péronne's highlights is the Otto Dix Gallery, named after the German painter known for his harsh but arresting depictions of the war's horror. The Museum contains one of the very rare original sets of Der Krieg (The War), a series of engravings that give visceral expression to Dix's experiences as a soldier on the front. The tour ends with the Post War Gallery: the Consequences of War.

Close to the Thiepval Memorial dedicated to the Missing (one of the world's most imposing commemorative monuments), the Historial at Thiepval is dedicated to the history of the Battles of the Somme and the memory of the Missing Men.
As an introduction, documentaries and panels outline the history of the Great War, the Battles of the Somme, and the specific nature of this exceptional site of remembrance.
There, an electronic database allows visitors to discover the events that befell the 14,000 soldiers who were never found, known as the 'Missing'.

The gallery devoted to the Battle of The Somme opens onto a panoramic mural by Joe Sacco; it depicts the harrowing day of 1 July 1916, hour after hour. Reproduced onto 60 metres of black-lit glass, it provides a panoramic view of the battlefield, a graphic narrative of military operations.
The Historial also serves as a celebration: the Gallery of 'Aces' is dedicated to the devil-daring pilots who illustrated themselves in feats of aerial combats. The exhibition closes with an emphasis on how the Somme stands at the junction of nations and European history.
Subscribe to Our Newsletter
Receive our monthly newsletter by email