Historische Huizen Gent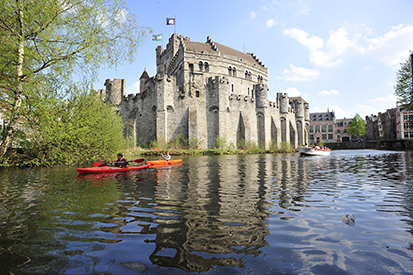 The magnificent Historische Huizen Gent unites seven historic monuments in Ghent, which are the silent witnesses of developments in the past and nowadays serve as the face of the city. But this is also where new stories are made.
Historische Huizen Gent wants to build a bridge between the old and the new, between heritage and modern, innovative access techniques. It includes seven monuments in Ghent; the Castle of the Counts, the Belfort Tower, the Town Hall, St. Peter's Abbey, St. Bavo's Abbey, and the city palaces Hotel Clemmen and Hotel d'Hane Steenhuyse. These have all become open houses, where the modern day and spirits from the past can come together. "This is where old places meet new stories," says communications manager Patty Delanghe.
One of the highlights is St. Peter's Abbey, which offers a mix of interesting exhibitions. For instance, Korda: Beauty and Revolution is open until 19 August. For the first time in Europe, it showcases work by the Cuban photographer Alberto Díaz Gutiérrez, known as Korda, who is the man behind the legendary photo of the guerrilla leader Che Guevara. Delanghe also recommends a visit to St. Bavo's Abbey. "It's quite special, a hidden mystic treasure with a real Zen atmosphere. Are you thrilled by mysticism? You are bound to love these ruins."
Not to miss is also Hotel d'Hane Steenhuyse, an 18th century city palace in the Veldstraat, the busiest shopping street in Ghent. Its history dates back to 1768, when Count Emmanuel-Ignace d'Hane converted a number of medieval houses into a city palace. At the beginning of the 19th century, the palace was the home of Jean-Baptiste d'Hane de Steenhuyse, and according to Delanghe, "When entering, you can hear the sound of the old carriages and a dog barking. It feels as if the family is just about to leave or arrive."
Also, the impressive Castle of the Counts with its turbulent past, closely intertwined with the often stormy political and social history of the city, has a lot for visitors to discover and is particularly popular amongst young guests. And, in addition to its medieval wealth, the Belfort Tower has a fantastic view of the city.
Subscribe to Our Newsletter
Receive our monthly newsletter by email