Historalia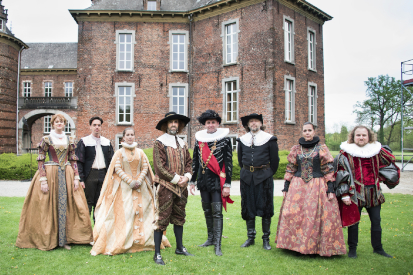 History comes alive with Historalia
TEXT: EDDI FIEGEL | PHOTO: HISTORALIA
It is not often that you come across an aristocrat turned theatrical impresario, but with Simon de Merode – or officially, Prince Simon de Merode – this is very much the case.
With Historialia – a series of lavish historical musicals and Christmas shows performed at some of Belgium's most spectacular historic castles, Simon de Merode has created not only a source of hugely popular family entertainment, but has also helped to maintain his family heritage.
De Merode comes from one of the most illustrious noble families in Belgium with a history dating back to the 14th century. He originally studied marketing and business economics in Brussels and America, before working as a brand manager for a well-known beer brand. So what brought about this change of career?
The idea of Historalia came about when he decided to join forces with his brothers and sister and buy the estate from the older generation to face the challenge of maintaining the imposing Castle de Merode in Westerlo, which had been in his family for six centuries. With its fairytale moat, distinctive grey turrets and extensive landscaped gardens, the castle, which is an hour's drive east of Antwerp and just over an hour from Brussels, has always been a significant local landmark.
Everyone plays a part
Initially, the local Mayor wanted to use the estate to promote the history of the village and, in 2012, the castle grounds played host to an amateur production of a musical exploring local history, using local actors. The show was such a success that De Merode had the idea of creating a professional production, this time based around the life of Marie Antoinette, whose mother's chief lady-in-waiting was one of his ancestors.
This time, De Merode hired a professional scriptwriter, director, choreographer and actors, but also used 100 local people of all ages as extras, in order to reinforce the community feeling of the show. "We wanted to create a link between the historic estate and local community," explains De Merode, "because we believe that if people value historic estates through personal links to those estates, then they will value them and help protect them in the future."
The production attracted 22,000 visitors and De Merode saw that this was something worth continuing. "We realised that this was not only a great way of involving the local community but it was also a wonderful way of using the house itself. The Castle de Merode Westerlo is one of the biggest castles in Belgium and it seemed a shame to simply hire it out as a venue, just for weddings or private functions. I believe the castle is a place that should be enjoyed by everyone in a cultural way."
"The castle has been a focal point of the local community for hundreds of years," he continues, "so it's important for everyone here, not just my family. You feel you have a responsibility to try to maintain it for the next generation."
From Marie Antoinette to Rubens
Over the last few years, Historalia has gone from strength to strength. A subsequent show told the story of King Albert I – Belgium's 'Roi Chevalier' during the First World War – and the shows are now highly elaborate productions featuring spectacular sets, plus sound and light shows, often requiring 18 months of planning and rehearsals.
The August 2018 production will centre on arguably the most famous artist of Flanders: Rubens. With a storyline based on individual characters from some of Rubens's best-known paintings, the show's set will feature a breathtaking Baroque style façade, an enormous 900-square-metre stage floating on the castle moat, and 250 square metres of LED walls to make Rubens paintings come to life.
Historalia also produces magical Christmas shows in which families can explore the castles. During the one-hour show, children meet a cast of some 50 characters in different rooms around the castle, who eventually lead them to Father Christmas himself.
So successful have the shows been, that Historalia's summer and Christmas shows can now be seen not just at Westerlo Castle but at three other castles across Belgium and Flanders, including Duras (Sint Truiden), Laarne (Ghent) and Vlamertinge (Leper). De Merode also has plans to produce the shows in castles in French-speaking parts of Belgium, as well as abroad.
Tickets for Historalia's Rubens show are priced between 14 euros and 45 euros for the Christmas show and can be bought online at their website, below.
Subscribe to Our Newsletter
Receive our monthly newsletter by email