Hilarious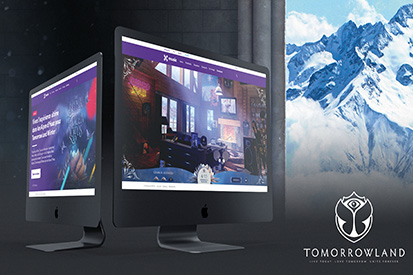 'Be realistic – ask the impossible',says a digital agency with a difference
TEXT: EDDI FIEGEL | PHOTOS © HILARIOUS
'Hilarious' might not seem like the most obvious name for a branding and marketing agency. Particularly one whose clients include global brands such as L'Oréal, Toyota, and Belgium's telecom giant Proximus, but for founding partner and digital manager Audry Van Essche, the name is an essential part of the company's ethos.
"We want our clients to enjoy working with us and for us to enjoy working with them," he explains. "That means being serious about our work but also doing things with a smile on your face, in a way which is fun for everyone. That was the thinking behind our name."
The Brussels-based company's motto: 'be realistic; ask the impossible' similarly reflects their quirky, playful humour – something which they apply to projects from branding, digital platforms and CRM (Customer Relationship Management) to experiential campaigns, web development, data collection and brand activation.
Van Essche, who has over 20 years' experience in branding and marketing, founded the agency in 2011 with two colleagues: Jérôme Canon – a highly experienced front-end developer and Ludovic Pahaut – a top graphic designer.
The three had worked together previously at branding and media agency Wanabe in Waterloo and when Wanabe closed, they decided to join forces and start their own agency.
Coming from different but complementary disciplines, they felt they had the perfect mix of skills to respond to a wide variety of briefs, from CRM for L'Oréal, branding for insurance company Touring Assurance and digital strategy for Proximus, to nationwide consumer competitions.
'Do you know your Oasis from your Michael Jackson or your Eden Hazard from your Kevin de Bruyne?'
For car giant Toyota, Hilarious created a fun DIY musical quiz experience which people could enjoy either at Toyota car dealerships or online.
Participants were asked to enter their date of birth and then, depending on their age, they would then hear the sounds of Michael Jackson, Oasis or whichever artist happened to be topping the charts when they were teenagers. They were then asked a series of questions about the artist and the songs, and the experience turned out to be a massive hit with the public.
The idea behind the quiz had come from an article in The Times on a study showing that the music people connect with the most is generally the music of their adolescence or youth.
Music and sports are also the main themes in their digital strategy for Proximus. In an interactive contest launched in January 2019, people have the chance to win tickets to Belgian dance music festival Tomorrowland Winter, by playing a game where they have to spot references to world famous DJs.
The agency also created several other innovative campaigns for Proximus, aimed at football fans. In one competition, the prizes were highly sought-after tickets to the UEFA Champions League whilst in another, fans of top Belgian football teams like RSC Anderlecht had to vote weekly for the Player of The Month on an interactive platform with a chance of winning a tantalising range of prizes and experiences.
Another football orientated campaign which scored top goals was for Belgian hypermarket chain Cora. This time, the public had to predict winners during the 2018 World Cup – an idea which clearly captured the public's imagination, as within weeks of launching, it seemed like half of Belgium had signed up.
'No vision; no limits'
In contrast to the often slightly self-important visions of many branding and media agencies, Hilarious stresses that they do not have a particular vision. Our vision is: 'no vision; no limits', says Van Essche, explaining that he does not want the agency to be limited by fixed ideas or rigid parameters.
"We live in a high velocity, fast moving world," he continues. "So we believe in flexibility and adaptability. We need to respond to briefs in a way which is in step with the world around us. The public are very sophisticated in the way they consume media campaigns and expect more and more every day. That's why we need to bring them experiences which are new and original and grab people's attention with high-impact campaigns and personalised rewards. We like to think that we, as creators of experiences, are part of the public and ask ourselves what we would like as customers."
So has Hilarious remained as fun for its founders as they had hoped? "Seven years since launching, we are the parents of a wonderful company which has grown hugely in terms of the number of clients, many of whom have been with us since the start," says Van Essche.
"We have a young, smart and loyal team, who share our values, and there's a relaxed atmosphere in our offices. We work hard, but we make it fun too. Both for us and for our clients."
Subscribe to Our Newsletter
Receive our monthly newsletter by email