Goldsteck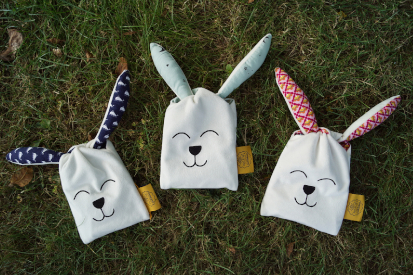 Quality Children's Products with a Difference
TEXT: EDDI FIEGEL | PHOTO: GOLDSTECK
When it comes to creating accessories for babies and children, nobody has a better understanding of what will work and what will not, than a mother of two.
This was the original story behind Goldstéck – a family business which has fast been making a name for itself as one of Luxembourg's top boutique brands for babies, children and their parents.
"As a mother to be," says founder Laure, "I did not want to resort to the usual children's accessories, but wanted to offer my child something special and personal. With a few ideas in mind I sat down at my sewing machine and soon completed my first creations. As a mother of two vibrant young children, you know what can be useful in your everyday life."
As Laure began producing beautiful, highly individual accessories for her children, her brother Pit suggested that other parents would welcome the opportunity to buy them and, a business was born.
Goldstéck now produce high quality, hand-made accessories for not only children, but also adults, ranging from stylishly designed bibs and bicycle baskets made from organic, ethically sourced cotton, to limited edition backpacks and one-off design handbags.
There are also innovative creations such as the 'Bed Pockets' – cotton pockets which are tied onto the sides of a baby's cot allowing them to reach their dummy or favourite toy themselves, and the best-selling 'Aua! Huesi' – a soft bunny with a pack inside which can be used hot or cold (from either the fridge, freezer or microwave) for children to use as a comforting compress for aches and pains.
The range also includes customised gifts and seasonal products, and all products are available to customers throughout Europe.
Subscribe to Our Newsletter
Receive our monthly newsletter by email