Gemeente Ieper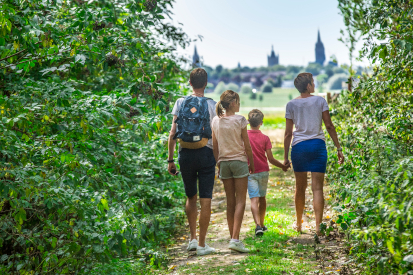 The city with an especially rich and diverse past
TEXT & PHOTOS © GEMEENTE IEPER
Ypres was a flourishing place of commerce during the Middle Ages, when the city was one of the leading cloth centres in Flanders, along with Bruges and Ghent. The impressive Cloth Hall is evidence of those years of glory. St. Martin's Cathedral and the superb ramparts also date back to this period.
The charming city of Ypres was reduced to a huge pile of rubble during the First World War. Despite being almost completely destroyed by four years of senseless violence, the people of Ypres succeeded in rebuilding their city with an appreciation for the history of the place.
Today, the city is surrounded by a green belt, ramparts and a superb area to explore on foot. The largest memorial of the First World War, the Menin Gate, is the spot where the Last Post is sounded every evening at eight o'clock, an unforgettable experience.
Housed in the Cloth Hall, the In Flanders Fields Museum uses first-hand accounts and state-of-the-art techniques to tell the story and preserve the memory of the First World War. If you want to dig deeper in history, visit the renewed and child-friendly Yper Museum, which tells the story of the birth of the city and the many rebirths after yet another disaster that struck Ypres and its inhabitants. A thousand years of history in a ninety-minute visit for you, while kids can hunt for cats and play games via which to discover the museum.
Ypres is a beautiful city with a small-town feel that cannot fail to charm. So many spots and museums to discover, so many friendly cafés and splendid restaurants to try out and so many delightful
accommodation options offering you everything you need for an unforgettable stay. Be sure to extend your visit to discover the Westhoek region. Explore the various options: the cycling network, the walks, bike and car trips, other historic cities. Be sure not to miss out on any of it!
Facebook: StadIeper
Subscribe to Our Newsletter
Receive our monthly newsletter by email