Galerie Le Beau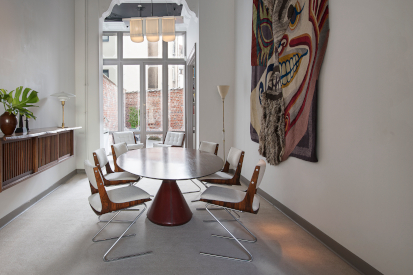 Galerie Le Beau – Gokelaere, Brussels
When design transcends time
TEXT: SIMON WILLMORE | PHOTOS © GALERIE LE BEAU – GOKELAERE
When it comes to design – for clothing, furniture, or architecture – authenticity to the age and iconic style are crucial, but the ability of a piece to transcend fashions and time periods is something else entirely. This timelessness is the focus of Galerie Le Beau – Gokelaere, which opened in 2014 on the Place du Sablon, the main art square in Brussels.
Here, husband and wife founders, Stanislas and Céline Gokelaere – a couple who share a passion for 20th century design – bring together a selection of pieces from mid-century designers. It includes furniture pieces from Scandinavian, American, French, Brazilian and Italian designers, with the mantra 'to create a dialogue between furniture, lighting and art'.
"We have a focus on design from the period between 1940 to 1970," Stanislas Gokelaere begins. "What separates us from other galleries or dealers is that we do not limit ourselves to specific geography but focus on furniture designers and architects that marked the history of design." He says that, naturally, their selection shows many artistic influences, but there is a strong connection in rarity, style and refinement.
"That's the link between all the designers we exhibit," Stanislas Gokelaere continues. "All of them have made their mark on the industry, at the time when mass-market production was coming to the fore – but none of them would compromise on style and execution. It shows the journey of trying to preserve the rules and constraints of true craftsmanship while embracing a more industrialised process, such as new materials, machinery and technological solutions."
The designers featured at Galerie Le Beau – Gokelaere laid the groundwork for everything that happened afterwards; they were instrumental not just in the design at the time but in the development of the industrial process. Stanislas Gokelaere adds: "That's what this gallery promotes and celebrates; the development of fast design with the preservation of craftsmanship."
Future expansion and exhibitions
In January, Galerie Le Beau – Gokelaere will participate at the Brussels Art Fair (BRAFA), one of the leading European art and antiques fairs. This year, they will focus on Alvar Aalto, a hugely talented architect and an ardent spokesman for the international modernist movement which he drew on to develop his own unique style. To this day, he is considered one of the great masters of mid-century design and architecture.
In March, the second Galerie Le Beau – Gokelaere will open in Knokke-Heist, a Belgian coastal region. The municipality is an extremely exclusive area and is known as the Saint Tropez of Belgium. Unsurprisingly, it also has the highest density of art galleries in the country and so it seemed like the ideal place to open a new branch.
When asked what else to look out for in the future, Stanislas Gokelaere suggests that, at least for his gallery, what is more suitable is, perhaps, to look back. He says that gallery visitors must be sure to look out for historic design pieces that are archetypal of their time.
"Even though these pieces are from half a century ago, they somehow always feel contemporary," he concludes. "That's what makes great design – it feels timeless. No matter the century a piece of furniture is from, it still feels relevant. That's the message we are trying to promote."

Web: galerie-lebeau.com
Subscribe to Our Newsletter
Receive our monthly newsletter by email