GAITE JANSEN: The next stage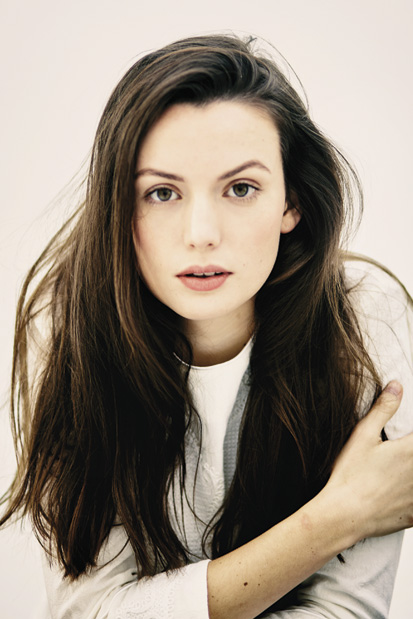 Actor Gaite Jansen has been a pretty big deal in her native Netherlands for almost a decade now, and thanks to roles in top British television series Peaky Blinders and Line of Duty, the 26-year-old Rotterdam-native is starting to make a name for herself on the global stage. Fresh from her well-received leading role in Ivo van Hove's production of After the Rehearsal/Persona at London's Barbican Theatre last autumn, Discover Benelux caught up with Jansen to talk fame, feminism and future roles.
She may have a fresh face, but Jansen has in fact been working professionally in the acting industry for a decade now. She began taking acting classes aged six and went on to study at the prestigious Maastricht Academy of Dramatic Arts. Her breakthrough performance was in the 2011 arthouse film 170 Hz, where she played troubled deaf teenager Evy and earned a best actress nomination at the Seattle Film Festival and the Netherlands Film Festival. More recently, she has become a familiar face on UK screens thanks primarily to her role playing Russian aristocrat Princess Tatiana Petrovna in series three of the gang drama Peaky Blinders alongside Cillian Murphy and Tom Hardy.
A-list
"We watch English TV and films in the Netherlands just as much as we do American, and actors like Cillian Murphy and Tom Hardy are people I've really looked up to. I've been lucky to work with them. That's quite insane for me!" she laughs. Did she ever get a little starstruck? "Well, I have this weird thing where I'm not starstruck when I'm with that actor in the room. I guess I'm lucky because it means I'm fine working with them on set. But then afterwards I'm like; 'Oh my God, I just played with Cillian Murphy, didn't I?' "Cillian clearly didn't know who I was, of course, before I came on set and we had to do this big line in the series. He was never judgmental or anything. I always felt welcome from the first moment. He was so open and made me feel comfortable. I'm just happy because when somebody else is good they lift you up, so you can both go to higher acting levels." Jansen had a lot of fun playing Princess Tatiana, and revelled in the opportunity to really make the character her own. From the extravagant period costumes to her convincing Russian accent, it was a big departure from her previous parts. "She's so different to what I'm like – in every aspect. She's the complete opposite of me. I felt I had the freedom to make her quite a character – she's certainly not shy! That was cool. "With Peaky Blinders they're not afraid to be gigantic. I think that's something typically English – English TV is not scared of being 'too much', which I really like."
Rotterdam (or anywhere)
Although set in Birmingham, Peaky Blinders is largely filmed in the Northern city of Liverpool, famous for being The Beatles' hometown. How did Jansen adjust to the famous Liverpudlian accent? She laughs. "When I started filming in Liverpool I thought I spoke English. Of course, I have an accent and everything but I thought I understood English and could speak it. But the accent in Liverpool – I was like; 'Wait…what?' "You have to get used to the accent. It's a completely different language, almost! I loved Liverpool – it's nice. I went to the Beatles museum which was really cute. Liverpool's so proud of them – and they should be." Despite travelling a lot for work, the Dutch capital is where Jansen calls home. However she still spends as much time as possible in Rotterdam, the city where she was born and grew up. "My brother still lives there with his wife and son, so I'm always going back," she smiles. "The thing I love is that it's so multicultural in a totally natural way. You walk down the street and every culture and every form of human walks along there. That makes me feel at home. Where I grew up was just like that. It's the best place to people-watch."
Hello, Hollywood
In addition to well-established names like Carice van Houten and Famke Janssen, there have been many rising Dutch actors making a name for themselves in Hollywood recently such as Sylvia Hoeks and Sallie Harmsen, who both starred in last year's blockbuster Blade Runner 2049 alongside Ryan Gosling and Harrison Ford. Could we see Jansen heading for 'La-La Land' anytime soon? She muses. "That specific city is so career driven…I think it's a great place to live if you have a great career, but if you are not constantly working, I don't know if it would be the most fun place to be. Maybe one day I will change my mind, but that city really has to grow on you, I think. Really, it depends – but I like Holland – it's very grounding. I think I would prefer to at least go back and forth a lot."I haven't worked with that many international directors yet, but there are so many I would like to collaborate with – Sofia Coppola, Alfonso Cuarón…" The list goes on.
One of Jansen's fellow Dutchies Marwan Kenzari has been cast in the upcoming Guy Richie directed remake of the 1992 Disney classic, Aladdin. Could Jansen see herself starring in a potential live-action remake of another cartoon classic? "Good question! I guess all the things that I'd like to do have already been remade. I would never be able to…but being the lead in a Jungle Book remake would be such a cool part." This may seem an unusual choice, but the unexpected is exactly what Jansen looks for when considering potential roles. "What excites me the most is if I get a job that's not like a job I had before," she explains.
Power of a woman
"Something I've definitely been aiming for lately is not to be the object of a man's fantasy. I feel like now I'm older I realise that when I was younger I took some of those roles which aren't really about being a woman at all. They are really just about a man's vision of a woman. Those roles never fulfil me because I'm a woman and I don't feel like walking down the street being all flirtatious all the time. Now, if a role is way more about what being a woman really is, I get super excited."
This is a sentiment which has been shared by many of Jansen's fellow female actors, and fortunately there do seem to be far more complex roles for women both in Hollywood and on the arthouse scene these days. But of course there is still progress to be made, with the frequent questioning of female actors on their outfit choices on the red carpet being a growing complaint. Does Jansen enjoy hitting the red carpet? "Well, when I was younger if I had to go on the red carpet I'd sweat forever," she recalls. "But now it's in my head that it's just part of the job, and I even get to like it sometimes. It has plus sides, cos you get to meet new people."
Earlier on in her career, the thought of an interview to promote a film would leave Jansen feeling nervous, with the fame element of being an actor not always sitting well with her. Now, she finds it much easier to cope. "I don't necessarily like the fame part," she admits. "I think it's over-rated. Doctors, nurses and teachers – they should get the fame that actors get. They should be praised for what they do more than we are." Wise words from a woman who undoubtedly has a great deal more acclaim heading her way.
TEXT: ANNA VILLELEGER
Subscribe to Our Newsletter
Receive our monthly newsletter by email