From fine art to architecture at Kunstmuseum
Text: Maya Witters | Photos: Kunstmuseum Den Haag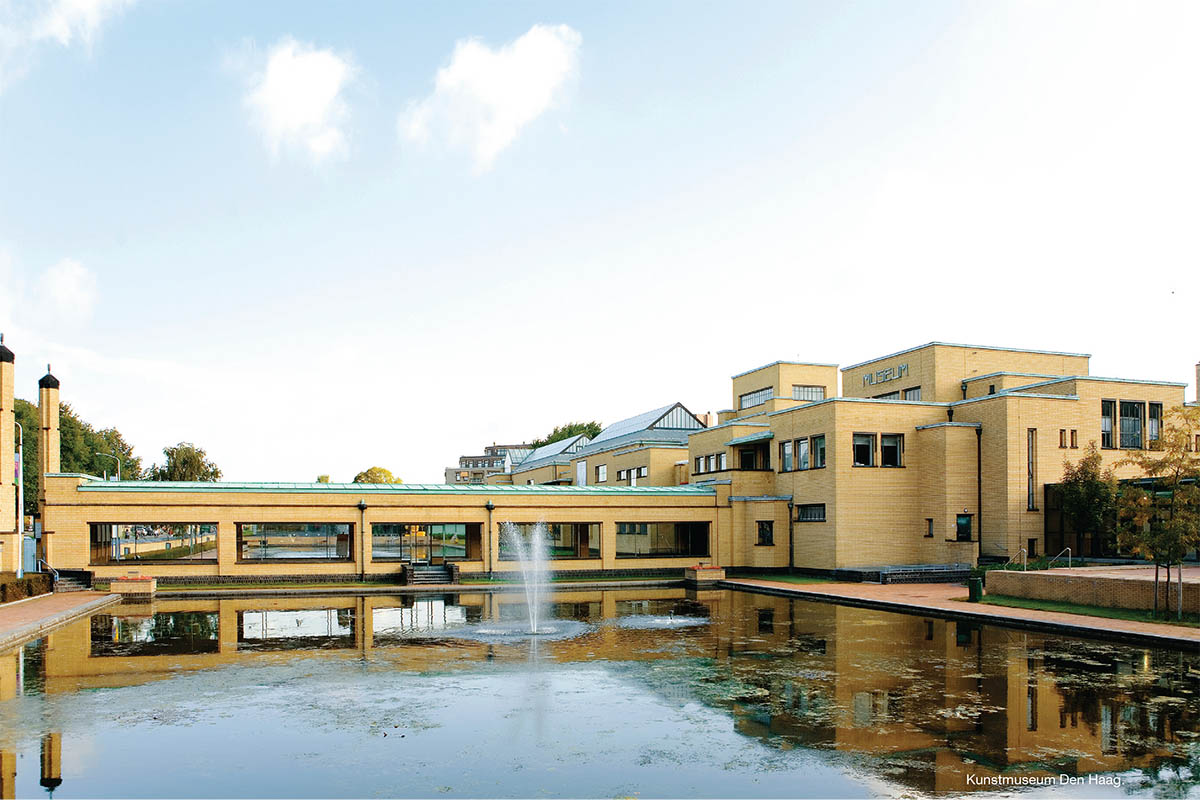 As one of the largest museums in the Netherlands, Kunstmuseum Den Haag boasts a diverse collection of modern art and wide-ranging exhibitions. But equally remarkable is the museum building itself, an Art Deco marvel so precious that it is actually catalogued as a collection item. In 2020, the museum is organising a major exhibition around the building's history and design.
The Kunstmuseum – known as Gemeentemuseum Den Haag until a recent name change – also has plenty of other interesting exhibitions coming up in 2020, as well as its usual state-of-theart children's programme and permanent collection. Head of collections, Doede Hardeman, takes us through some of the highlights on the calendar, and begins: "With our exhibitions and the stories we tell, our aim is always to bring art closer to the people."
Magnificent Mondrian
The Kunstmuseum harbours a collection of over 160,000 objects on rotating display. "Rather than an encyclopaedic selection of historic art objects, our collection is centred around certain thematic cores: we have an extensive fashion collection, for example, and a lot of impressionist works," explains Hardeman.
Pride of place is given to the museum's Mondrian collection, the largest in the world, with over 300 works, showing the painter's evolution from figurative to abstract and geometric art. "Our Mondrian collection is on permanent display in the museum, alongside a selection of highlights of modern art: Monet, Bacon, Schiele, Kirchner… In addition to this permanent collection, we organise 30 exhibitions every year, ranging from big, crowd-pleasing productions to more niche showcases for connoisseurs," Hardeman enthuses.
Art Deco splendour
One of the major exhibitions for 2020 has a very particular subject: the Kunstmuseum building itself. Built in 1935, the building is the last-ever designed by famed architect H.P. Berlage. "The museum is a pearl of late Art Deco. As it was built in the middle of an economic crisis, materials were expensive, but labour was cheap. This resulted in a building with sober brick walls, but a richly decorated interior full of handcrafted details."
Crucially, the Kunstmuseum was purpose-built as a temple for the arts. "It's a daylight museum: it has windows in every room, cleverly integrated in the ceiling, so that the light is diffused and creates a bright and modern interior ideal for displaying artworks," reveals Hardeman. "The exhibition will highlight features like these and give a unique insight into the history, design and execution of this magnificent building."
Dior, Israels and Breitner
The Kunstmuseum building isn't the only local masterpiece to get a place in the spotlight next year. In spring, the museum houses an exhibition on the friendship and rivalry between Dutch impressionists Isaac Israels and George Hendrik Breitner. "These two contemporaries maintained a friendship, but they were also inspired and sometimes intimidated by each other's work, a dynamic that helped them push their craft," Hardeman explains.
Autumn will be an interesting time for fashion fanatics, as the museum welcomes a major exhibition showcasing the designs of Christian Dior. "The collection we display will focus mainly on the clothes designed by Dior himself between 1947 and 1957, but we will also highlight the history of this iconic fashion brand and its influence on subsequent fashion developments."
Art for the people
With its diverse approach, encompassing everything from modern painting and sculpture to architecture, fashion and photography, the Kunstmuseum explicitly aims to attract as diverse an audience as possible. "We want to welcome national and international visitors as well as local inhabitants of The Hague, from every cultural background and of all ages," says Hardeman.
To make visiting the museum more attractive to families, it harbours 'wonderkamers' (treasure chambers), interactive exhibition spaces designed specifically for kids so that they can discover the artworks in an engaging and ageappropriate way. This feature is internationally renowned and attracts regular interest from other museums looking to adopt similar approaches. And as a bonus, museum entry is free for anyone under the age of 18.
"With everything we do, we simply try to bring people closer to the arts and the arts closer to the people," concludes Hardeman. "That's why we don't price our exhibitions separately: you buy one entry ticket and you get to see everything on display in the museum. That way, we encourage visitors to discover something new every time."
Visit www.kunstmuseum.nl for opening hours, ticket prices, current exhibitions and other practical information. Upcoming exhibitions: Breitner and Israels: 1 Feb – 10 May 2020 Royal Blue: 21 March – 16 Aug 2020 Dior: 21 Sept – 28 Feb 2021
Subscribe to Our Newsletter
Receive our monthly newsletter by email