FREDERIQUE VAN DER WAL Living life in full bloom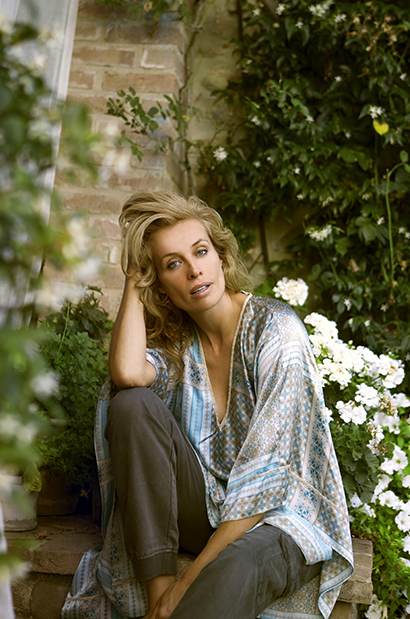 Dutch supermodel turned entrepreneur Frederique van der Wal is living life in full bloom. Discover Benelux had a chat with this down-to-earth beauty and founder of Frederique's Choice, the first lifestyle brand around flowers, about the importance of unwinding and giving back to nature.
As one of the world's top models, Frederique van der Wal has featured on runways and magazine covers such as Vogue and Cosmopolitan, as the face of global fashion and beauty brands including Victoria's Secret, plus in a number of films, theatre productions and television programmes. When we catch up with the former model, she reveals that her real passion has always been in flowers and the protection of nature.
Growing up in The Hague, Frederique moved to New York at the age of 18 to work as a model, where she built an incredibly successful career. However, in this bustling city she missed one crucial thing. "When moving to another country, it's interesting to see what you miss," she says, and continues: "in New York, I kept on wondering 'where are the flowers and plants?' We grow up surrounded by flowers in the Netherlands and they become a natural part of our life. The seed is planted from birth, so to speak. But flowers turned out to be hard to find and also very expensive in America."
From an invisible journey…
It became a long-term dream of Frederique's to make flowers a part of everyday life in America. And back in 2005, when her home country the Netherlands named a lily in her honour – called Frederique's Choice Lily – it all came together. "In the north of Europe, we tend to be quite humble and don't put people on pedestals, unlike in America, but this was such a fantastic honour. It made me really proud as flowers are so truly Dutch and a beautiful part of life!"
Frederique produced and hosted television documentary The Invisible Journey in collaboration with the Discovery Channel, showing the route of flowers from the fields in Kenya to the markets and auction houses in the Netherlands, and eventually to the customers' front door in America.
Subsequently, she developed the first authentic online brand based around flowers in 2008, which was launched in The Netherlands and called Frederique's Choice, making flowers accessible online and specialising in handmade designed bouquets by Frederique.
… to home-grown makeover
When the time finally came to launch in the US in 2015, Frederique executively produced and co-hosted a television show called HomeGrownMakeover, which aired in 2016 on AETN's FYI channel as a 10- episode series. In the programme, she helped transform urban homes by using flowers and plants, bringing the outdoors in. "Many people in America are not used to handling flowers but despite what people think, you don't actually need green fingers. You just need to cut them, add and change water – and of course talk to them!"
The down-to-earth entrepreneur admits that even though she has been fortunate with both luck and timing in her modelling career and business, it has been hard and quite a learning curve. "It's important to recognise that whenever people say that things are 'fantastic', that's not the whole story," she says. "I've had plenty of ups and downs, and days when I wonder what on earth I'm doing. Life is not easy, and we don't always need to be happy. But if we can find what we're passionate about and what brings meaning to our life, we can feed off that positive energy." Sharing her experience with others, Frederique has been spreading the message of self-love and turning points in life, for instance during a series of inspiring public talks with Donna D'Cruz.
The nurturing factor
Maintaining her focus on sustainability and the protection of nature, Frederique wants to bring her 18-year old daughter on a journey to the Amazon to meet an authentic tribe. As an ambassador for the project Save the Native Forest, she visited the same tribe a few years ago and wants to share the magical experience with her daughter. "I have tried to give her tools to navigate in this world and she's now ready to fly the nest. Before she begins her new adventure as a university student, I want to show her the rainforest – Mother Earth, the true essence of life. It really changes you, to see something as pure as this. They don't live by the watch there; they live in tune with nature."
Despite her busy lifestyle in the big city, Frederique gives the impression of being grounded and emphasises the importance of being in the moment. "These days, we tend to live by lists and focus on what to do with our time, when we would be better off trying to unwind. We are sadly disconnected with nature and especially here in America, you always get the question 'what's next?'. But sometimes you need to just be for a while."
To relax, Frederique spends time on her farm in upstate New York, where she can potter around in the garden. "I love the calming effect of gardening, it's such a meditative thing to nurture the plants – it gets rid of stress and brings balance." She also stays true to her Dutch heritage by cycling whenever possible. "Yesterday it was drizzling with rain and I went on my bike to a meeting. People here think I'm crazy," she laughs. "But you know what, sometimes those moments are what make life great!"
TEXT: MALIN NORMAN
Subscribe to Our Newsletter
Receive our monthly newsletter by email