Fortuin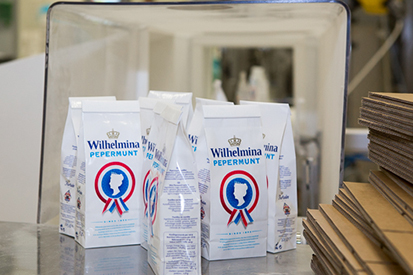 The royal mint
TEXT: ARNE ADRIAENSSENS | PHOTOS © FORTUIN
Times change, but some brands do not seem to be so affected by this. Wilhelmina Mints, the Netherlands' most iconic sweets, have been around for over 125 years, but still sweeten up the lives of Dutch people of all ages.
"We are good at what we do, and that is making mints," states Rene Alkema, sales director of mint maker Fortuin. Their factory is the birthplace of many Dutch favourites, like the colourful fruity hearts and the black and white SIL sweets. Yet, the crown jewel of their assortment is the smooth and elegant Wilhelmina Mint. It is loved by the Dutch for its crunchiness, smooth surface and the relief of former Dutch queen Wilhelmina's silhouette on every piece. "Our founder, Willem Hendrik Fortuin, created these mints for the company's 50th anniversary. At that time, the 12-year-old princess travelled throughout the country to visit all its regions and meet the citizens. When in the region of Friesland, Fortuin offered her a little chest containing the first mint with her portrait on it. She must have liked it, given that four years later, the company received the title of 'warrant holder of the Dutch royal family'." A title that still proudly adorns Wilhelmina Mints' wrappers.
Today, the mint is a welcome guest in many households. Studies show that around 96 per cent of the Dutch population knows the product and associates it with trustworthiness and quality. "Throughout the years, the recipe and taste of our Wilhelmina Mints remained untouched. We still offer the exact same sweets as the one our founder gave to the princess." Naturally, Fortuin does innovate by introducing new, delicious products. Next spring, the Wilhelmina Chocobite will see the light of day, the familiar mint covered in a sweet layer of chocolate.
In the meantime, people worldwide are still discovering the taste of Fortuin's most popular mints. The royal sweets are sold in shops all over the world, and soon, even one of America's major supermarkets will sell them. "We are proud to introduce the world to such a beautiful and traditional product," Alkema concludes. Why Wilhelmina Mints manage to charm one generation after the next is clear to him. "The two pillars on which our company is built are quality and innovation. Those values never go out of style."
Subscribe to Our Newsletter
Receive our monthly newsletter by email