EuroUSC-Benelux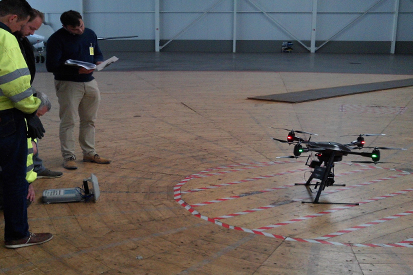 Where tradition meets novelty
TEXT: EVA MENGER | PHOTOS © NELE VANDENPUT
Michael Maes had already had a long career in aviation when he stumbled upon a television report on drones. He promptly decided to apply for a job within the drone industry and after several experiences, he was given the opportunity to start as director of EuroUSC-Benelux, managing RPAS accreditation services for drone operators, flight schools and manufacturers in the Benelux.
Maes: "What fascinated me most about drones was the novelty of it. Suddenly, aircrafts were built in response to demand from all kinds of industries, from governmental institutions to individuals wanting to use it for recreational purposes. At that early stage, I felt that my background in traditional aviation could add significant value."
To date, the firm's biggest challenge by far has been integrating drones into society. "People are still very skeptical towards the fact that it concerns an unmanned aircraft," Maes explains. "Pilots don't like the idea of drones interfering with their work environment, and the lack of evidence around drone safety is enough to put people off." That said, the demand for professional drone services is rising steeply, with more and more industries looking to improve their efficiency through the use of drones.
Focusing mostly on pilot competencies and drone assessments, EuroUSC-Benelux is the go-to place for businesses looking to get involved with drones. "EuroUSC was on the cradle of regulating the industry, creating opportunities for companies on the safe use of drones, while also helping police forces and fire services, who are increasingly using drones for assistance and things like crowd control," Maes tells us. But no industry is welcoming the drone business as eagerly as unmanned traffic management, ultimately promoting an integrated drone future. "AirSure, our latest application, adds value by offering safe and reliable services for authority, operators and (un)manned navigation service providers alike," says Maes.
Subscribe to Our Newsletter
Receive our monthly newsletter by email