Embassy of the Free Mind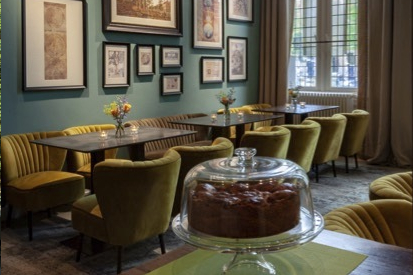 Resurrecting rejected and neglected knowledge
TEXT: MYRIAM GWYNNED DIJCK | PHOTO: EMBASSY OF THE FREE MIND
Take a journey through the minds of ancient philosophers, scholars and scientists at the Embassy of the Free Mind in Amsterdam. Open your eyes to wisdom of all ages, from all over the world, and find new insights into nature, the human mind, the divine and the cosmos.
The museum and centre for culture, events and free thought encompasses the Bibliotheca Philosophica Hermetica, a collection of more than 25,000 books about Hermeticism, mysticism, gnosis, alchemy, Rosicrucians and Kabbalah.
Located at the House with the Heads, the Embassy of the Free Mind gives visitors access to this stunning, 17th century city palace. Its name refers to the building's facade with the heads of six Roman gods.
"Both our collection and the House with the Heads carry the DNA of free thinking. With its history of freedom of press, Amsterdam has been a centre of tolerance and free thinking for over 400 years," says director Esther Ritman.
Upon entering, it is like stepping into the world of Dan Brown's mystical novels, filled with symbolism, secret knowledge and occult philosophies. This is no coincidence, as the best-selling author consulted the collection for his books, financed the digitisation of the core collection and opened the new museum last year.
The museum displays rare books, unique artwork and 200 drawings taken from its extensive book collection. They present the authors' ideas with fascinating visuals, intricate graphics and curious symbols. One example is the illustration by Robert Fludd from 1617 that depicts the human mind, as different segments expand out of a man's head in the drawing.
"This visual language is one many of us don't know anymore, but it appeals to the imagination and reveals universal wisdom. In our museum, we bring them close by storytelling and 'teaching by images'."
She continues: "We hope that the rejected and neglected knowledge and wisdom that is contained in our books will fire the minds of our visitors and make them realise that we all have our own wisdom. Wisdom connects everything with everyone. The question is: how do we apply that wisdom to our life?"
Open from Wednesday to Saturday, the Embassy of the Free Mind offers daily guided tours and hosts regular cultural events and talks. Visitors can pre-order and study items from the book collection (some under supervision) or relax at the museum café.
https://embassyofthefreemind.com
Subscribe to Our Newsletter
Receive our monthly newsletter by email