DZAP Groep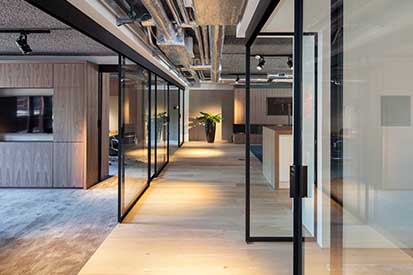 'We take the risk, so you do not have to worry'

TEXT: MICHIEL STOL | PHOTOS © DZAP
Refurbishing a building or fitting out a new location involves a lot of moving parts. Having a partner in this process, who designs your office to all your wishes, makes sure that everything runs smoothly to the day of completion and takes away all your stress, is something everyone wants. DZAP in Naarden does all this for you. "If we say completion and hand-over will be on a certain date, the project will be completed by then, no matter what," says managing director Edward Vis.
"Clients do not want to have to deal with all the various aspects of a project. They want to work with a partner who fits who they are, and see them complete the project," continues Vis. "That is why they hire us. Together with the clients we come up with a programme of requirements (PoR) and – based upon that – we put together a fit-for-purpose design, timeframe and budget. Once we have settled on that, DZAP takes control."
Their project managers effectively become the intermediary for the client. They hire the crews, find the right materials and furniture and keep the clients informed. "Our philosophy is: 'don't stop until you are proud.' That goes for everything, from the design phase through to completion. If you are not proud of a project by the end of it, you did something wrong. I can tell you, we have a very proud team," smiles Vis.
The team of DZAP consists of 50 architects, interior designers and project managers. They work on office buildings, office interiors, hospitality establishments and housing in the upper segment. The company was founded in 1995 as a project management agency. Over the years, interior design became an integral part of the work. And later on, they introduced their unique 'result commitment' way of working. "What that means is that we take on the risk of a project. No matter what it takes, we make sure that the deadline is made, within budget. Should something go wrong, we do whatever it takes to repair it. If that turns into a financial risk for us, we will take it," explains Vis. "We effectively become the general contractor, and clients give us the mandate to make the necessary decisions to finish the project."
Trust is a major factor
Trust is very important. "Personal contact and good communication are crucial in that. We want to be able to shake a client's hand and look them in the eyes. If it feels right then and there, then there is trust. If one side does not feel it, it will never work."
If everything is right, will DZAP start working with a client on the concept and strategy of the project. "We always strive to achieve the perfect balance between the emotion in design and the rationale of project management, whether our client is an organisation seeking to reflect its culture through the workplace, or an owner of a building who is looking to revitalise its asset," elaborates Vis. "Is moving the right answer, or is refurbishing a better option? What costs do each of the choices involve, and what is the effect on the timeline? What option is going to cause the least disruption to the business?"
Especially that last question is important when it comes to a refurbishment in an occupied situation. "This was, for example, the case with a refurbishment for a renowned strategy consultant in Amsterdam, where we had to refit a 6,000-square-metre building with minimal disturbance to the employees," says Vis. "It was a challenging project, but the completion made us really proud."
Innovation is a big deal for DZAP. "Offices today are so much more than just a boring work place. They are places where working and living come together. Employees want to feel at home." To be able to create these combined spaces with more specialised knowledge, early this year, DZAP took over design boutique HIP Studio and established DRIVE Impact Management, a consultancy for hospitality and hostmanship. "Both HIP Studio and DRIVE are experts when it comes to hospitality. Their knowledge helps us to create even better designs for clients." Recently DZAP also joined forces with global real estate advisor Cushman & Wakefield. "They understand the importance of the working environment to business performance. A perfect partner."
DZAP likes to keep things clear when it comes to making commitments, creating transparency, and work things out right at the start of every project. "That avoids a lot of hassle and we always stick to the plan," smiles Vis.
Subscribe to Our Newsletter
Receive our monthly newsletter by email