Dr. Pieper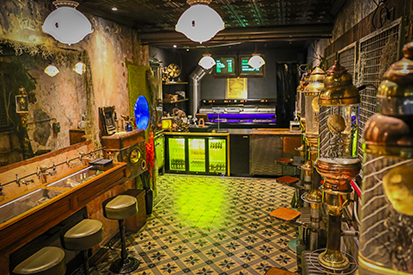 When entering the mysterious chip shop Dr. Pieper, customers get transported to a world not dissimilar to a Tim Burton film. No doubt about it – the potato-obsessed Dr. Pieper is elevating fries to a whole new level.
Assistant to the doctor and co-owner Jelle Westland explains the story behind Dr. Pieper, his chip shop on Kinkerstraat in the up-and-coming area Amsterdam West. "I have always wanted to open a 'friet' (as it is called by the Dutch) business and when I met this scientist – let's call him Dr. Pieper – it all came together."
Aiming to offer the best fries in the Netherlands, Westland also makes sure that customers will not forget paying a visit. The eccentric interior is dark and mysterious, with a steampunk vibe and inspired by the research of Dr. Pieper himself. Some of his research equipment can be found in the shop, which looks like a Victorian lab with carefully selected music to enhance the experience, and it even hosts a tank with real, living jellyfish.
"Many restaurants and shops nowadays are inspired by New York and London," elaborates Westland. "But this is different, similar to the ambiance in a Tim Burton film, and our customers are amazed when they enter. Most of them can really appreciate the humour and get a twinkle in their eyes, it's fun to see their expression!"
Everything is handmade, as Dr. Pieper is all about freshness of ingredients. As Westland explains, "we take our product seriously and bring fries to a whole new level. It's quite a delicate process, where we freshly cut and double fry the potatoes in Dr. Pieper's secret coconut oil blend." In addition to French fries, the menu includes homemade croquettes and sauces, with vegetarian and vegan options, and meat lovers can try toppings such as Indonesian beef stew, pulled pork or chicken with their fries. During summer, Dr. Pieper also offers nitrogen ice-cream and a specially developed, medicinal cannabis mayonnaise. And in the near future, vegan fish and chips.
Dr. Pieper is a unique gem and a mustsee when visiting Amsterdam West, for its delicious fries of course but also to add some color to the trip. Easily the best 15 minutes of your day. Part of the profit goes to the continuous research of Dr. Pieper. But the identity of this mysterious scientist remains unknown. Perhaps the origin of the Dutch word 'pieper', meaning potato, can shed some light.
Subscribe to Our Newsletter
Receive our monthly newsletter by email