Dijon Opera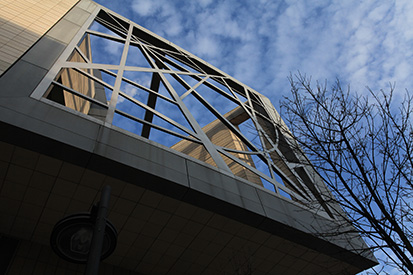 Dijon may be most famous for its gastronomy but the Dijon Opera is fast gaining a global reputation as a major player on the international arts scene.
Based in a ground-breaking contemporary auditorium, renowned throughout Europe for its superb acoustics, Opera
Dijon's new season will feature a fascinating programme devised by its dynamic young director general and artistic
director Laurent Joyeux. Six new opera productions will span five centuries and a vast array of musical styles – from the Baroque of Rameau and the 19th century melodicism of Bizet and Verdi, to the 21st century micro-tonal frictions created by contemporary Austrian composer Georg Friedrich Haas.
There will also be concerts by top calibre international guest stars such as virtuoso pianists Murray Perahia and Boris Berezovsky, performances of Mozart's last symphonies as well as a dance work by the hugely influential, trailblazing choreographer Alain Platel, inspired by Mozart's Requiem.
The centrepiece of the 2018/2019 season will be the rarely performed Baroque opera Les Boréades, by one of Dijon's most  famous natives: Rameau – the star composer of the Baroque era.
Les Boréades explores issues highly pertinent in society today, such as the struggle of the individual in the face of social inequality, the abuse of power, the subjugation and liberation of women and the awakening of political activism. The theme of liberty is central to the six main pieces which will feature in the Opera's 2018/2019 season. Women and their liberation and empowerment are key themes in Janácek's Jenufa, in a continuation of Opera Dijon's ongoing Janácek cycle, plus in Sacrati's La Finta Pazza and Bizet's enduring popular classic – Carmen.
The Opera will also present the French premiere of Georg Friedrich Haas' 2016 opera Koma, which examines dark themes of illness and suffering and can be seen as exploring the lack of liberty within the human body. Political freedom meanwhile is the focus of another popular classic – Verdi's Nabucco.
The Dijon Opera's season is not entirely adult-focused, however. The Opera also runs family-friendly workshops where children can sing, dance and act, as well as a school programme and student evenings with special ticket pricing for students.
Subscribe to Our Newsletter
Receive our monthly newsletter by email