DÉBORAH FRANÇOIS: Belgium meets the Wild West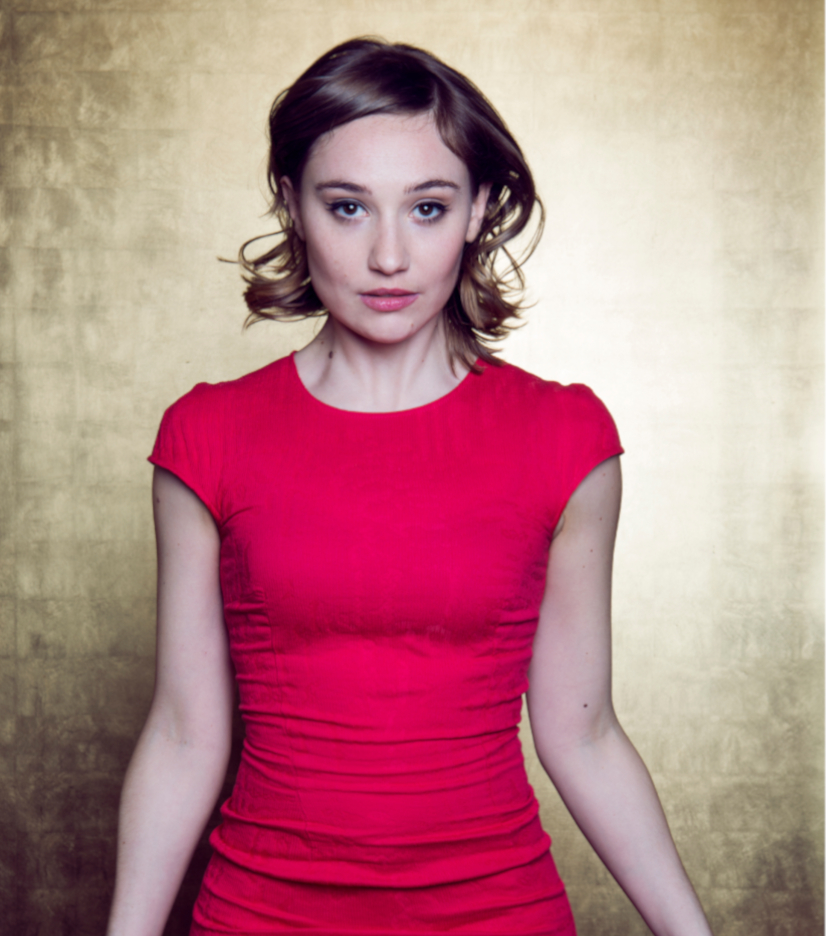 Since being discovered by the filmmaking duo Jean-Pierre and Luc Dardenne at the age of just 16, the rise of Belgian actor Déborah François has been unstoppable. Now aged 31, she has a long list of credits to her name, ranging from Fleur Duval in the drama Le Premier Jour du reste de ta vie (The First Day of the Rest of Your Life) – a role which earned her a César Award in France – to her captivating performance in the hugely successful French romantic comedy Populaire. Always keen to experiment with different genres, this year sees the release of François' latest project, the Western Never Grow Old, which she stars in opposite John Cusack and Emile Hirsch. It is just another example of François' superb range as a performer, and looks set to see this talented Belgian catapult even higher on the global stage.
"I'm so happy for my country," smiles François, as she reflects on the phenomenon that is Belgian cinema. From the global acclaim achieved by newcomers such as Lukas Dhont to film icons like the Dardenne brothers, for such a small country the concentration of talent is extraordinary.
"We many not have the same film history as France, but that gives us more liberty. There may be less money, but there is more freedom," she muses. The daughter of a policeman and a social worker, François grew up in Liège, although she now calls the French capital home. "Belgians are so nice too," she grins. "That's what they say in Paris, there's a nice, small Belgian community."
Dardenne brothers
François has fond memories of her first acting job, starring in the Dardenne brothers' 2005 Palme d'Or-winning film L'Enfant (The Child). "That was where the adventure began," she recalls, admitting that the professionalism she witnessed on set made a real impact on her. "Jean-Pierre and Luc [Dardenne] gave me an idea of strictness that has really stayed with me. I don't think it's necessarily good to have no constraints, I think actors should always be professional and never forget that we have one of most beautiful professions in the world. We are not heart surgeons, we're not working in a factory, we are lucky – so we need to stay professional, polite and respectful. If someone doesn't want to do that, then they should go and do a job which won't make them happy."
Go west
François' professionalism has clearly stood her in good stead, as the roles keep coming in. This year, she plays the female lead in Never Grow Old, a Western directed by Irish filmmaker Ivan Kavanagh. The film also stars John Cusack and Emile Hirsch, and tells the story of an Irish undertaker and his family under threat in an American frontier town taken over by outlaws. The film was an Irish and Luxembourgish co-production, and was filmed partly in Luxembourg, with François playing Audrey Tate, the wife of Hirsch's character Patrick Tate.
Beautiful love story
Also out this year is L'autre continent, by French director Romain Cogitore, where François stars opposite Paul Hamy in a love story set in Taiwan. "It's a beautiful love story about two expats – a boy and a girl who fall in love, but then the boy becomes ill," reveals François. "It made me think, how would I react in that situation? That is one of the great things about acting, it means we pose questions that we wouldn't normally ask everyday. It's interesting to explore all the parts of being human."
A true lover of the arts, François admits if she had not got into acting, she could have seen herself being a teacher, due to her passion for literature. Does that mean we can expect a screenplay or novel anytime soon?
"I think my big love will always be acting," she admits. "However, I do have lots of ideas and this year, I'm going to write. I believe that could please me too, but at the same time I don't think I could be happy doing just that. I'd miss acting too much if I went completely behind the camera. I also need to express myself by acting. I do think the two are complementary though."
On stage
Also on François' to-do list is treading the boards again. "Theatre was always my passion, from a very young age," remembers the star. "I would love to get back on the stage. I'm not sure if I'd do something classic or contemporary. What I love about theatre is how important the text is. It's quite overwhelming to play the same text every night, it doesn't stop! It's not like cinema, where we can redo a scene," she explains. "It's not like we have loads of time in cinema, but we can give several versions of a scene, whereas in the theatre you need to make a choice. You can do it slightly differently the next night, but the play needs to be the same quality every night for the spectators."
Supporting diversity
One thing François does feel very strongly about is increasing the numbers of female directors in the industry, and for more diversity across the board. She is a supporter of the 50/50 By 2020 collective, which organised the women's march at last year's Cannes Film Festival. "It's 2019 and we haven't evolved on so many things," laments François. "For example, why is the budget for a female director's first film inferior to that of a male director's first film? We need to ask questions."
"It's not only women we are lacking, it's diversity, quite simply," she concludes. "And diversity is what makes cinema."
The magic of film
François' passion for her craft is undeniable. What is it that she loves so much about acting? "I think it's being able to transfer emotions that could be sad or hurtful in my own life, into something which, when people watch a film, can make them happy or let them express themselves," she explains. "When people are touched by a film I think there are emotions they can't necessarily express, perhaps they are too personal or it touches them too closely: but all of a sudden, seeing a film which might not be on the same subject at all, can provide a distance that means all of a sudden, they get an insight into their own life. It releases the pressure. Being able to make people happy, or transform something that could be quite sad into something positive – that's special! People sometimes say coming out of a drama 'I feel cleansed'. That is quite magical."
TEXT: ANNA VILLELEGER | PHOTOS: CYNTHIA FREBOUR
Subscribe to Our Newsletter
Receive our monthly newsletter by email