De Haar Castle: Explore luxurious castle life near Utrecht
Text: Maya Witters | Photos: De Haar Castle
De Haar Castle is a not-so-hidden gem near Utrecht for tourists with a keen interest in history. This medieval castle, which underwent extensive luxurious renovations in the late 1800s, has something for everyone: rich tales of past glory, endless gardens, enthusiastic English-speaking guides, seasonal splendour, and even a maze. In short, everything you need for a delightful day trip.
The history of De Haar Castle is fascinating. Built in the 1100s, it later fell into disrepair and stood ruined for decades, until Baron Etienne van Zuylen van Nijevelt van de Haar and his wife Hélène de Rothschild decided to begin renovation works in 1890. They contracted architect Pierre Cuypers, already famous at the time for his designs of the Rijksmuseum and Central Station in Amsterdam.
Cuypers restored the castle above and beyond its former glory, giving it a lavish interior in gothic revival style to match the stark medieval facades, which sport ramparts, moats and drawbridges. The result is a fascinating building that tells the story of its rich past via its design alone.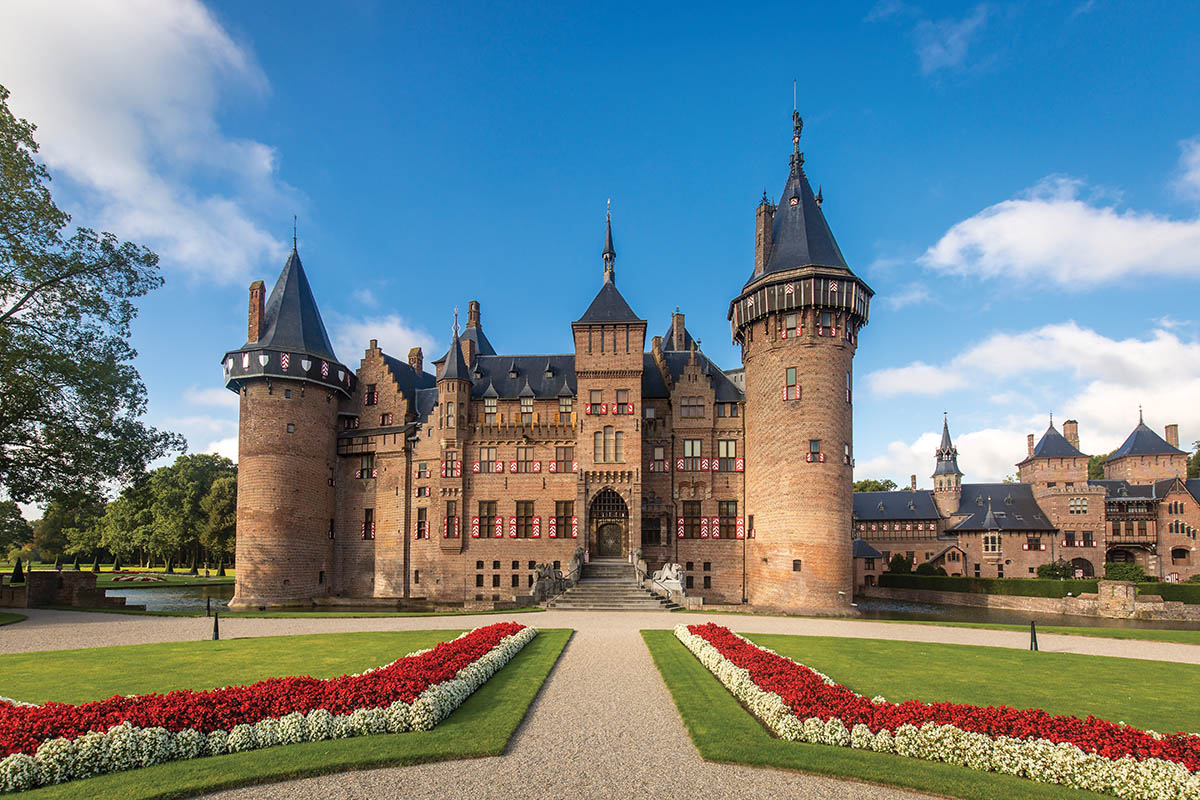 The power of volunteers
However, visitors need not merely guess about the castle's historical transformations while discovering its many rooms and hallways: a guide awaits in almost every room, ready to tell the unique story of its former uses. As these guides are all volunteers, they help tourists with ample enthusiasm and are highly knowledgeable about the history of the Van Zuylen family.
"Since 2000, the castle has been in the hands of De Haar Castle Foundation, a private non-profit organisation that works to keep it accessible to the public. The baron wanted to keep the castle in the best possible state, something he could not accomplish alone given its massive size," explains Samantha Huismans, senior marketing manager for the foundation. "We do not receive regular public funding, which is why we rely on over 200 volunteers to help us keep this historical gem open and let as many people as possible see its splendour."
The volunteers' stories bring to life the former inhabitants and visitors of the castle: after its restoration, the latter category included the likes of Coco Chanel, Maria Callas, Roger Moore, Yves Saint Laurent and Brigitte Bardot. Even today, descendants of the Van Zuylen family and their guests still stay in the smaller Châtelet next to the main castle, regularly.
Fairytale weddings and events
De Haar Castle receives thousands of curious visitors yearly, but those who fall in love with its beautiful interior and endless gardens can go one step beyond the standard guided tour. "We have various locations for couples to get married: the old chapel in the grounds, the intimate library or the lavish ballroom, or even outside in the rose garden," Huismans sums up. With such a décor, splendid wedding pictures are a guarantee.
The castle is also available for private rental for other occasions, like fairs and festivals, company meetings or team events. The options for business rental are endless, and the décor will certainly impress staff and clients. "Private hire is an important source of income for the foundation, which helps us restore and maintain further parts of the castle and provide visitors with an even better experience," attests Huismans.
Seasonal splendour
Of course, De Haar Castle becomes even more spectacular during Christmas time. From 6 December – once children's patron Saint Nicholas has departed on his boat back to Spain until next year – the entire castle is cloaked in Christmas decorations. The outside walking paths will also be illuminated, creating a true fairytale land for visitors to revel in.
If you can't visit during the holiday season, there are plenty of other year-round and seasonal activities at the castle, like exhibitions, children's scavenger hunts, and optional visits to hidden rooms. In short, everything you need to keep the entire family, team or group entertained. "You can cap off your visit with a stop at one of the two restaurants and a gander through the castle shop. And the nearby village of Haarzuilens is also worth an afternoon stroll. Visit, for instance, the restaurant 't Wapen van Haarzuylen and enjoy a Burgundian lunch or dinner," concludes Huismans.
De Haar Castle is an easy bus and/or train ride away from the centre of Utrecht, and parking is available. Special group arrangements and tours in English, French or German are available on request. Visit www.kasteeldehaar.nl for opening times, prices and other practical information.
Subscribe to Our Newsletter
Receive our monthly newsletter by email