CURCU Beer: A beer for life
Text: Martin Pilkington | Photos © Curcu Beer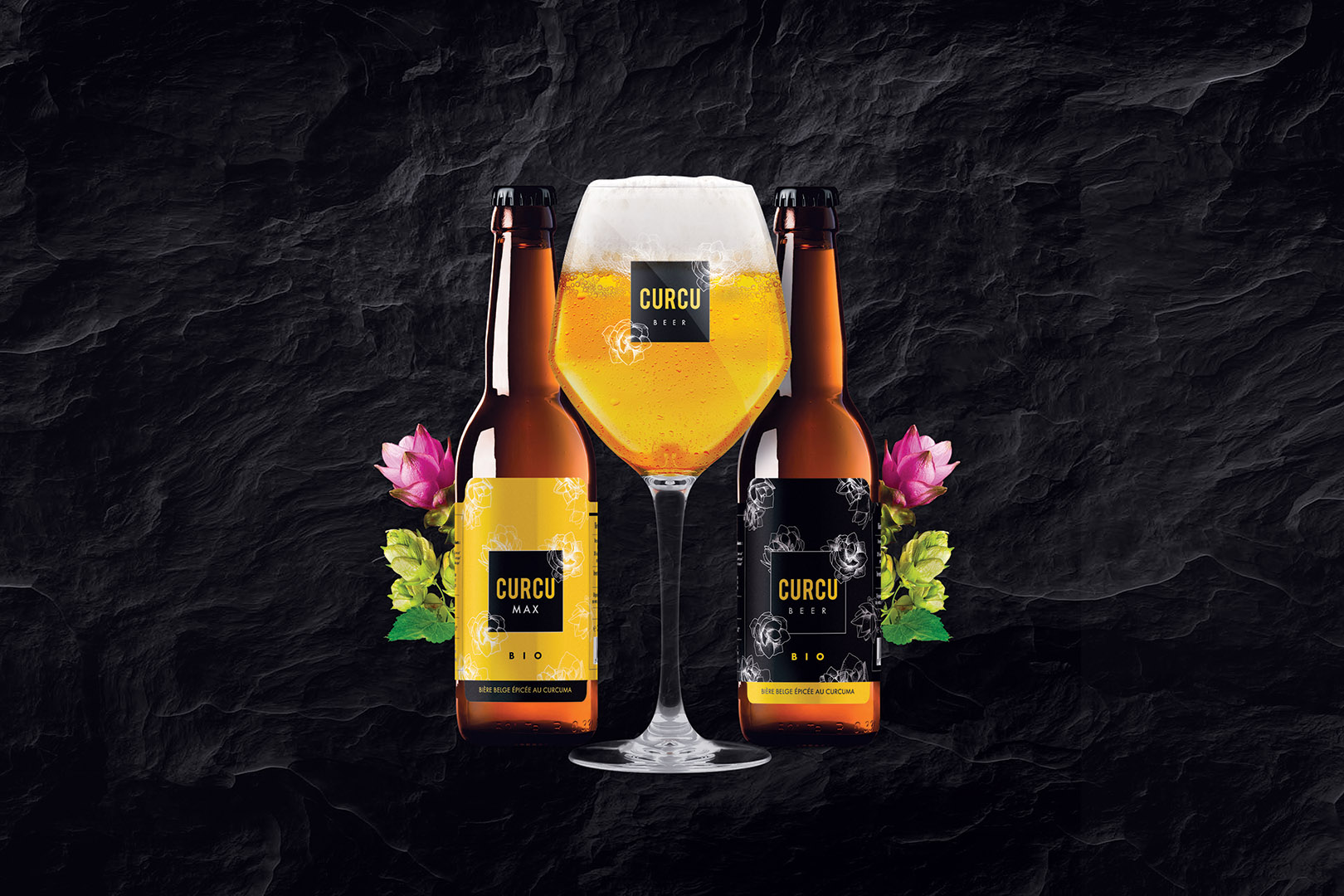 Most great ideas begin in pubs, but this one began even before the brewery stage.
Joseph Gottal, when he ran an anti-cancer molecular research company, spent six years investigating the health-giving virtues of curcumin, the active component of turmeric that has been shown to have anti-inflammatory, anti-cancer, and anti-infection properties. He eventually optimised a complex blend of curcumin and other spices and essences that make it easier for the body to absorb the curcumin, and for the palate to relish the melange that he calls curcumix. A conversation with his friend, entrepreneur Alexis de Limburg Stirum, led to them joining forces, and soon a meeting with master brewer Bruno Deghorain brought him into the team, and pointed the way to their exciting new product – Curcubeer.
The organic route
"We wanted to make curcumix palatable, and Bruno suggested using it with other flavouring elements in an organic beer – we've been set on the organic route since the outset," says de Limburg Stirum, "so we use organic hops and barley grown in Belgium and Northern France in the brew."
They travelled to the Far East to source organic turmeric, a journey that also convinced them to follow the Fair Trade path: "We saw how some big organisations squeeze the small farmers, and we feel that it's right to help producers make a decent living out of their hard work," adds Alexis.
As a test of their product they made 1,500 bottles of Curcubeer at Bruno's brewery in Binche, in Wallonia, and without any indication of the special ingredients, got friends and business contacts to try it – with extremely positive results: "People liked it as a tasty refreshing beer before they knew anything about what makes it so different," he says. "Bruno is an acclaimed master brewer, with great knowledge of his craft, and he produces very fine beers."
New products
Since Curcubeer launched in 2017, the company has added a second beer, Curcumax, to the range. "Curcubeer is more of an aperitif beer, something to slake the thirst when you're with friends; Curcumax is fuller bodied, more complex, more contemplative perhaps," says Alexis. The former has 12 ingredients in its curcumix, the latter 16, each set chosen to make the curcumin actively accessible and to provide a well-balanced and full-flavoured beer. For obvious commercial reasons, the team is cagey about revealing all of the spices and botanicals involved, but one is black pepper, which as well as being anti-inflammatory itself, combines with turmeric to make it easier for the body to process the curcumin. The others include cloves, vanilla and lemon, the latter imparting definite tangy citrus notes to the flavour profiles that make both beers good accompaniments to seafood and spicy Asian dishes and, in the case of Curcumax, pairs well with red meats and cheeses too.
New markets
With sales outlets established in Belgium, France and Luxembourg, the team is now expanding into other markets: "We went to a major food and drink congress in Japan a couple of months ago," says Alexis, "and we're now working on enquiries from across Asia that we received there." This summer, they are bringing the beers to trade events in the UK, and both beers have been accepted for consideration in The World Beer Awards 2019, with the results due to appear in August. They also have an intriguing pathway into the Dutch market, where an indoor climbing company with centres across the country is keen to be involved. "Climbers are obviously keen on health and fitness, so it looks like a good match," adds de Limburg Stirum.
The company has noted three core groups as being the keenest to try, and having tried to then keep buying their beers: one is young people tired of 'international' brands that are all advertising and little flavour – what Alexis describes as 'footballer beers'; another, people from 25 to 40, for whom (like those climbers) their overall health – and the diet that is a part of that – are major focuses in their lifestyle; and an older group, seniors aware in particular of the reported benefits of turmeric as regards joint and muscular problems.
Another beer and a non-alcoholic drink are in the development stage, and the company is also working on snacks to complement their drinks: "We want to offer something that goes well with our beers, and fits in better with our healthful approach than crisps or over-salted peanuts and pretzels," says Alexis.
A company whose products are ethically and ecologically produced to bring health benefits and pleasure to the consumer: that's something worth considering over a beer.
Web: curcubeer.be
Subscribe to Our Newsletter
Receive our monthly newsletter by email