Creationz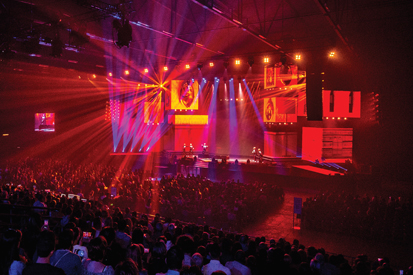 Revealing the secrets of event management
TEXT: MYRIAM DIJCK | PHOTOS © KOEN LUYTEN
Passion and hard work, these two key characteristics immediately shine through when we speak to Bart De Vos. Together with Sabine Scheirs, he is the founder and director of events company Creationz, based in Keerbergen. With over 26 years of experience under their belt, they have knowhow in excess and use this to continuously surpass clients' expectations. "Everything is about passion," says De Vos. "We work hard and you can't keep that up without passion. We always try to go the extra mile, and our clients feel our enthusiasm and it transfers over to them."
Being at the head of the highly-experienced Creationz team, De Vos prides himself on the fact that every member has at least ten years experience in the industry. In fact, the entire team is made up of event managers. "This is different from the average events agency; we don't have account managers. Our clients, therefore, will always speak one-on-one to an experienced events manager during all communications."
As a result, new clients almost always come to Creationz through word-of-mouth promotion. "We notice that many clients, as well as suppliers, spontaneously drop our name after after a successful event. Our events do their own advertising."
Events as an investment
Part of the work ethos at Creationz is treating every event like an investment for the client. This means that the team want to ensure the client get a good return for their money. "Every event is important. Clients can spend a fair sum on an event, so they require reassurance on their expenditure. We always look for the added value that we can offer, in order to make an event worth the investment."
Transparency during the production process, in particular with regards to the budgeting, is one of the ways in which Creationz accomplishes this. "We work in a very open way. Instead of working with 'us' and 'them', we make clients part of our team and vice versa. We always talk about 'we'."
Constantly evolving
Living in the age of visual storytelling, the screen is increasingly becoming an event's centre piece. De Vos has always closely followed technological developments in order to adopt them into the events. Thanks to this, he was the first in Europe to adopt circular LED screens a few years ago. "They are now common place, but at the time it was something completely new."
De Vos is certainly known for incorporating screens in original ways in his events. For a staff party with over 4,000 guests, he used multiple LED screens to project the CEO's keynote speech. "We lowered the LED screens into the audience until they were right in between the guests. This made the speech more personal and intimate. Instead of towering over everyone on a stage, the CEO stood between his staff and became part of them."
Pushing the limits
During last year's SuperNova event, which focusses on innovative consumer technology, De Vos also had the opportunity to showcase Creationz's technical knowhow to an international audience of 3,000 people. "We collaborated with a fantastic team at the festival, which included speakers from major tech companies including Shazam, Microsoft and Imec."
The stage area was turned into a 1,200-square-metre projection field, and together with an LED wall at the back of the podium, it transformed the speaker presentations into moving, visual experiences. "We always push the boundaries of what the technique allows us to do," says De Vos. "Some of the international speakers told us 'even for us, this was beyond New York standards,' which is a fantastic compliment."
A fitting metaphor
Staring with the project briefing, De Vos will create a compelling story that works as a metaphor for the values of the client. "We always try to find surprising and exciting ways to interpret this. It all starts with the event invitation, as, to us, that's when the event kicks off. We want guests to be excited from the very start and spark their interest on an emotional level."
Effective visual storytelling also feeds into this. "You want it to reflect the event's message and strengthen it in a non-verbal way it," he says. "If, for example, during a staff party, a company wants to show how important their staff is to them, we'd make sure that every guest is treated like a VIP."
The event message is also key for the type of catering and choice of decorations. "If a company values transparency, we would use see-through bowls for the tableware and incorporate clear, frozen blocks of ice in the catering service." This is an example of storytelling translating in a solid production for the client and a unique experience for the guests.
A miracle message
Another recent success story was a staff event for a pharmaceutical company in Belgium. It was a thank you for a good sales year, as the company had taken the nation's top position in terms of turnover and wanted to show appreciation to their their staff.
De Vos: "Everyone in the company is essential to the production of life-saving treatments, so that became the message of the event. During their day-to-day work, most members of staff don't consider they work towards the miracle of healing every day. We captured this in the shape of a droplet, which was reflected by the invitation as well as in the outfits of the event staff. When we served dinner, all these droplets came together by means of a projection on the tables."
Image and food pairing
Many high-tech solutions such as table projections are typically only available to large companies with big budgets. But Creationz has found a way to make expensive technology more accessible. The company is currently running 'Living Tables' at the Napoleonzaal, which has space for up to 400 guests. For events held here, clients can incorporate custom-made audio-visual table presentations to blend with the food service.
"One of our regular venues allowed us to keep the projectors mounted in the ceiling for an extended period of time. This way, even small-budget events can incorporate them, and the cost for mounting and demounting will be shared among all the clients who use it."
Three elements of success
Lifting the veil on what makes his company a success, De Vos identifies three elements. First of all is working closely with the clients. He says: "We really unpack the message a client wants to relay, and try to arrive at something that is better than the original briefing. Often, we help clients to understand themselves in a different way."
Secondly, De Vos is able to rely on a highly experienced team and has long and productive working relationships with suppliers and venues. "You get the best results when you work together in a pleasant way, so this is very important."
Then, thirdly, is working hard – in particular on detailed event preparations. "A good event is 90 per cent preparation. The better the preparation, the more relaxed you can enter the day of the event itself. Thanks to this way of working, we often have spare time in the run up, so we can sit down with the client and discus the final details. This creates a strong sense of trust," he concludes.
Subscribe to Our Newsletter
Receive our monthly newsletter by email