Contemporary Art in Antwerp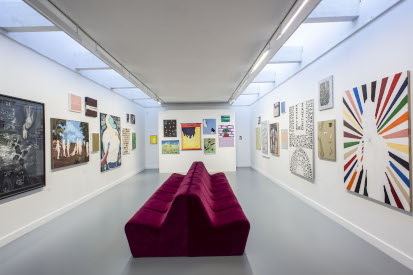 Locally rooted & internationally connected
TEXT: PAOLA WESTBEEK | PHOTOS © M HKA
The Museum of Contemporary Art in Antwerp (M HKA) is a cultural-heritage institution of the Flemish community that showcases art, film and visual culture from national and foreign artists. Boasting a rich and varied collection of more than 5,000 artworks, it aims to continue the city's avant-garde tradition while still looking to the rest of the world.
Brief history
Though as far back as 1947 Antwerp's mayor Lode Craeybeckx was toying with the idea of establishing a building that would serve as a centre for concerts, cultural events and especially modern art, the history of Antwerp's Museum of Contemporary Art (M HKA) can be traced back to 1970 with the foundation of the International Cultural Center (ICC) and the work of American artist Gordon Matta-Clark.
Situated in the former Royal Palace on the Meir, Antwerp's main shopping street, the ICC set the stage as Flanders' first public institution for contemporary art. Its main objective, according to original director Ludo Bekkers, was to serve as a space where exhibitions, concerts, workshops and all kinds of other cultural events could be hosted.
From 1972-1981, the ICC flourished into a vibrant hub under the wings of Flor Bex. An important development took place in 1977 when Bex invited architect-turned-artist Gordon Matta-Clark to execute one of his 'cuts' on an abandoned office building near the River Scheldt. Titled Office Baroque, the work commemorated the 400th anniversary of the city's Baroque artist, Peter Paul Rubens. After Matta-Clark's untimely death in 1978, Bex intended to preserve the artwork as an integral part of the future museum for contemporary art, which would be the city's first and was to be built on the surrounding plots. "Unfortunately, the building was demolished, but the spirit of Matta-Clark and his artwork was very important for the museum's foundation," explains Bart De Baere, general and artistic director. The Foundation Gordon Matta-Clark helped fund the museum with works donated by national and international artists. Officially established in 1985 and inaugurated in 1987, the M HKA opened with 150 works from the foundation. Its first exhibition was dedicated to the work of Matta-Clark.
The collection & exhibitions
Though it was mainly an art gallery in its early years, after the appointment of Bart de Baere as director in 2002, not only did the M HKA evolve into a museum that focused on research and collection development, but it also adopted a broader international perspective. "We have a huge collection of artworks from areas such as Russia, Asia and North Africa and aim to continue developing by looking for unknown and emerging artists," says De Baere.
The permanent collection, which includes iconic masterpieces by artists such as Jan Fabre, Luc Tuymans, Cindy Sherman and Marlene Dumas, is free to visit on the ground floor. Noteworthy is Keith Haring's mural dating to 1987, housed at the M HKAFE and one of his few public European projects.
Must-see exhibitions currently on view include Am-Big-You-Us Legiscon, French artist Laure Prouvost's first exhibition in Belgium and the largest to date, which can be seen until 19 May, and Lars von Trier's Melancholia: The Diamond, his first work in more than 20 years, shown until 5 May. Scheduled to take place from 4 October 2019 through 19 January 2020, the museum will host a retrospective of Belgian poet and painter Marcel Broodthaers.
Plenty to offer
Attractively located in Antwerp's Zuid (South) neighbourhood, the M HKA is surrounded by other museums, as well as art galleries, coffee bars, vintage shops and exclusive stores. De Baere: "It's a very vibrant, hip and young neighbourhood. It is really the city's cultural hotspot."
The museum organises a wide variety of events for visitors of all ages. Adults, for example, can participate in bimonthly yoga lessons held amidst the artworks on Thursdays or join in on free guided tours (also on Thursdays) which actually invite them to enter into a dialogue instead of merely being told what they are looking at. Children can visit the Salon on the first floor where they can partake in everything from fun games to drawing assignments. It is also worth mentioning that the M HKA's venue can be rented for private events ranging from press conferences to celebrations. In short, there is plenty to experience and expand one's horizons at this exciting museum. Enough reasons for a visit the next time you are in Antwerp!
Subscribe to Our Newsletter
Receive our monthly newsletter by email