Concreat Events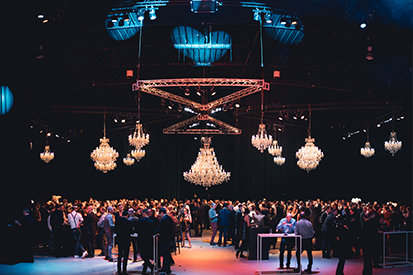 Events with an extra dimension
TEXT: MYRIAM DIJCK | PHOTOS © CONCREAT EVENTS
Unusual venues, spectacular audio-visual design and a stunning overall production, these are the components that create the most memorable events. Concreat Events in Antwerp realises unique projects at exceptional locations.
"Founded in 2013, our young company has very quickly created a solid reputation among a series of European A-brands. We work very closely with our clients to really get to know their DNA in order to optimally translate our clients' messages. But above all, our clients choose Concreat Events for our creative expertise, and our transparency," says company owner Steven De la Ruelle.
Transparency towards clients is very important. This is clearly translated through very detailed budgets, but in this digital age, Concreat likes to go some steps further. Conceptual setups for bigger events are rendered into a 360° environment, allowing clients to literally walk through the design of an event with VR-glasses, enabling them to give detailed feedback and approval on the concept.
On the other hand, a successful event is not merely about incorporating all kinds of bells and whistles, continues event manager Sarah vanden Bulcke. Instead, the right creative elements can completely determine the success of an event. She says: "We recently launched a campaign for a client, using a small stage, some tapestry and the right visual. For our client, this spot-on setup created maximum impact for a very limited budget."
To that, Concreat adds maximum flexibility and expertise. Fellow event manager Anouck Granjé says, "We want to be a perfect events-supplier for our clients, offering a very wide range of in-house knowhow in events, event safety, video production, scenography and graphic design. All of these skills are translated into seamless, A to Z productions. For us, a maximum of in-house services equals a maximum of flexibility towards our clients."
Recently, Concreat also organised the world premiere of a new model of a premium car brand in Brussels. During the car's unveiling, a holographic effect made by a triple-layered video projection merged with a live-action scene which literally brought the video to life. De la Ruelle: "We like to add well-thought-out show elements to an event, and this one actually got a standing ovation."
Subscribe to Our Newsletter
Receive our monthly newsletter by email