Clockwork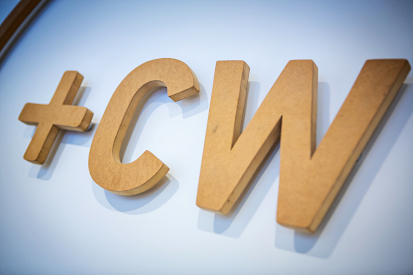 Masters of innovation
TEXT: FRANK VAN LIESHOUT | PHOTOS © CLOCKWORK
Adding true creativity to its strategy and design, Clockwork is an ideal go-to partner for cutting-edge business innovation and digital solutions.
"These are exciting times for new business," Clockwork manager Johan Steppe declares with a big smile on his face. "There is a real dynamic, and markets are in constant flux – which means organisations need to adapt, spot new opportunities and build new strategies. And that's where we come in."
Clockwork is a young innovation and service design company that helps businesses to address complex problems which often require radical new business models and disruptive digital strategies. As part of Ordina Benelux, Steppe and his team serve a roster of large businesses and organisations, including Nike, Barco, KBC, the City of Antwerp, ADMB group and Eneco. "Clients come to us directly, or they are redirected to us through our mother company Ordina. Usually, they ask us to help them innovate their business using digital tools and platforms, whether it's to reposition their business in the digital ecosystem, or to develop new digital products and services."
Value-based process
One of the things setting Clockwork apart from the competition is the extensive amount of research, analysis and data projections they conduct before they start working on a strategy and a solution. "We call this 'shaping the problem space'," Steppe's colleague, co-business unit manager Bart Haedens explains. "It's the first phase in a process designed to add value to the market."
This process comprises a value discovery phase, a value delivery phase and, finally, a value acceleration phase. "The value discovery phase and, in particular, developing a clear and well-defined challenge for the design of a product or service, is vital in this process. It's where we have to create awareness among the key business stakeholders and make sure they are all agreed and aligned."
Having set a clear challenge based on goals, KPIs and various analyses, the team combines this with extensive stakeholder and user research to develop their strategy and value proposition. Subsequently, a range of tools, including scenarios, flow charts, and visual design, as well as user, business and technical validations, are used to craft a concept and produce a minimum viable product. This includes the creation of a range of digital touch points such as websites, social media, mobile apps and chatbots.
"It's an agile process," says Haedens. "Which means we start testing the market as soon as we can and then continue to adapt, fine-tune and improve. Companies need to continually monitor and re-assess their products and services against new developments, and experiment with new solutions. It's the only way to survive in this digital age."
Design thinking
Throughout this process, the Clockwork team apply a design thinking approach to everything they do. This means that the user and other key stakeholders always take centre stage, and strategists and designers take what is called an outside-in perspective. "We look from outside into our client's business and its products and services. Taking this perspective, everything is geared towards understanding the key stakeholders' needs: what they like and dislike, how they work, think, act, etc."
All Clockwork's business innovation and service design solutions are approached from three angles: business, technology and people. "Our multidisciplinary teams comprise tech and domain specialists as well as super creative designers," Haedens points out. "And, for any expertise we do not have in house, we can draw on Ordina's 2,700 strong workforce at any time in the process, whether they are domain experts, data scientists, digital architects or privacy and security specialists. All these people work at the cutting edge of new developments, and being able to instantly mobilise their knowledge is one of the strong points our customers rave about in their feedback. That and our ability to quickly turn around sound, in-depth analyses and creative solutions to complex issues."
Exciting new projects
Recently, Clockwork has embarked on an exciting new project for one of these happy customers, the Belgian multi-channel bank and insurance company KBC. "Last year, we successfully completed a new digital proposition for their corporate banking division," Steppe explains. "On the back of that success, we were asked to develop a new proposition for another of KBC's divisions. At the moment, this is still in development and confidential, so I cannot say too much about it. But what I can say, is that we are really excited. Our people have extensively researched the market and are now developing what promises to be a radical new business model. That's the power of our process and approach," he smiles. "We believe it will deeply disrupt the existing market and help our clients to reap the benefits."
Subscribe to Our Newsletter
Receive our monthly newsletter by email