CIVA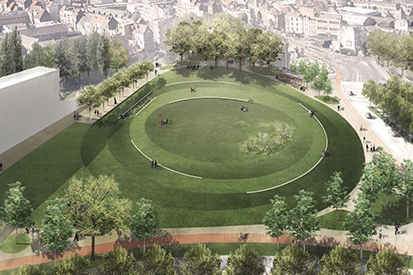 Highlighting the eclectic history of Brussels' urban spaces, landscape and architecture
TEXT: NDÉLA FAYE | PHOTOS © BARNABÉ GUIMARD
CIVA is a museum, an archive centre, a library and a place for architecture and landscape architecture enthusiasts to meet. Based in Ixelles and Kanal-Centre Pompidou, the centre's mission is to spread the Brussels region's exceptional architectural and landscape history with the public.
CIVA is the main architecture and landscape centre in Brussels, organising exhibitions, lectures, guided tours, book launches and children's activities throughout the year. Designed Landscapes, which runs until 31 March 2019 in Ixelles, is an exhibition that puts forward new perspectives on the landscape of the Brussels region, from 1775 to the present day. Through original documents and photographs, the exhibition allows visitors to discover the rich history of parks and public gardens in Brussels.
Another unique exhibition, As Seen – Photographies d'architecture is running until 30 June 2019 at Kanal–Centre Pompidou, and highlights the best contemporary Citroën garage buildings, built between 1927 and 1941, chosen from CIVA's archives by Belgian photographer and artist Philippe De Gobert.
Catering to the whole family, CIVA's Cité des Enfants is a permanent exhibition, designed for children and adults alike. Through interactive lessons, educational games and drawings, it traces the history of architecture and urban planning in Brussels from the 19th century to the present day.
"Brussels is one of the greenest cities in the world, but surprisingly, the city's heritage is not well known, even among many locals. Our mission is to share information and highlight the wonderful, rich and eclectic history of Brussels," says Ursula Wieser Benedetti, director of the garden, landscape and urban ecosystem department at CIVA.
Subscribe to Our Newsletter
Receive our monthly newsletter by email