Chocobreak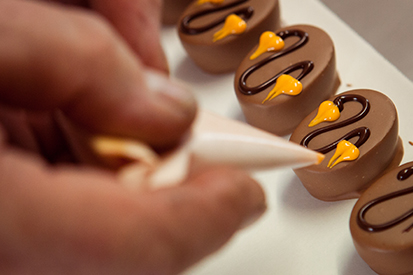 Chocolate for beginners
TEXT: ARNE ADRIAENSSENS | PHOTOS © CHOCOBREAK
If you – just like Charlie – would love to experience a sweet adventure in a chocolate factory, you should book yourself a workshop at Chocobreak. Peter Doekbrijder, the Willy Wonka of his generation, teaches you the art of chocolate in his own sacred atelier.
Buying chocolate in the charming store of Chocobreak is quite the experience. Housed in one of the oldest buildings of historic Nijmegen, the heavy, wooden beams and natural stone floors reflect Peter Doekbrijder's artisanal methods. "We work with the highest quality single-origin chocolate from Callebaut, the foremost Belgian chocolate supplier," Doekbrijder explains. "With this, we make delicacies like caramel pralines, truffles with vanilla from Papua New Guinea and chocolates with Chinese ginger." For companies, they also produce tailor-made sweets, like beer pralines for the Hertog Jan brewery.
What Doekbrijder loves even more than making these irresistible indulgences, is sharing his knowledge and experience with the world. In his atelier, he organises workshops for individuals, groups and companies. "First, I show them a movie about how a cacao bean becomes chocolate and introduce them to some basic techniques. Afterwards, we start creating. During two or three hours, we work with marzipan, soft caramel and, of course, chocolate. We even make our own fudge. In the end, we box up the creations as a tasty souvenir." Kids are welcome for a playful workshop as well. For bachelor and bachelorette parties, Chocobreak even offers initiations in erotic chocolate.
In short, everybody is welcome to immerse themselves in chocolate. According to Doekbrijder, anyone can do it. "I am always there and can help if necessary. So, if you dare to be creative, you will surely create something tasty and beautiful."
Subscribe to Our Newsletter
Receive our monthly newsletter by email