Caro Emerald: The jewel in the crown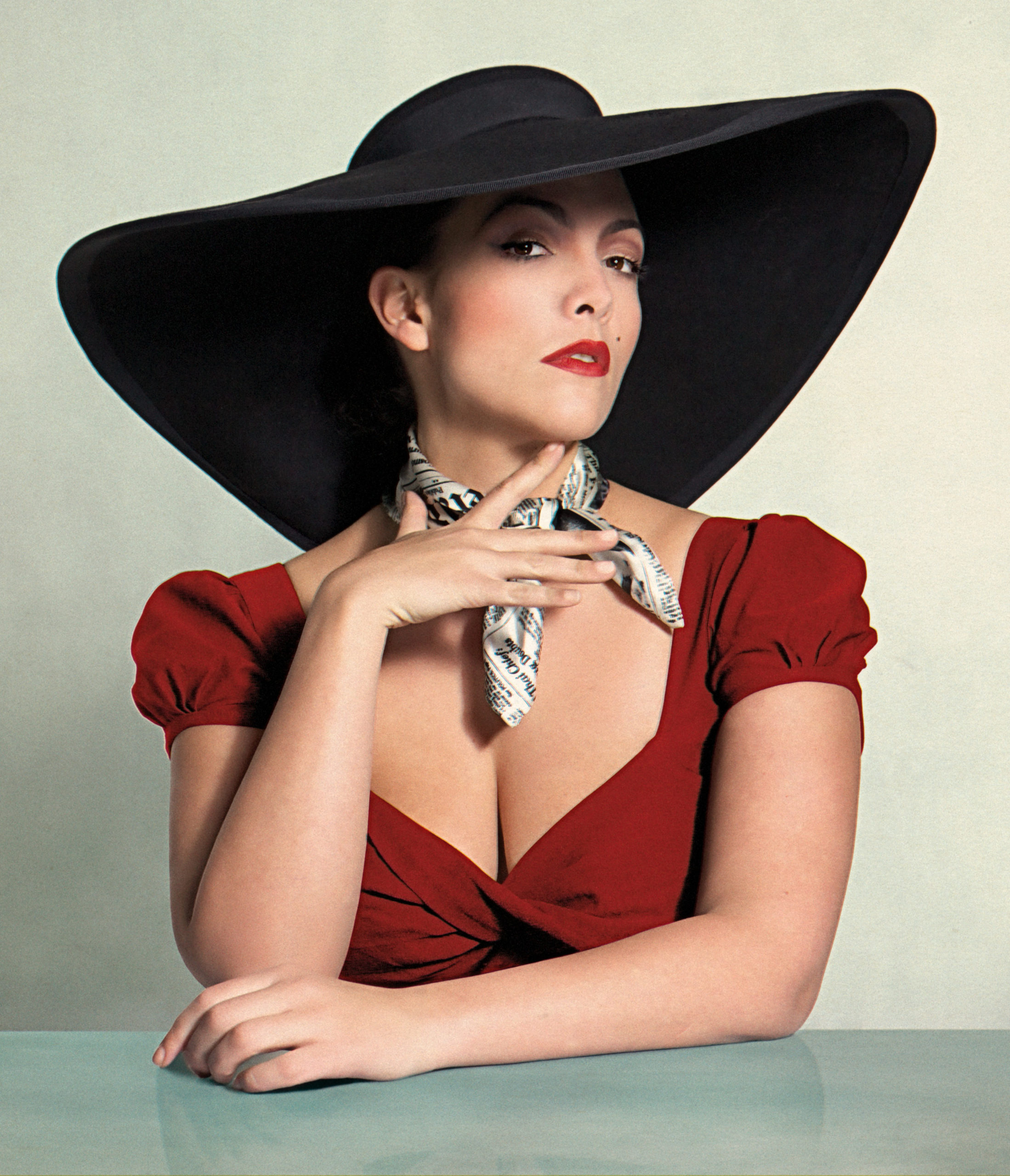 Her debut album, 
Deleted Scenes From The Cutting Room Floor
, spent 30 weeks at the top of the charts in the 
Netherlands, breaking a record set by Michael Jackson's 
Thriller
. But success in Emerald's native Holland was just 
the start. She has an MTV EMA Award to her name (Best Dutch/Belgian) and in 2014 performed at the iconic 
Glastonbury music festival. Now working on her eagerly anticipated third album and ready for a summer of live 
performances and festival appearances, she talks to us about touring, acting and her plans for global domination.
This summer looks set to be a busy 
one for Emerald, who will be delighting 
her army of UK fans with a string of 
festival appearances. For a singer with 
such a seductive jazz style and elegant 
appearance, you may expect her to 
be more at home in a Parisian cabaret, 
but performing in a field in the English 
countryside suits her down to the 
(probably muddy) ground.
"I'm happy to perform in all types of 
places. I love the variety. Each type of 
performance has a challenge, it keeps me 
sharp," she explains, adding that the very 
nature of sharing a bill with other artists 
appeals to her competitive side.
"I like it when the audience doesn't know 
you. You have to compete with other 
artists and win people over."
A new line-up
As one of the headline acts at this July's 
Larmer Tree Festival in Salisbury, UK 
(fellow headliners include jazz artist Jamie 
Cullum and singer-songwriter Tom Odell), 
Emerald already has quite the spectacle 
lined up to ensure winning over the 
uninitiated.
"I've got a new guy on decks, he does 
all this crazy stuff, all the beats from 
laptops, electronic percussion with live 
triggers. There will also be live drums and 
live marimba – a blend of acoustic and 
electronics. It's a very recognisable sound 
we've created," she enthuses, explaining 
that all her band play at least three 
instruments as well as singing. They are all 
also "really good looking" she adds with a 
grin. Does she think looks are important? 
"It's not a reason [to be in a band] but it's 
nice if a musician is nice to watch. When 
a musician is an introvert and looks at the 
floor it doesn't work, people need to be 
invited to look at you."
Sounding exotic
Festival goers will enjoy a mix of material 
from Emerald's first two albums, 
"probably some covers" and her latest 
single 
Quicksand
 – a fun burst of electro
pop from the constantly evolving artist.
"There won't be a lot of new material as 
it's unfinished. Maybe. I'm working right 
now in the studio so it might be possible," 
she muses. As for the eagerly anticipated 
third studio album, Emerald is keeping 
her cards close to her chest. "We have 
a working title but it's a secret," she 
confides. The songstress is well known 
for creating albums with a coherent story
– ones which transport you to a different 
time and place. Her debut album, 
Deleted
Scenes From The Cutting Room Floor, 
took listeners to vintage Hollywood with 
its jazz, tangos and old-school glamour, 
while 2013's 
The Shocking Miss Emerald 
blended inspiration from Parisian cabarets 
with jazz and even modern hip-hop 
sounds. As for the concept of her third 
album, the singer is wary of committing 
herself to a particular genre, although a 
change in direction can be expected in 
the form of a lesser-known musical style
– Exotica, which first became popular in 
the 1950s.
"I'm always very careful as you never 
know, we do change our minds," she says. 
"I've been very inspired by Exotica. It was 
popular when people started travelling to 
Africa, then they went home and tried to 
copy the sounds – people from the West 
copying African sounds." Describing the 
style as "cool", "atmospheric" and "having 
good vibes" with "crazy drums and jungle 
sounds"; her new album will no doubt be 
packed with floor fillers. Getting audiences 
on their feet is certainly something 
Emerald likes to do, although she still 
loves a ballad at the right time and place. 
"When I'm doing my own club tours it's for 
my own audience so it's easier and I can 
take more risks, performing ballads and 
more intimate material inside a theatre," 
she explains, praising her British fans for their sensitivity and for being attuned to 

when it's time for a change of pace at a 

show. 
"Fans in the UK are outgoing but polite at 
the same time. If they should be quiet, they 
are, they know how to respond. It works 
perfectly for getting the set straight," she 
says.
International stardom
Having successfully filled out London's 
O2 Arena, Emerald's sights are set high. 
When asked what is next for her, she 
laughs: "World domination for starters! 
That would be great!"
Having performed to thousands at such 
a world-class super venue – the O2 has 
a capacity of 20,000 –  does Emerald still 
gets stage fright?  "Yes, I get that a lot. 
It can be quite… startling," she admits. 
"Like, you're frozen. It varies that I don't 
have it, then sometimes it's completely 
terrible like 'oh my God, I can't do it'. 
Even though I know I can do it, I've done 
it 1,000 times."
One of the singer's greatest fears is 
forgetting the words to her songs, but she 
realises overthinking things is what she 
must avoid.  Trusting in herself and losing 
herself in the music never fails her.
"I'm afraid not to know my lyrics, 
sometimes it's just three seconds before 
the song starts. But then if you don't 
think it just comes out of your mouth. It's 
actually better if you just try not to think. 
The music helps."
One thing on Emerald's to-do list is an 
arena tour in her home country, which 
surprisingly has not happened yet. The 
singer is proud of the current musical 
climate in her native Netherlands.
"There's a very lively music scene at 
the moment, it's interesting. There are 
more and more Dutch artists building 
international careers. It's interesting to 
watch. There's an indie band called The 
Indien. I love their sound, there are kind 
of retro vibes. It's more alternative than 
my music but I love the singer and her 
sound," she explains.
Although she tries to never go away for 
too long, she laughs that she never misses 
the "terrible Dutch weather" and tries to 
see hitting the road as a "mini holiday".
"I have a great team. It's all very luxurious. 
I don't have to clean, I don't have to do
the grocery shopping. I have make-up
artists…"
The big screen beckons
As well as an arena tour in the Netherlands, 
another goal for Emerald is to record a 
James Bond
 single. When asked what 
she thought of 
The Writing's on the Wall, 
Sam Smith's accompaniment to 2015 
Bond film 
Spectre,
 her response is very 
diplomatic.
"I was more a fan of Adele's 
[Skyfall]
. I 
think Sam Smith is a great artist but… it 
doesn't stick with you."
Speaking of the silver screen, will Emerald 
put herself in front of the camera rather 
than just recording soundtracks? "I get 
asked that a lot!" she admits, revealing that 
despite always dismissing the idea, it is now 
a career move she is coming around to.
"I've always said no, I'm not an actor. I 
believe you should do what you're good
at. But I'm starting to change my mind. 
What I do is not so different from acting. 
Like at a photo shoot, someone said 
'You're a great actor,' and I thought, 
maybe I am? I'm just being me; it never 
feels like I'm acting. But I'm enhancing 
my emotions during my songs. Maybe 
that's a lot of what acting is."
One things for sure though, she wouldn't 
ever want to be cast in a role just for her 
celebrity, and she'd have to truly believe 
in the director's vision.
"It's not so much about the part, it 
matters more who you're working with," 
she asserts. "I need to make sure I'm not 
doing something where I'm there just for 
my name."
Initially Emerald says she would prefer to 
star in a biopic, as she'd like to play a
"real character". You can tell she's still a 
singer at heart though, as on reflection 
she concludes a part that involved her 
vocal talents would be the best, and 
her inner 'little girl' surfaces when she 
concludes: "My dream role would be in 
an animated movie, where I could sing 
the theme song. I'd love to play a Disney 
princess!" Considering Emerald has 
already beaten records set by the King 
of Pop, playing royalty seems like a good 
next step.
Text: Anna Villeleger
Subscribe to Our Newsletter
Receive our monthly newsletter by email