Canisius Henssen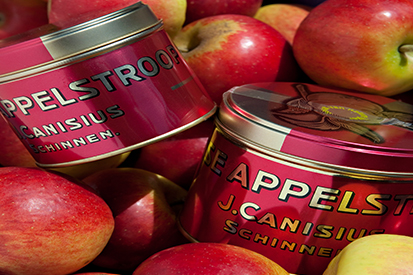 The power of fruit
TEXT: ARNE ADRIAENSSENS | PHOTOS © CANISIUS
Besides its famous cheese and peanut butter, a Dutch breakfast is not complete without a pot of apple butter or 'stroop' from Canisius. The sweet spread contains lots of fruit, appealing to all generations.
"Our family has been producing apple butter for the last 115 years," commercial director Jean-Pierre Henssen explains. "In 1903, Jean Canisius, my great-granduncle, had a fruit business. He got tired of throwing away the leftovers and decided to make apple butter from it instead." At that time, the fruity spread was already very popular in their region of Limburg. Yet, nobody produced it on the scale Canisius did. Local farmers brought their apples to him, from which he made apple butter on commission.
Over a century later, the wooden barrels and copper cauldrons have made room for modern machines, but the original recipe remains. With its firmness, it distinguishes itself from other similar spreads. "That is all natural," Henssen emphasises. "For one kilo of apple butter, we use seven kilos of fruit and nothing else. The quality of our product is the same as it was a century ago. Perhaps even better." Though they traditionally work with apples and pears, red plums, sour cherries, berries and beets find their way to the factory as well. Their newest inventions are the apple butter dips: little pots of apple butter mixed with mustard, beer or figs and port. "Perfect as an appetiser or with tapas."
For the many Dutchmen abroad, Canisius exports its dark gold all around the world. Expats in many European countries as well as in Canada, Australia and South Africa can find it on the shelves. Even the Dutch royal family eats it. On Canisius' centennial in 2003, they received the title of 'royal supplier'. "King Willem-Alexander was raised with our apple butter," Henssen jokes.
The apple butter is sold in a multitude of containers. One of them shows a picture of Henssen looking at the sweet spread when he was two. "It was a marketing idea of my father and became very popular. Today, we don't sell this one as much anymore. Most people now prefer our original packaging: the red and golden tin cans." This summarises the spirit of a company that puts quality ahead of progression. "We don't want to grow but continue, renew and optimise what we do today. This way, we can continue for another 115 years."
Subscribe to Our Newsletter
Receive our monthly newsletter by email