Brouwerij Het Nest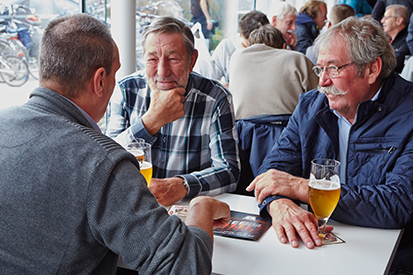 Tasty beer built under a house of cards
TEXT: KARIN VENEMA | PHOTOS © GRIET VERWAEST
When a group of friends met fortnightly to drink beer and talk about football, little did they know that 15 years later it would result in a professional brewery. Het Nest brewery now produces more than 400,000 litres of artisan beer per year and is known by beer lovers around the world.
"It was a hobby that got out of hand," says Bart Cuypers, president at Het Nest brewery. "First we were just trying different beers, naming our beer tasting club The order of the drunken sparrow, after a local saying. Eventually, some of us went on a hobby brewing course and our own experiments started."
When they won a prize at an amateur brewers championship, they suspected that they were onto something and continued to fine tune the recipe. In 2009, their first beer entered the market: Schuppenboer (Jack of spades), still the brewery's best selling beer today. Because the founders are all from Turnhout, playing cards seemed an obvious choice.
"Many recipes are inspired by our travels. We took American hops to Belgium and mixed them with traditional brewing methods. For instance, our Schuppenaas (Ace of Spades) beer was inspired by the Belgian beer classic Orval. Our variety is made from American hop, but like Orval, the second yeast strain is a Brett. This crossover gives it a unique taste."
Het Nest brewery aims to double its production over the next five years. Constantly innovating, they see new opportunities for tasty beers with a lower alcohol percentage. "So I can go to a bar for a few hours, have some tasty beers and still drive home safely," smiles Cuypers.
Subscribe to Our Newsletter
Receive our monthly newsletter by email